How Rappers Became the Most Important Fashion Ambassadors
From Kanye West to Young Thug, hip-hop artists are now finally becoming the new faces of luxury brands. How did this happen, and why only now?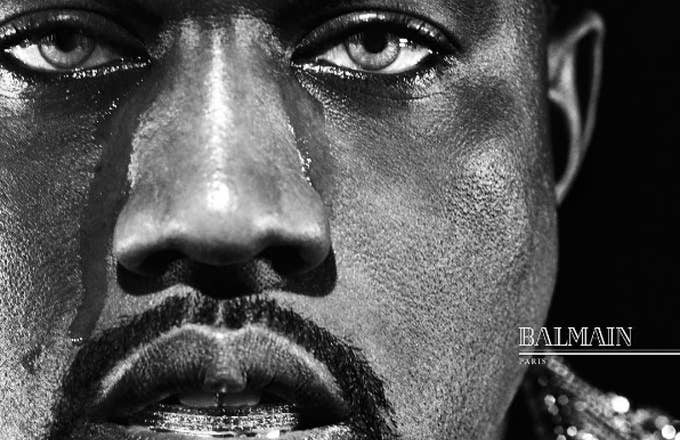 Kanye West in Balmain's Fall/Winter 2016 campaign (Image via Olivier Rousteing on Instagram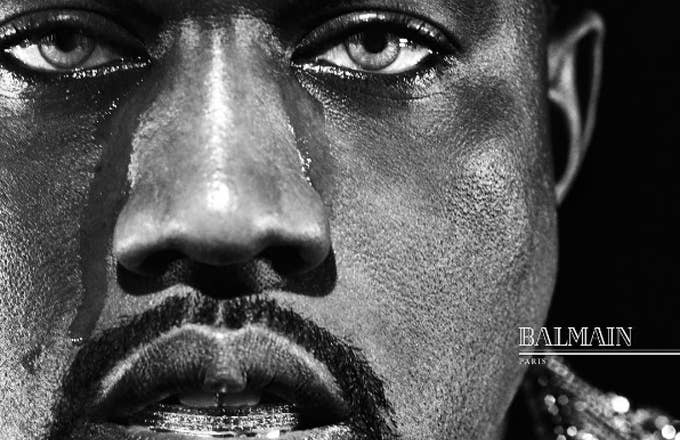 This past Friday, Kanye West released the music video for his The Life of Pablo track, "Wolves." The dramatic black and white visual—which featured Kim Kardashian, models Joan Smalls and Jourdan Dunn, and Sia, and included cameos from Cindy Crawford and Vic Mensa—doubled as a Balmain campaign. "I called Kaye and I said, 'I would love to create a campaign around your music, your lyrics, and your aesthetic," Rousteing told Vogue. "I think that's what is interesting: It is a campaign based on music." The video and ads attracted plenty of attention, but it wasn't a shocking move from the Parisian fashion house—especially given designer Olivier Rousteing's well-documented friendship with the rapper.
Still, the campaign speaks to the growing relationship between luxury brands and rappers. Earlier this month, Young Thug appeared in Calvin Klein's new ads wearing pieces from the women's Fall collection. In June, A$AP Rocky collaborated with J.W. Anderson on a capsule collection, and then fronted Dior Homme's new campaign. This past February, Alexander Wang tapped Travis Scott, Vic Mensa, and Pusha T for his Spring/Summer 2016 campaign.
But high-fashion labels haven't always embraced hip-hop. So what changed? How did rappers become the new fashion ambassadors?
In the 1980s, Dapper Dan began selling custom-made clothing that remixed the designs of luxury fashion houses, like Louis Vuitton and Gucci, out of his Harlem boutique. As he tells it, at the time, high-fashion labels weren't interested in working with rappers, because rap hadn't reached a global audience yet. "We weren't getting the recognition from these stores, so I decided to expand on what they were doing," he explains. "They saw rap music and saw people who were part of the rap culture as negative for their brands."
"They didn't respect rap in the beginning," adds Guy Wood, founder of custom clothing label 5001 Flavors and famed New York shop Harlem Haberdashery. "It as a new form of music and these brands were stuck in their own ways." Run-D.M.C., he points out, signed a reported $1 million deal with adidas following the success of their track, "My adidas." But while he considers that a milestone, it's important to note that adidas is an athletic sportswear brand.
"There was no familiarity with the culture," stylist Rachel Johnson, who has worked with hip-hop artists for years, says. "The fashion community can be so high-brow that they miss the whole point." In the early 2000s, Burberry reportedly didn't want Ja Rule, one of Johnson's former clients, wearing their clothes. At the time, Ja had just released his No. 1 hit "Always on Time," which featured Ashanti, and rocked various items of clothing with the famous tartan pattern in the music video—a button-down shirt, a T-shirt, and a black bucket hat with the brim flipped, so that the plaid peeked out. "I started putting him in Burberry and this whole Burberry craze happened," Johnson explains. "Kids started wearing it. This love for Burberry emerged in urban communities, so I thought that Burberry would want to start working with me [and Ja Rule] in a more official capacity. That was not the case."
While Johnson clarifies that Burberry didn't say outright that they didn't want to dress Ja Rule, she says it was implied. "No one would ever say that," she says, "but anytime someone completely ignores your repeated requests then it's obvious what it is." Thanks to a Burberry sales rep, she was eventually able to establish a relationship between the label and the rapper. "They weren't gifting [Ja Rule] things by any means, but at least I was able to see things in the store before they hit the floor, I was able to get a discount, and I was able to borrow things." But, she adds, "as a general rule, many of the fashion houses are just closed. It's a club that you're either in or you're not." Burberry, who has worked with British hip-hop artists (including rapper Tinie Tempah), declined to comment.
The landscape only shifted once hip-hop became mainstream. "Rap isn't this little thing from the neighborhood anymore, it's international," says Wood, who dressed everyone from Diddy to The Notorious B.I.G. in the '90s. "Now that it's international, these brands realize that this one guy can get 10,000 people coming into their store. Now, they understand the marketing of it and they respect it."
Johnson, Dapper Dan, and Wood all said that it was Pharrell who helped convince these brands to take rappers seriously. In 2005, he collaborated with Louis Vuitton on a collection of sunglasses called "Millionaire." Three years later, he designed the Blason jewelry collection for the French fashion house. "Pharrell was big on Louis Vuitton," says Wood. "That was a big deal."
"It's crazy, because the same [fashion] houses that would say no, never said no to Pharrell—ever," adds Johnson, who styled Pharrell in the mid-2000s. "Fashion loved him. There was something about his appeal and his ability to cross over. It opened up the gates for Kanye and A$AP [Rocky]."
In addition to the global success of the genre, it also helped that luxury fashion houses are now putting younger designers who have a grasp on the culture in charge. Alexander Wang is 32 years old and a big fan of hip-hop music. "Hip-hop music, to me, is the most relevant genre of music right now that speaks to me and our generation," the designer said in an email. According to him, it's only natural that designers are now inspired to work with rappers. "They are the leaders of this movement," he added. In the past, Wang has placed Kanye, The Weeknd, Travis Scott, Pusha T, Vic Mensa, and A$AP Rocky in ad campaigns, and even recruited Missy Elliott to perform at his fashion week afterparty in 2014.
Luxury brands are still selective about the rappers they work with. "There are certain guys whose style comes first for them, and then there are rappers who just don't care. It's not their thing," notes Johnson.
Jonathan Anderson, designer of J.W. Anderson, was a fan of Rocky's music before he collaborated with him on their recent capsule collection, but when asked why he decided to work with him, he says it wasn't simply because he's a rapper. "He is an artist, and that is how I see him," he told Complex. "Rocky has a very specific aesthetic and energy. Ultimately, his style is more than just what he wears. It's the way he carries himself, it's his interests. That is something that the J.W. Anderson consumer is about. It's all about how you put your own personal twist on things."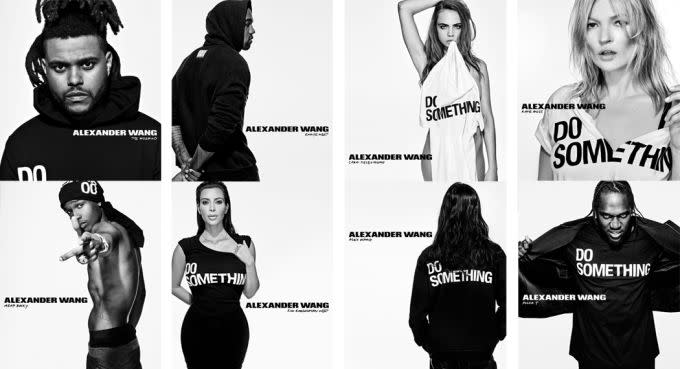 But, Wood concludes, the relationship between rappers and high-fashion labels is a benchmark for the music genre. "The fact that they realize and respect any rapper is a big thing," he says. "Times have changed."