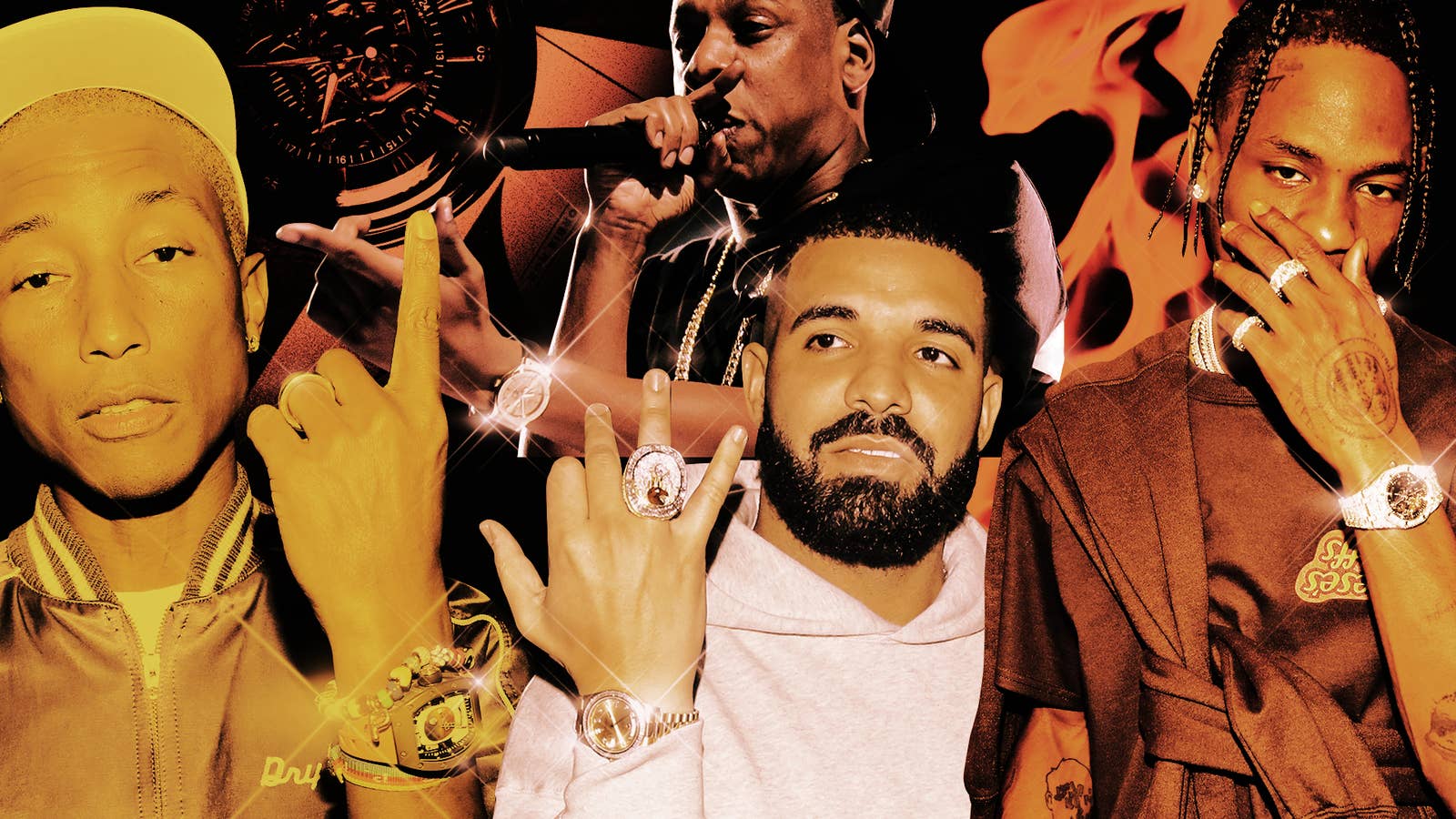 Luxury watches have long been a symbol of success and achievement, so it makes sense that hip-hop artists indulge in watch collecting. 
While many of these brands had a storied history before artists ever purchased and wore their pieces, when a watch brand's name makes its way into a rap song, it's a different type of co-sign that introduces the brand to younger customers and connects it to culture.
Some brands have embraced their connection with hip-hop—Jay-Z collaborated directly with Hublot and Pharrell worked with Richard Mille—others haven't. But hip-hop continues to set the tone for what's hot and what's not in the luxury world, and that has impacted the watch industry tremendously. Here are the most iconic watches in hip-hop.
Jacob & Co.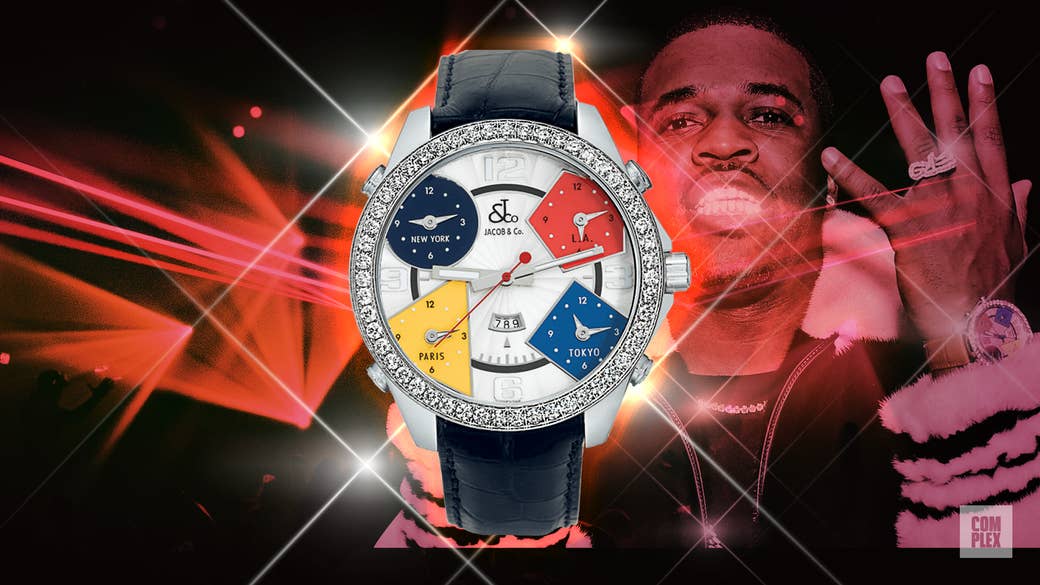 Signature: Five Time Zone
Cosigned by: Jay-Z, ASAP Ferg, ASAP Rocky
Jacob & Co. is still making extravagant timepieces for the likes of Drake, who wore a watch with a miniature roulette wheel in the center that cost $620,000, or Conor McGregor who made sure to stop by the legendary jeweler's Fifth Avenue space before his big UFC 257 fight against Dustin Poirier earlier this year to cop a $1 million Astronomia Baguette. But despite an impressive catalog, star-studded client list, and an arguably more impressive portfolio of custom pendants for Pharrell, Nigo, and others, Jacob the Jeweler's signature contribution to the watch game is his Five Time Zone watch. The design debuted in 2002, the same year that Jacob & Co. first entered the luxury watch arena. It is inspired by his clients' jet-setting life, and named for its face, which is sectioned off into four quadrants to display the times in New York, Los Angeles, Paris, and Tokyo simultaneously along with the time set on the main face. New York is displayed on a navy blue circle, LA on a red pentagon, Paris on a yellow triangle, and Tokyo on a royal blue square. The wild design is complemented by premium accoutrements like a diamond dial and an alligator leather band that's available in an array of colors like black, yellow, or red. 
"After we made the Five Time Zone, with five time zones and a world map, I received phone calls from Italian, French, Russian, Japanese and Chinese distributors to buy watches," said Arabo in a 2015 interview with Observer. "To me, that was a great achievement, because we were an American company, making watches in Switzerland without a Swiss office."
The style is so iconic that even Supreme released its own red and black-banded variations complete with a Box Logo on the face in 40mm and 47mm variations for $15,740 and $18,360 (regular Five Time Zones range from $12,800 to $16,500), respectively, in October 2020. While the watch isn't worn now with as much regularity as it was in the past by stars ranging from Jay-Z to Naomi Campbell, there are still rappers who flex their Five Time Zones. ASAP Ferg sported his in various color schemes at concerts and sporting events and fellow Mob member, ASAP Rocky, also wears the Jacob & Co. original. Travis Scott and Meek Mill have flaunted their own, too. When you talk about hip-hop's love of jewelry, Jacob the Jeweler must be mentioned. And this brightly colored, unconventionally designed timepiece is part of the reason. —Mike DeStefano
Hublot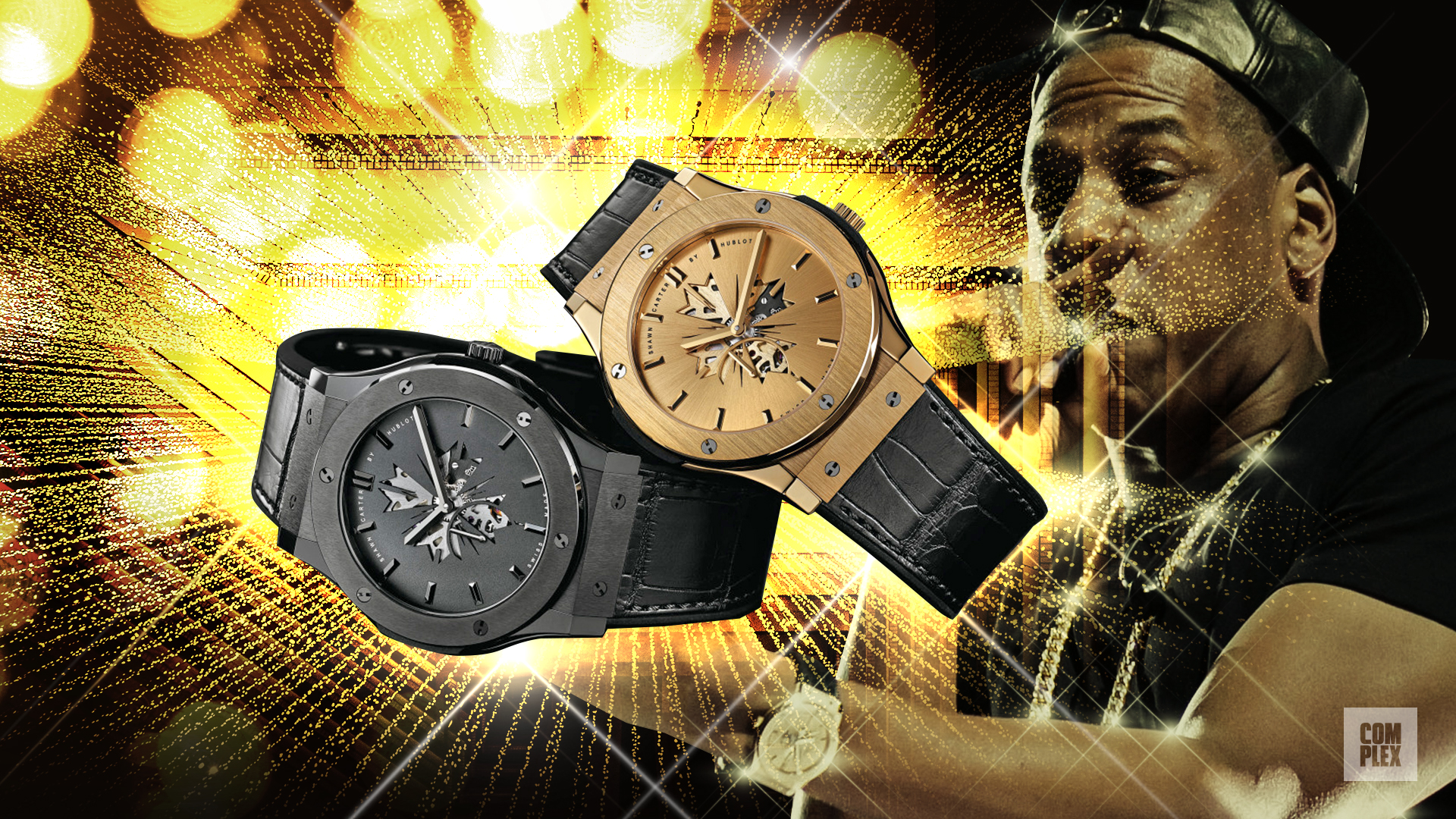 Signature: Big Bang Collection
Cosigned by: Jay-Z, Nas, Rick Ross
Hublot is young in comparison to most of the companies on this list, but its brand awareness, particularly within hip-hop, is strong. Carlo Crocco, an Italian watchmaker who was set to inherit his uncle's watch company, the Binda Group, decided to chart his own path and start Hublot in 1980, which was named after the French word for porthole, a window on a ship or aircraft—the Hublot bezel mimics that.  It took him four years to raise money and develop his first watch, which was a gold face with a black rubber band. At the time, most luxury watch brands were making bracelets out of exotic materials or expensive metals, and Hublot's watch, which debuted at Baselworld, a watch fair based in Switzerland, brought a sporty and more casual edge to the luxury watch industry. But it wasn't an immediate hit. It took a few years for Hublot to build a following among consumers who didn't understand why it was so expensive given the rubber strap. But by the '90s, European royalty and celebrities including Elton John and Giorgio Armani started to wear Hublot watches. But the brand started to cool again until Jean-Claude Biver, a watch industry vet, joined Hublot as chief executive officer and introduced the Big Bang watch in 2005, which was influenced by the original Hublot watch with a round bezel, exposed screws and a rubber strap. The watch had a big, chunky face, but was also luxurious and could be made in a variety of materials and styles. Post this design, Hublot became a global sensation. LVMH acquired the company in 2008, Biver stayed on, and it attracted customers including Nas, Rick Ross, Jeezy, and Jay-Z, who mentioned the brand ("New watch alert, Hublots") in 2011 on "Otis." Beyoncé even gifted Jay-Z a $5 million custom Hublot "Big Bang" watch made from 18k white gold that had a total of 1,282 diamonds in 2012. Hublot watches currently retail from around $6,500 to $225,000. 
Unlike some of the older watch brands, Hublot has embraced artists and attached itself to culture. In 2013 the company worked with Jay-Z on two different watches for his Barneys New York holiday shopping collaboration, and it's partnered with artists, athletes, and brands including Takashi Murakami, Yohji Yamamoto, Kobe Bryant, Shepard Fairey and Ferrari. The Big Bang continues to drive the brand and pick up new fans. —Aria Hughes
Richard Mille
Signature: RM Series
Cosigned by: Pharrell, Jay-Z, Gunna
In 2005, Pharrell rapped, "She knows the time she sees the Richard Mille/Flat double skeletal tourbillon," on his hit single "Can I Have It Like That." In 2019, he collaborated on a super limited edition (only 30 were made) Richard Mille RM 52-05 of his own inspired by the planet Mars that cost $969,000. Just one of many trends Pharrell was ahead of. But in 2021, Skateboard P is far from the only rapper who has shouted out the Swiss watchmaker in lyrics. Gunna proclaims his love for the brand with "Richard Mille Plain" on his 2019 project Drip or Drown 2. And James Harden gifted Lil Baby a $150,000+ RM 030 for his birthday in December 2020. Even die-hard watch enthusiasts are obsessed with the work of Richard Mille. And who could forget when Odell Beckham Jr. wore a $189,500 RM 11-03 Automatic Flyback Chronograph McLaren during his Cleveland Browns debut back in September 2019. The list goes on. But being embraced by the hip-hop community, which frequently namechecks the brand on songs, is what helped Richard Mille become a household name despite most of its styles possessing six-digit price tags. 
Since being founded in 1999, the brand has become synonymous with luxury. Its most recognizable style is the one that the brand debuted in 2001, the RM 001 Tourbillon, which took direct inspiration from F1 race cars. Priced at $135,000 back then, the watch immediately became a status symbol among the few who could afford it. Two decades later, Richard Mille produces an array of over 80 RM watches with all being particularly coveted, thanks in part to premium construction like a tonneau-shaped case, resilient titanium base plates, lightweight carbon components, and exposed mechanisms on the face. And they still look as futuristic as they did when they debuted 20 years ago. There's a reason Pharrell calls Richard Mille, an actual person, the "Timepiece Supreme Creator." —Mike DeStefano
Patek Philippe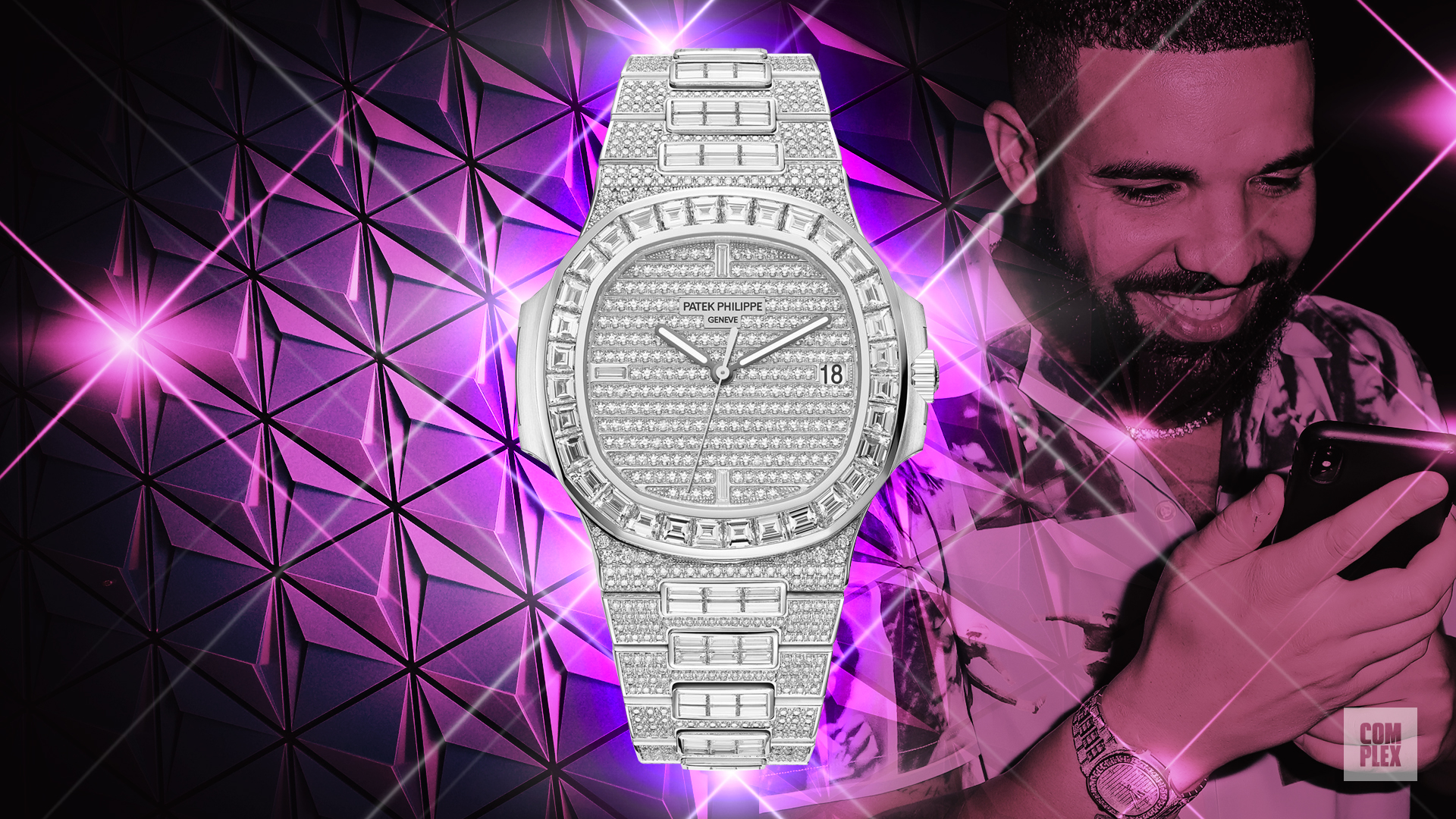 Signature: The Nautilus Line
Cosigned by: Drake, Lil Uzi Vert, and Virgil Abloh
Watches from Patek Philippe's Nautilus line are unarguably some of the most popular watches within hip-hop today. Odds are, if you listen to any rap album released in the last five years, you'll probably hear "Patek" name-dropped on a song or two—one-third of the songs on the Billboard Hot 100 in 2017 referenced Pateks. Whether it's Lil Uzi Vert's white-diamond Patek or Drake's emerald-stoned Patek Philippe Nautilus 5726 gifted by Virgil Abloh, there's a good reason why every rapper goes nuts over these watches today. For starters, Patek Philippe is historically known to be one of the most celebrated watchmakers in the world. Founded in Switzerland in 1839, the name Patek Philippe derives from a Polish watchmaker named Antoni Patek and a French watchmaker Adrien Philippe. Patek Philippe produced its first wristwatch in 1868 and many of the brand's watches were worn by royal families and business tycoons throughout the 19th century.
Patek Philippe's beloved Nautilus line of sports watches first launched in 1976 with the Reference 3700. Although Audemars Piguet's 1972 Royal Oak was the first steel sports watch to be released, Patek Philippe's Reference 3700 was advertised as "One of the world's costliest watches" made out of steel. Designed by Gérald Genta, who also designed Audemar Piguet's Royal Oak, the Reference 3700 established the look of the Nautilus line with its octagon-esque bezel. The watch's name and porthole shape was inspired by the name of the submarine from Jules Verne's novel 20,000 Leagues Under the Sea. 
In general, rare Patek Philippe watches can fetch millions at auction. In fact, the most expensive watch ever sold was a Patek Philippe Grandmaster Chime for $31 million. But the most coveted Nautilus model, and the one most commonly worn by celebrities, is the Reference 5711 that was first released in 2006. The 5711 was a reworked version of the original Nautilus 3700 model in steel but featured a bluer dial and an automatic caliber. The 5711 is not the most expensive or complex watch that Patek Philippe offers. But it's so popular that there's a long waiting list for it. The watch's popularity isn't just fueled by both rappers like Offset and movie stars like Brad Pitt wearing it. Aside from quality, prestige, scarcity, and investment opportunity, the watch's design is so attractive because it can really blend with any outfit. Surprisingly, due to the 5711's overwhelming popularity, Patek Philippe decided to discontinue the watch this year so the watchmaker could avoid only being known for a single watch model.—Lei Takanashi
Rolex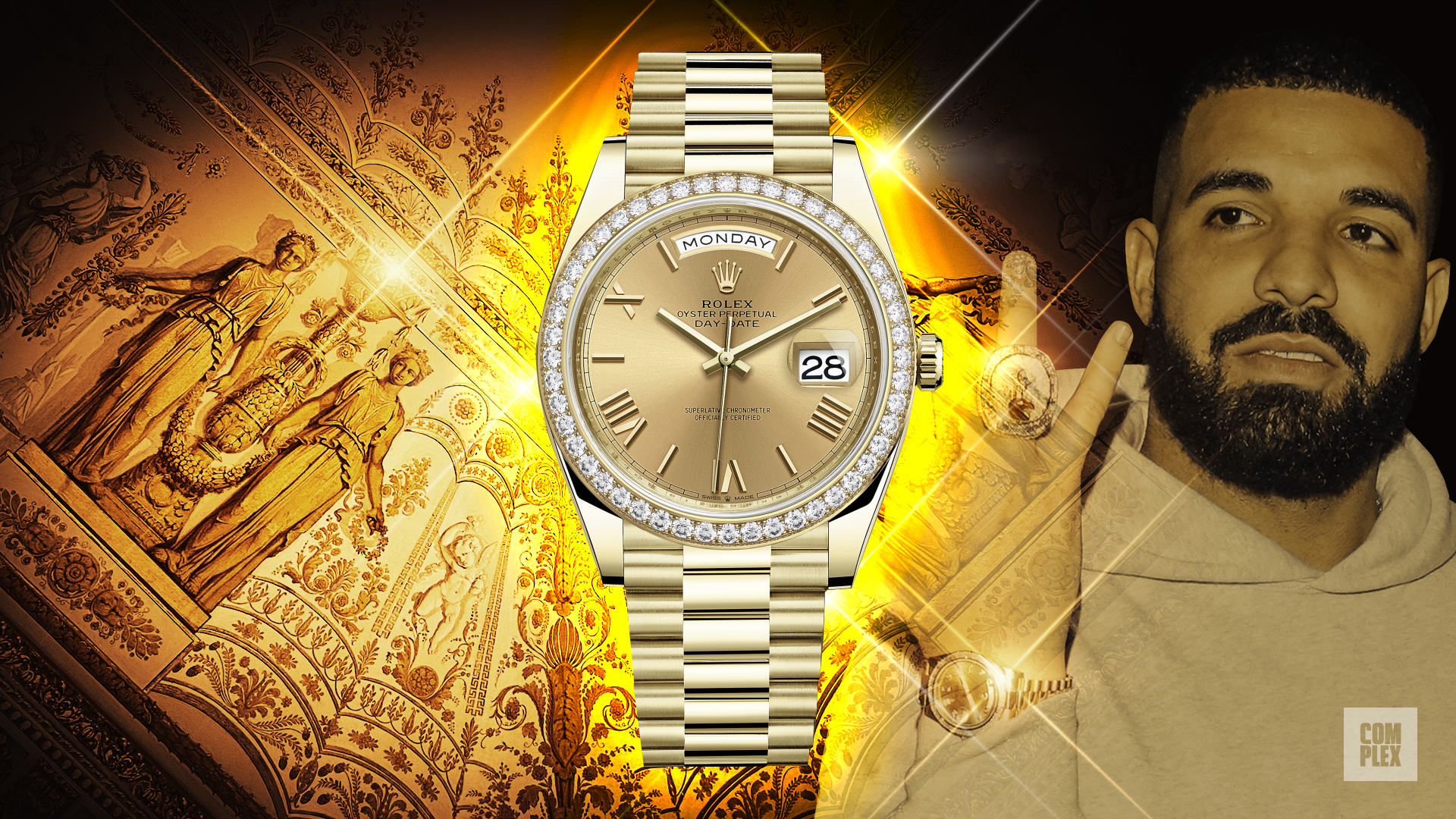 Signature: Day-Date, Submariner, etc.
Cosigned by: Meek Mill, Drake, Rick Ross, etc.
When it comes to luxury watches, Rolex is the gold standard. And not many of the brand's offerings are as iconic as the Day-Date and the Submariner. Being able to afford a Rolex is an accolade that many strive for, so it only makes sense that rappers wear it and call it out on songs as a way to flex their wealth. Meek Mill is infamous for screaming about the Swiss watches. Rick Ross casually sprinkles the name on his signature luxury rap verses. Drake's Scorpion standout "Nonstop" features the bar "This a Rollie, not a stopwatch." (Unlike other watches with dials that tick-tock when they move, Rolex's don't make any noise). Ayo and Teo wanted theirs with a dab of ranch on their song "Rolex." And of course, there are other rappers alluding to the fact that their Rollies don't tick-tock to prove their authenticity. But Rolex's history as a marker of wealth far predates the hip-hop genre. 
Rolex was founded in 1905 by Hans Wilsdorf. The Submariner was introduced in 1953 as the first diver's watch. It was waterproof up to 100 meters, meaning it can withstand activities like surfing, sailing, swimming, and snorkeling, and originally gained mainstream appeal when actor Sean Connery wore the style while starring in James Bond films during the '60s. But the flagship Day-Date model (sometimes referred to as the President's watch) first hit the market in 1956. It's the first watch that displayed both the unabbreviated day and date on the face, hence its name. These days, each is available in a bevy of options ranging from classic gold or platinum to styles with multicolored diamonds lining the face. Of course, there are plenty of rappers who opt for a custom "Bust Down Rollie" covered entirely in diamonds. Simply put, you really just cannot go wrong with a Rolex. It's why acts like EPMD and 2 Live Crew wore gold Day-Dates in the '80s. And it's why future rappers will continue to flaunt the brand in their own ways. Some brands are a sign of the times. Rolex is one that has always had its seat at the table, in the rap world and beyond. —Mike DeStefano
Movado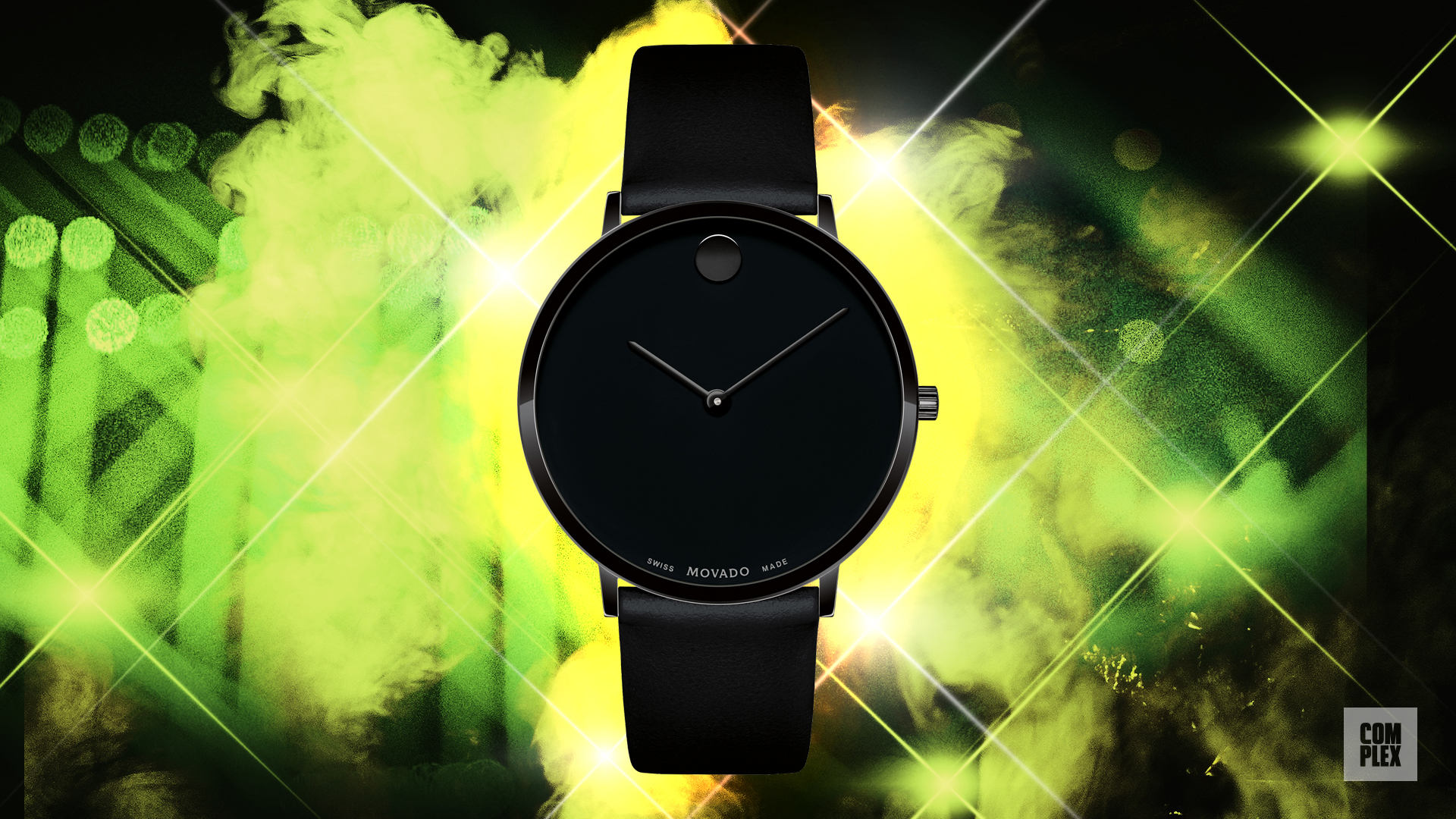 Signature: The Movado Museum 
Cosigned by: Biggie Smalls, Nas, and Rick Ross
"Frank White the desperado used to rock the all-black Movado." The Movado watch Biggie Smalls name-dropped on Junior M.A.F.I.A.'s "Get Money (Remix)" is the Movado Museum, which is considered to be one of the most iconic watches ever made. Movado is a Swiss watchmaker that's been crafting watches since 1881 and its name means "always in motion" in the Esperanto language. The brand's most famous watch, which can be purchased directly from Movado for as little as $500 today, is the Museum. Designed by the American industrial designer Nathan George Horwitt in 1947, the all-black numberless watch was inspired by Bauhaus design and only included a single circle to represent the sun at the 12 o'clock position. Vacheron & Constantin-LeCoultre Watches, Inc. originally produced the watch and it gained its "Museum" name after the Museum of Modern Art added the piece to its permanent collection in 1960. Aside from Biggie, Movado watches have been co-signed by rappers like Nas, Jay-Z, Rick Ross, and more. However, since Movado comes in at more affordable price points, it isn't seen as a crazy flex by some rappers. As Future said on "Tic Tac'': "The Richard, the Presi', no, this not Movado." However, the Movado Museum is still an elegant looking watch that is enough of a statement piece for those with less expensive taste.—Lei Takanashi
Cartier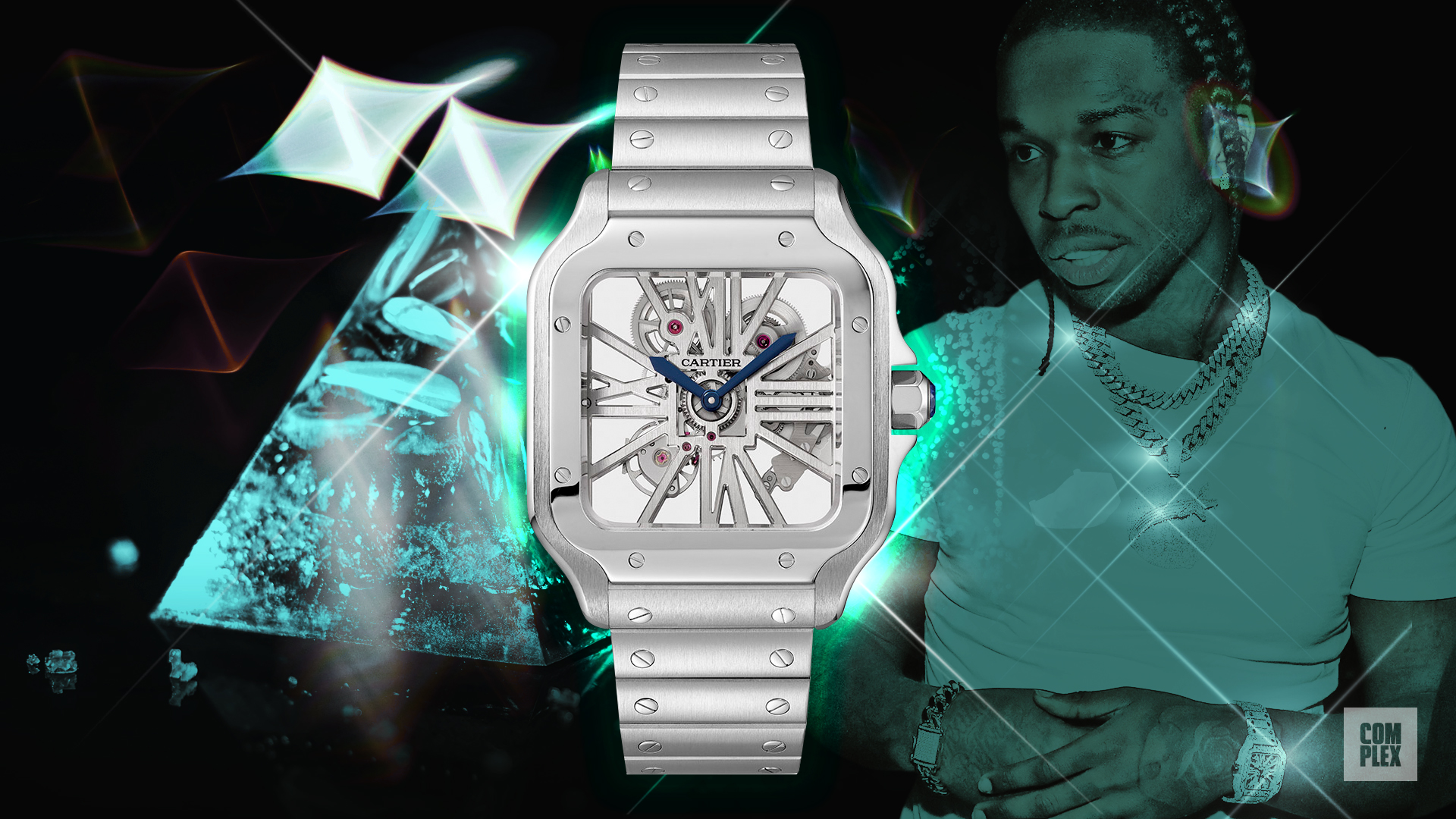 Signature: The Santos-Dumont
Cosigned by: Tyler, The Creator, Kanye West, and Pop Smoke
Although rappers speak about Cartier glasses more than Cartier watches, you'll still find plenty of artists wearing pricey timepieces from the French luxury brand. Rappers like Tyler, the Creator have worn the Santos-Dumont, while Kanye West goes for more abstract pieces like the Salvador Dali-esque Crash watch. And of course, the late Pop Smoke, one of rap's biggest Cartier connoisseurs, frequently rocked an icy Skeleton Santos. Cartier's made jewelry since 1847, but released its first watch in 1904. The brand's first timepiece was originally made as a special order for the Brazilian aviator Alberto Santos-Dumont, who wanted to be able to tell time while flying but couldn't do that with a pocket watch. The watch Cartier made for Santos was one of the first men's wristwatches ever made and it was inspired by a square pocket watch Cartier previously produced. The watch's look is defined by its exposed screws on the bezel, which were modeled after a bird's eye view of the Eiffel Tower's legs. As Dumont gained worldwide acclaim as an aviator, demand for his watch grew. Cartier released the Santos-Dumont watch in 1911 and it's been sold by the brand for a century now. When luxury steel sports watches came into fashion during the '70s, the Santos evolved to reflect the times. In 1978, the Santos De Cartier dropped and replaced the original watch's leather bracelet with a metal riveted one. Since then, Cartier has made dozens of variations of the Santos-Dumont, but all of them feature a square dial with Roman numerals, a square case, and exposed screws on the bezel. Although Cartier watches don't sell for millions like Patek Philippes and Rolexes, their signature designs stand out. One of the brand's famous Crash watches recently sold for a whopping $225,000 at Christie's last winter. And other iconic watches, such as the Tank, can be purchased directly from Cartier for as little as $2,610.—Lei Takanashi
Audemars Piguet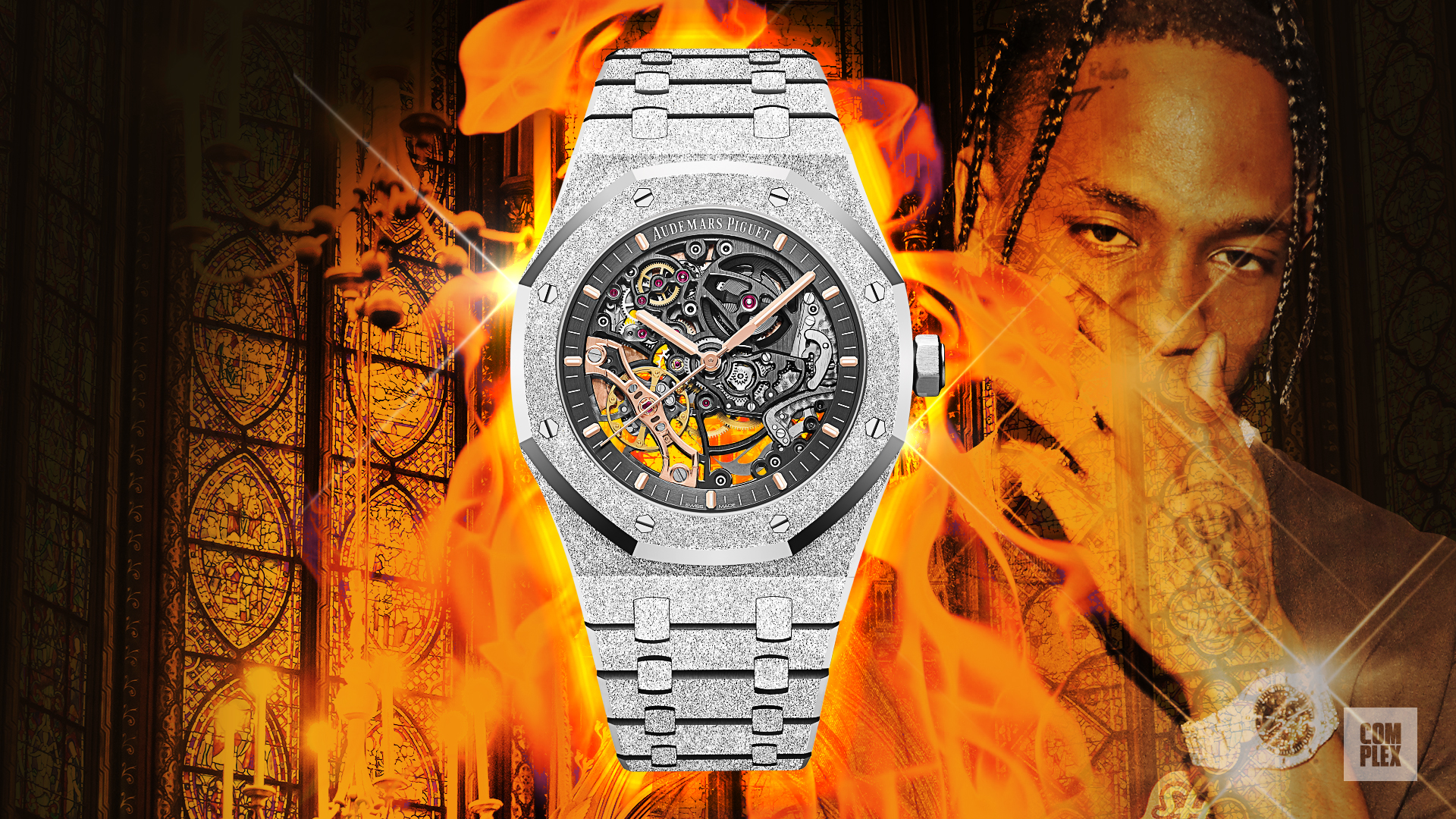 Signature: Royal Oak
Cosigned by: Jay-Z, Rick Ross, Travis Scott
Audemars Piguet was founded back in 1875 by Jules Louis Audemars and Edward Auguste Piguet, but it wasn't until 1971 that the brand would introduce its most notorious style, the Royal Oak, designed by Gérald Genta. The Royal Oak caught the attention of the watch industry partially due to its exorbitant 3,650 Swiss francs price tag that was more than 10 times the cost of a Rolex Submariner at the time, and its large 39mm face, which is why people nicknamed it "Jumbo." It's considered to be the first luxury sports watch in the world. Its most notable feature is the exposed screw heads lining the octagonal case that were inspired by traditional diving helmets. Nowadays, it has been tweaked with different metals, colors, materials, open-faced designs that showcase the watch's inner working, and other details that have captured Travis Scott, Rick Ross, and Jay-Z's attention, who have all become AP fans. But Jay-Z is largely credited as one of rap's earliest and most notorious Royal Oak supporters.
In a 2005 interview with WatchTime, Hov even credited Audemars as being the brand that made him take wristwatches more seriously in 1997. In 2006, he released his own special collaboration with Audemars Piguet to celebrate his 10th anniversary in music. Only 100 total Royal Oak Offshores were produced (50 stainless steel, 30 pink gold, and 20 platinum) that each featured a diamond-set Arabic numeral "10" on the face. Each came in a special case along with a 40 GB iPod preloaded with his discography up to that point. This is far from the brand's only collaboration. Since, LeBron James, Matthew M. Williams' 1017 ALYX 9SM, and even Marvel have crafted their own special edition takes on the Royal Oak. —Mike DeStefano
G-Shock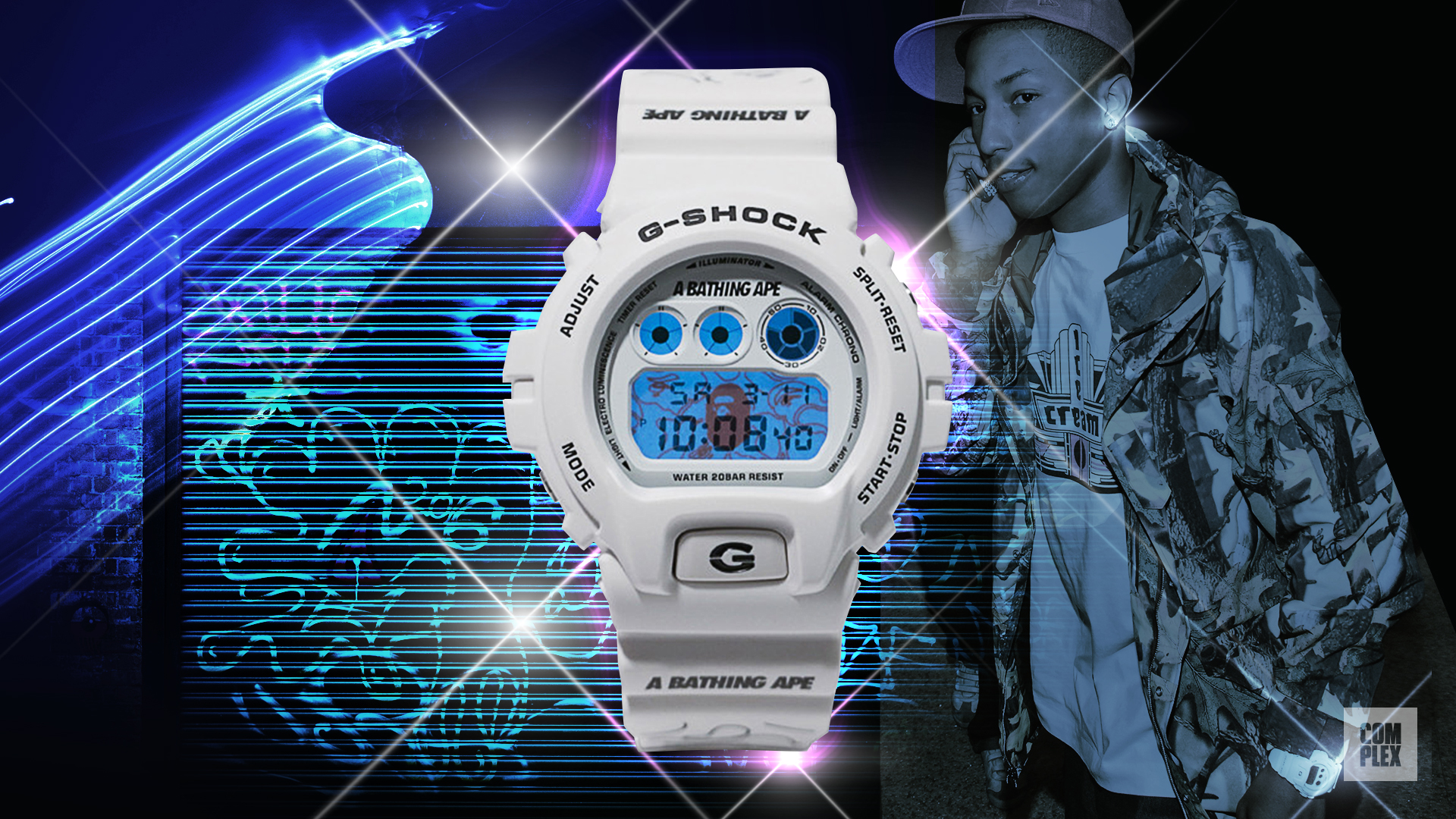 Signature: DW-5000C 
Cosigned by: Kid Cudi, Pharrell, and Lil Uzi Vert
Although the Junebug Challenge made bars like "Thuggin' in my Reeboks, ridin' with a G-Shock" stick in our heads this year, anyone who attended middle school or high school in the late 2000s and early 2010s knows that owning a good G-Shock was like owning a Rolex. Before the bust down APs and Pateks, there was a time in the aughts when rappers like Kid Cudi, Pharrell, Lil Wayne, and Kanye West all flexed G-Shocks regularly. Yes, G-Shocks aren't the most luxurious watches that money can buy, but they are nothing short of iconic. The Casio G-Shock was conceived in the early '80s by Casio watch designer Kikuo Ibe. After he dropped and broke a sentimental watch given to him by his father, he vowed to design an unbreakable watch. With a team of designers, he conceived a water resistant watch, up to 100-meters, that could withstand a 10-meter drop and had a 10-year battery life. In 1983, Casio released its first G-Shock, a black DW-5000C in red and gold colorways. Since then, G-Shock has released hundreds of different models that all maintain the watch's chunky and techy look. Some of the brand's more popular releases include collaborations with high fashion labels like Maison Margiela and streetwear brands like A Bathing Ape. The most expensive G-Shock ever released was an 18-karat gold one, but G-Shocks remain popular not because of their high price points but because they are long-lasting and durable. There are G-Shock watches that cost less than $1,000 and are solar-powered and come equipped with a compass, thermometer, and barometer. The brand's low price points have not only made G-Shocks highly collectible watches but also a piece of nostalgia for many rappers. Lil Uzi Vert said he used to want a G-Shock before a bust down on Playboi Carti's "Shoota." While Lil Baby said "Rolex like G-Shock to us, that's 'cause we finally made it" on "Forget That." Although many of us won't be able to afford many of the watches on this list, it's nice to know that a good G-Shock will hold us down for decades.—Lei Takanashi
Franck Muller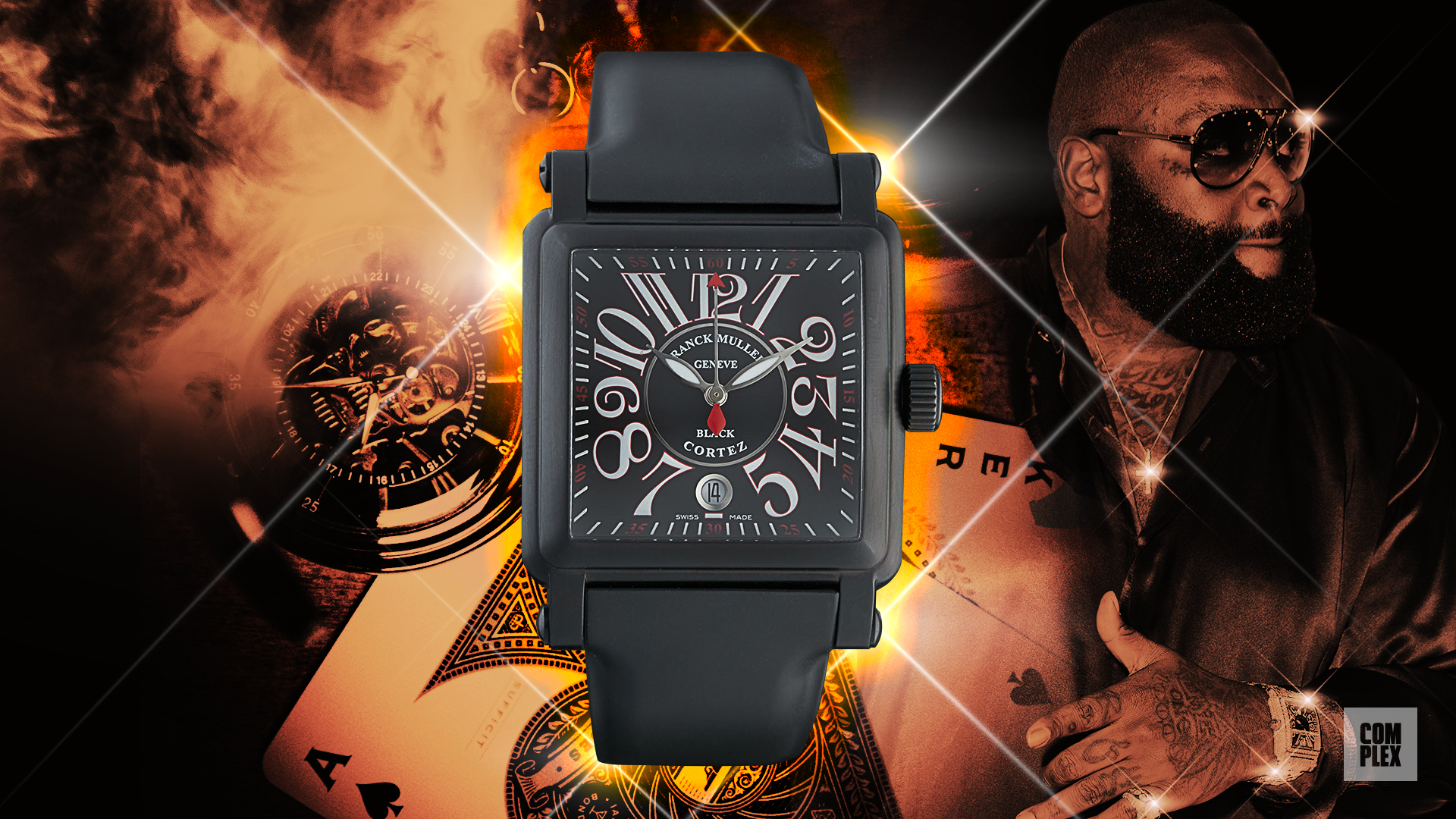 Signature: Cintrée Curvex face
Cosigned by: Jay-Z, Kanye West, Lil Uzi Vert, Young Thug
Franck Muller watches are well-known for their distinct squared off oval shape that was originally inspired by Patek Philippe's Gondolo case. After graduating from the Watchmaking School of Geneva in the 1980s, Franck Muller would restore watches at the Patek Philippe Museum, so he became familiar with the almost 200-year-old watch brand. But since launching his own watch line in 1991—he started out making one-off custom pieces—his brand name has become as relevant as his former employer's, and his clients include Elton John, Sylvester Stallone, and the late Gianni Versace. The watch eventually made its way into hip-hop. Puffy wore a Franck Muller watch in the "Hate Me Now" music video with Nas. And following that, rappers ranging from Jay-Z to Kanye West to Lil Uzi Vert have all proudly worn his watches and mentioned them in their raps. In "Gotta Have It" with Kanye West, Jay-Z raps: "Bueller had a Muller, but I switched it for a Mille," and on "Patek" with Future, Lil Uzi Vert states: "Frank Muller made me proud of my wrist." Unlike other watch brands, Muller embraced hip-hop and its love for his watches.
But what makes these watches so appealing? Franck Muller watches are one of the finest and most complicated watches in the world. He started making tourbillonwristwatches, which are very hard to make, when quartz watches—more affordable, non-collectible watches that use an electronic oscillator to keep time and require less craftsmanship—were flooding the market. But Muller knew there was a market for distinct watches with intricate and precise engineering that he used to build himself out of Geneva. He's known for creating watches that never existed before. His Crazy Hours Collection, which launched in 2013, includes watch faces with out of order numbers, but a mechanism that makes them display perfect time. 
The watches, which retail from $6,000 to $50,000 and up, also look good. They are known for their Cintrée Curvex (which means arched in a curve in French) shape and Art Deco feel. Kanye West wore a black-and-white Franck Muller watch, while Young Thug sported a titanium 41mm limited edition Franck Muller "Bitcoin Watch" that was limited to 500 pieces worldwide. It's also rumored that Jay-Z wore a Rolex Perpetual Calendar that was personally modified by Muller. The brand is around three decades old at this point, but continues to attract a younger class of artists with its innovative and singular watches.—Aria Hughes
Breitling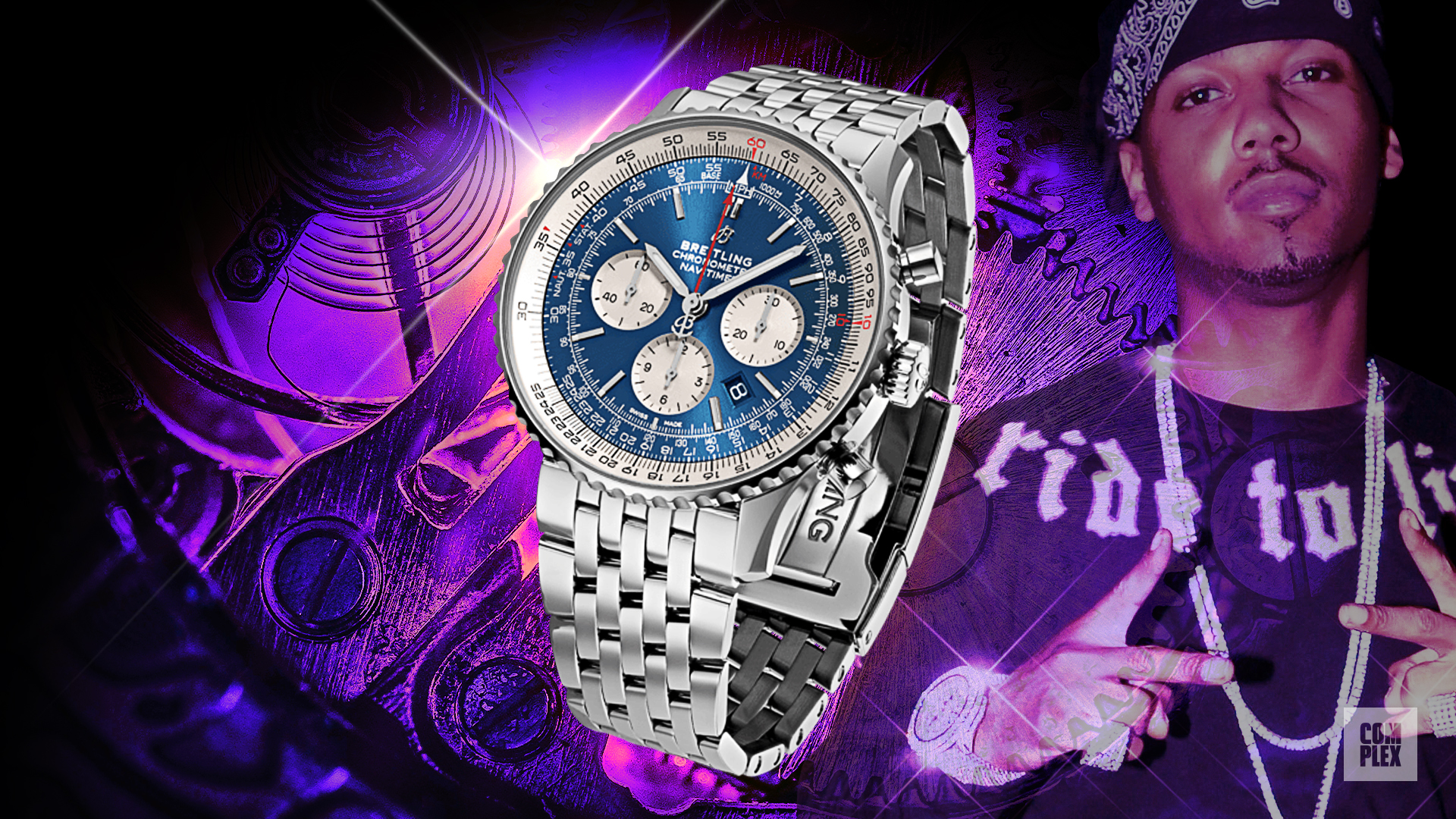 Signature: The Chromomat
Cosigned by: Juelz Santana, Chief Keef, and 50 Cent
As Jay-Z said on "Dead Presidents": "Watch me shine like a Breitling, Breguets the fuck up." Breitling is another legendary Swiss watch brand worn by rappers such as Lil Wayne, Chief Keef, Young Buck, Ludacris, and more. The founder of Breitling, Léon Breitling, started his watchmaking company in 1884 with a focus on chronographs, or a watch that also functions as a stopwatch. In the early 20th century, the brand became recognized for being one of the first brands to sell wrist chronographs. The brand became so well-known for chronographs, that they were specially built into the cockpits of Royal Air Force planes during World War II. One of the most iconic features of popular Breitling models is a slide ruler that's built into the bezel, which was established with the Breitling Chronomat in 1940. This built-in slide ruler made it possible to do much-needed calculations on the fly, which further built Breitling's reputation amongst aviators who frequently wore models with slide rulers like the Navitimer. Throughout the '60s, Breitling further solidified its position within pop culture by making custom Navitimers for astronauts like Scott Carpenter and custom Top Time models for James Bond in Thunderball. Popular Breitling models produced in recent years include The Emergency, which is a timepiece equipped with an emergency transmitter that has actually saved lives. Aside from aviation, Breitling is also celebrated by automobile enthusiasts for its ongoing partnership with Bentley Motors, which has been running for nearly 20 years now. Although there are no Breitling watches that have sold for millions, models like the Bentley Mulliner Tourbillon have sold for $175,000. Today, Breitling watches directly from the brand will run you between $2,765 to $52,000. Despite not being worth as much as a Rolex, rappers like Young Dolph have preferred taking off their Rolexes for Breitlings. While others like Chief Keef said they would ditch traditional Cuban links for a Breitling instead. Of course, like all great watches in hip-hop, a Breitling looks amazing when it's iced out. Like 50 Cent said on "What Up Gangsta" to get on that next level you got to make sure that Breitling bezel got some baguettes.—Lei Takanashi