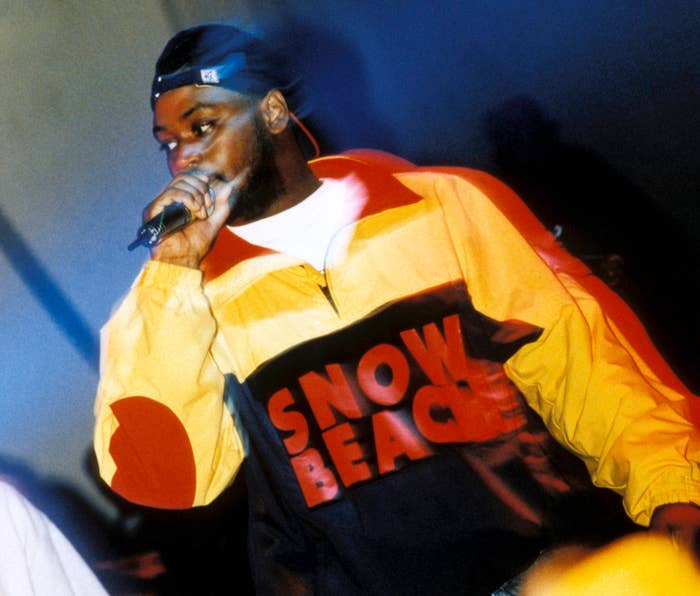 When thinking of '90s fashion, it's impossible to overlook the influence of the Wu-Tang Clan. Polo Ralph Lauren Snow Beach pullovers would probably be collecting dust in ski resorts if Raekwon never rocked one in the video for "Can It Be All so Simple." And Clarks would not be catching these collaborations with Supreme if Ghostface Killah never dumped his whole collection of Wallabees on that table for the Ironman album cover. So when costume designer Marci Rodgers was tasked with styling the actors who would play the Wu-Tang Clan for Hulu's biopic series Wu-Tang: An American Saga, she knew she had to truly capture the raw essence of the era. 
"I really just went back to my memory. I would look at old XXL and VIBE magazines and just put the pieces of the puzzle together," says Rodgers, who was also the costume designer for Spike Lee's Oscar-winning film BlacKkKlansman. "I think what is important to understand is that the Wu-Tang were developing their own fashion sense. I think they didn't really understand that it was going to be so big at the time. For them it was just about what was popular at the moment."
For the show, Rodgers curated an impressive wardrobe of '90s streetwear. Everything from vintage leather Avirex jackets to Polo Ralph Lauren "Cross Flag" knit sweaters. We spoke to Rodgers about how she researched for her gig, where she copped her best vintage pieces, why she needed to get the OG Snow Beach jacket, and her experience collaborating with Dapper Dan on custom pieces for the show. 
What were the first steps you took when it came to styling this show?
I went back to music videos during that time and made my own fashion timeline of what brands were out in the early '90s so it was really authentic. 
I also reached out to some of the pioneers of hip-hop fashion. I connected with people like Misa Hylton, who is now a global creative partner at MCM. I was able to work with April Walker of Walker Wear, TJ Walker of Cross Colours, and Karl Kani. I also collaborated with Dapper Dan for the second time in my career. Dapper Dan is huge now, but at the time, when rappers were just signed, they all wanted a Dapper Dan piece. That all trickled down into the magazines and music videos. The magazines were a roadmap for me. But it was more so, "What was in their closet during this time and what was functional?"
I then put together a lookbook that was over 200 pages long and I shared that with RZA and Method Man for feedback. Then I started to build the closets for each character. 
You said you interviewed the members of Wu-Tang to understand what their personal style was like? What else did you learn about each member's style?
Well, I like to say the devil is in the details when I costume design. I definitely took a step back and I had to individualize everybody. RZA had his own style back then. One thing I noticed with RZA is that he always had on a bandana. So in the series, Bobby, RZA's character, every time he's in the studio, he's wearing a bandana. That way he's becoming who he is manifesting to be.
You see that the character Sha, who is Raekwon, he wears a lot of Polo. So there's dibbles and dabbles of Polo in the series. ODB, one thing I noticed about him was he wore brands, but it was more about the way he put it together. He was funky with it. So that was pretty cool for me because I didn't want him to necessarily look clownish. I wanted him to look fly. 
You also have to step back and acknowledge where each member was from. ODB was from Brooklyn, and those guys dress differently from Harlem guys. Guys from Harlem and Brooklyn dress completely differently from guys in Staten Island. And guys from the Park Hill housing projects in Staten Island may dress with a little bit more flair than the guys from the Stapleton Houses.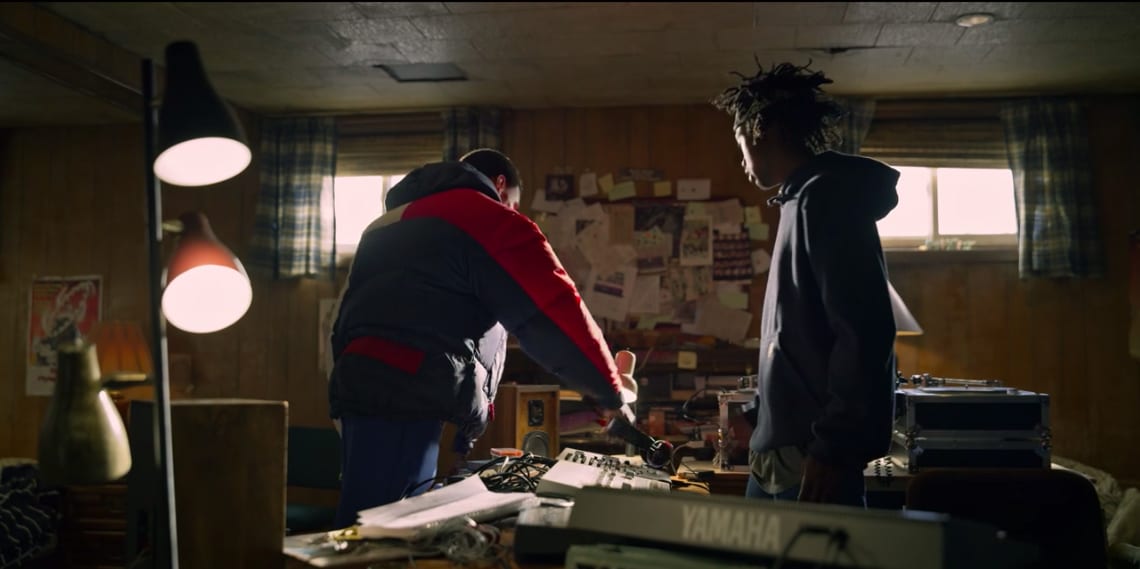 It's all about understanding those nuances and being able to individualize the characters. What's their economic status? What's going on in their room? Are they selling drugs? One character, Divine [RZA's brother], was already selling drugs. So he could afford a Tommy Hilfiger down jacket. He can go into the city and buy the best of the best, so to speak. On the other hand, Bobby [RZA] may have one or two pieces that were fly, but he is wearing Carhartt and 40 Below Timberland boots.
How did you source the pieces? 
Some of it was from my personal collection. I was also able to pull some things from vintage stores in and around New York City. Stores like Metropolis Vintage, Deepcover, Beacon's Closet, and L Train Vintage. For TV and episodic projects, it takes about a month and a half to get a good stock of clothing. 
What were the hardest pieces to get but you felt like you needed to have it no matter what?
Vintage Polo Ralph Lauren. I actually met two of the founders of the Lo-Lifes and they let me rent a lot of pieces out of their archives. Vintage leather Avirex and 8 Ball jackets were also very hard to find.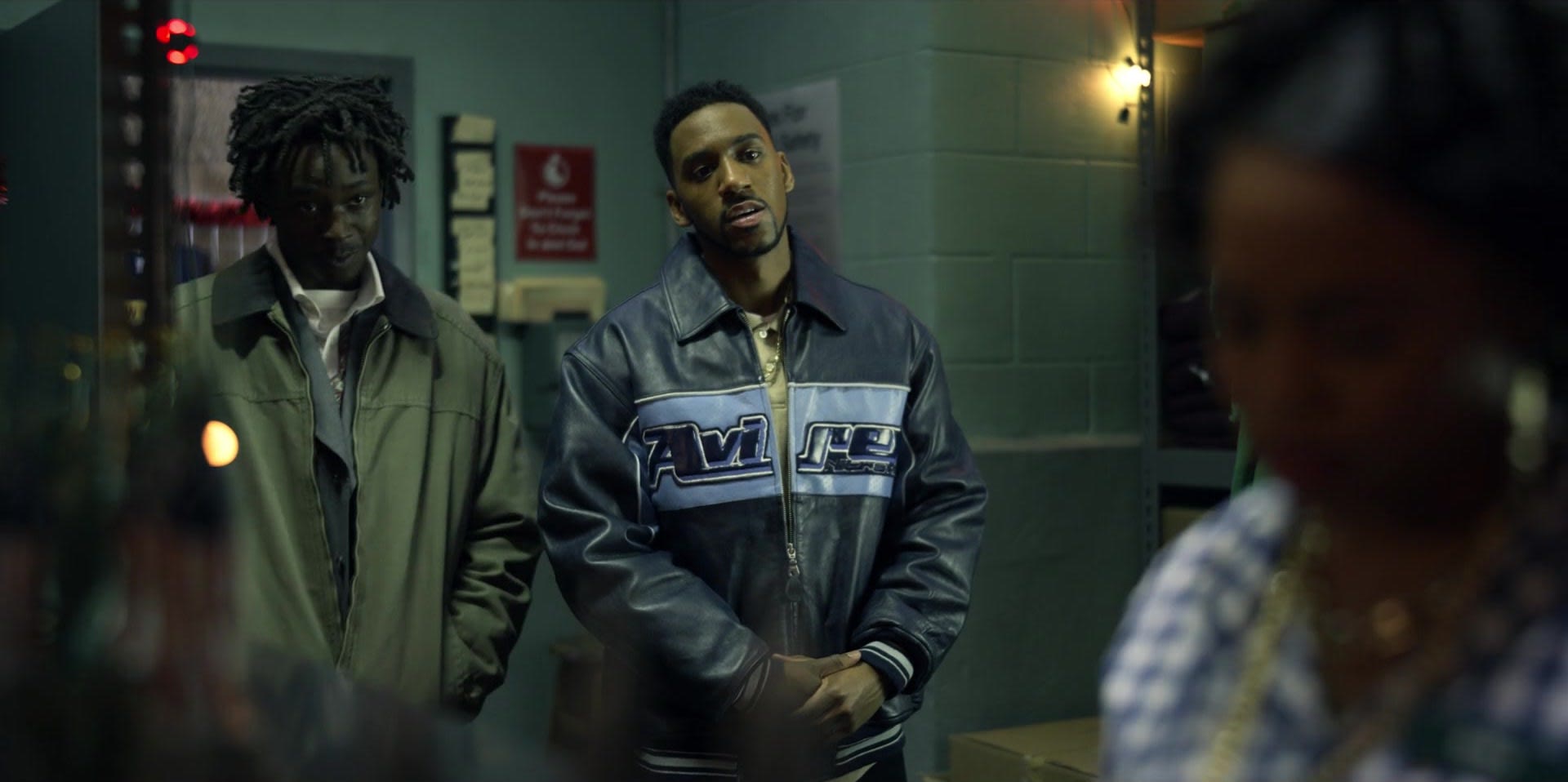 Was there any specific reason why you didn't opt for the retro releases of Polo pieces?
Actually, the reissued Snow Beach jacket was not easier to get, strangely enough. But if you can always have something that's original, that helps when working within period. So it made me feel better that I was able to get the original Snow Beach jacket that was released when Raekwon wore it.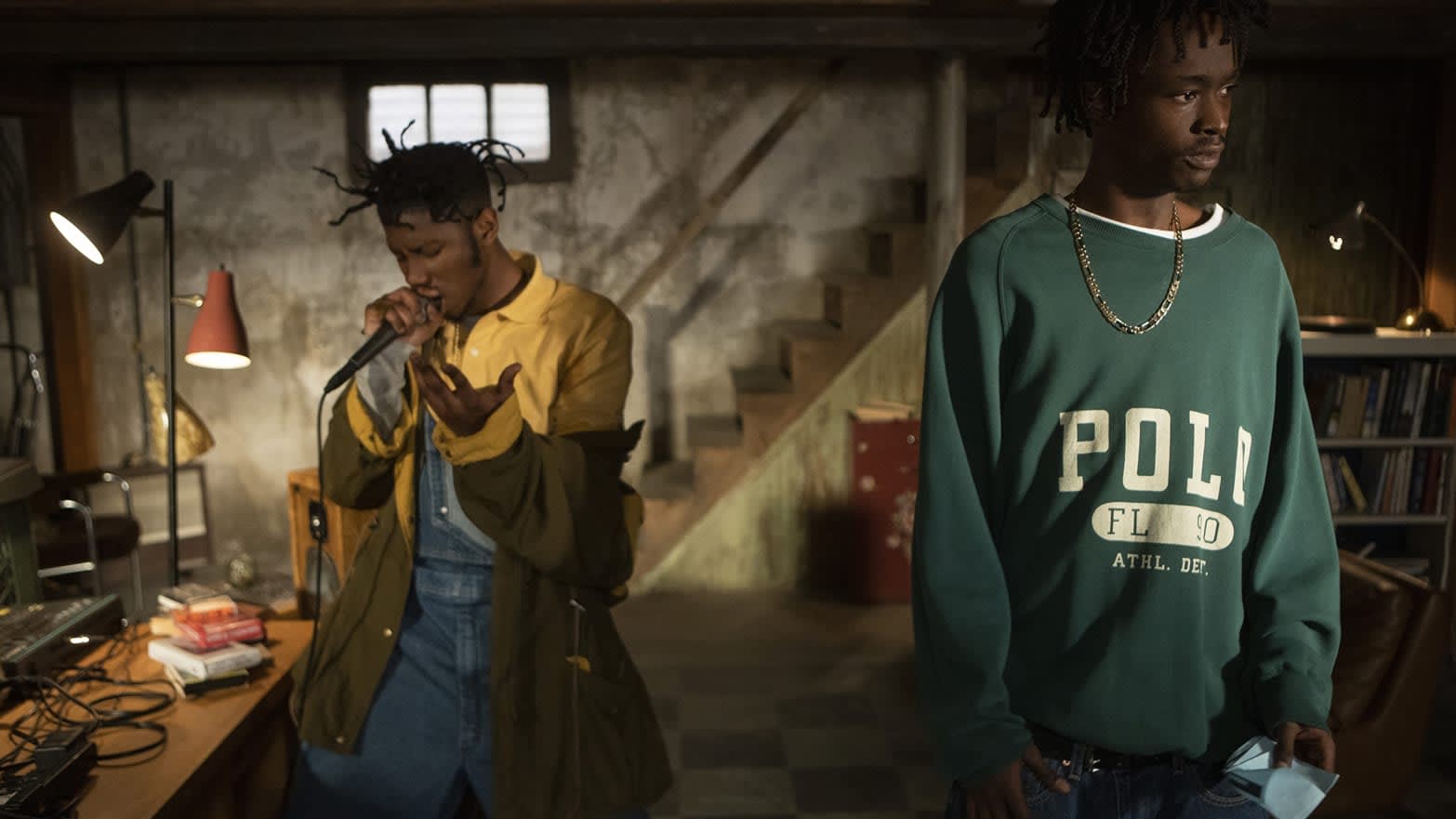 It's something about it having that age and the spirit to it. I'm not saying that a retro or a re-release couldn't have given the same effect. But I was always keeping in mind that the characters that I'm dressing, other than ODB, are still alive, and I would hate for them to be like, "That didn't look like what I wore back then." And Polo's very specific, so I wanted to make sure it was historically accurate. 
Did you make any custom pieces for the show?
I designed the MCM suit that the character Haze wears. I sketched it up, sent it to Misa Hylton at MCM, and she made it happen, thankfully. I also created a couple of costumes for Ason's [ODB's] character, like a pair of drop-crotch overalls. And I sketched up the airbrushed Air Force 1s that Jah Son wore. I also designed all the jewelry seen in the show.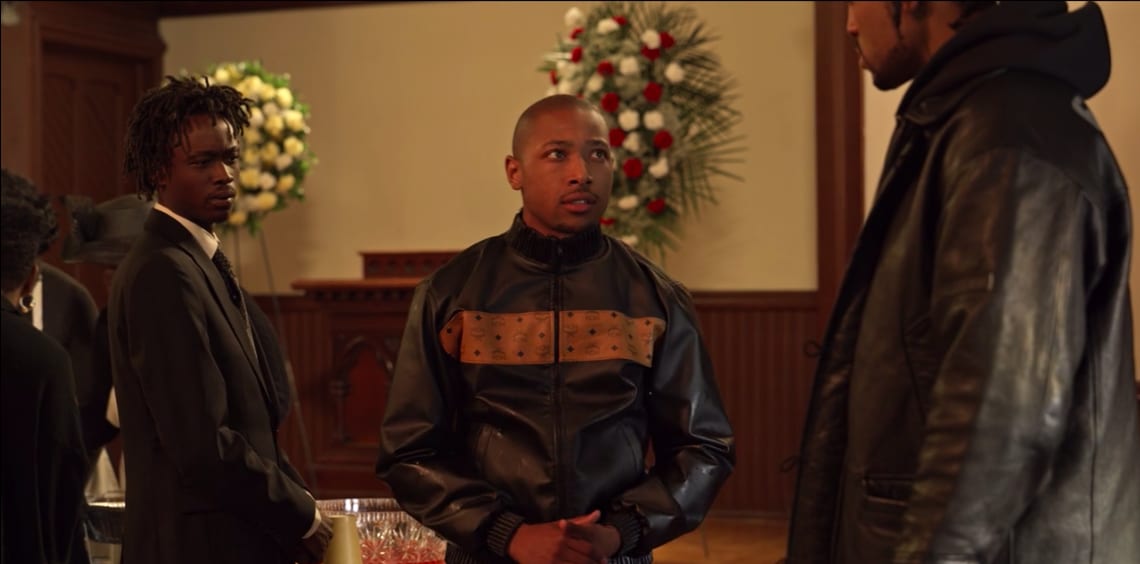 How did you design the MCM suit?
Haze, his character's very clean, right? So he's not flashy, but he is kind of flashy in a way, right? So with the MCM piece, it had to have '90s flair, hands down. But if you look at the MCM piece and the Dapper Dan piece, he's wearing the same silhouette, if you compare the two. They just have a different set of details. I didn't want Haze to look too flashy because it's not his character.
So when you see him, you see him in a bit of a uniform, which is what he wears throughout the episodes. But I wanted people to see his outfit and think, "All right, that's a fly '90s MCM outfit. That's Dapper Dan in the '90s."
The audience that's watching this show, they're younger than the group members. But on the flip side, the people who are watching it actually lived through the '90s. I vowed to myself that I have to have pieces on everybody and have people say, "That's '90s New York, hands down."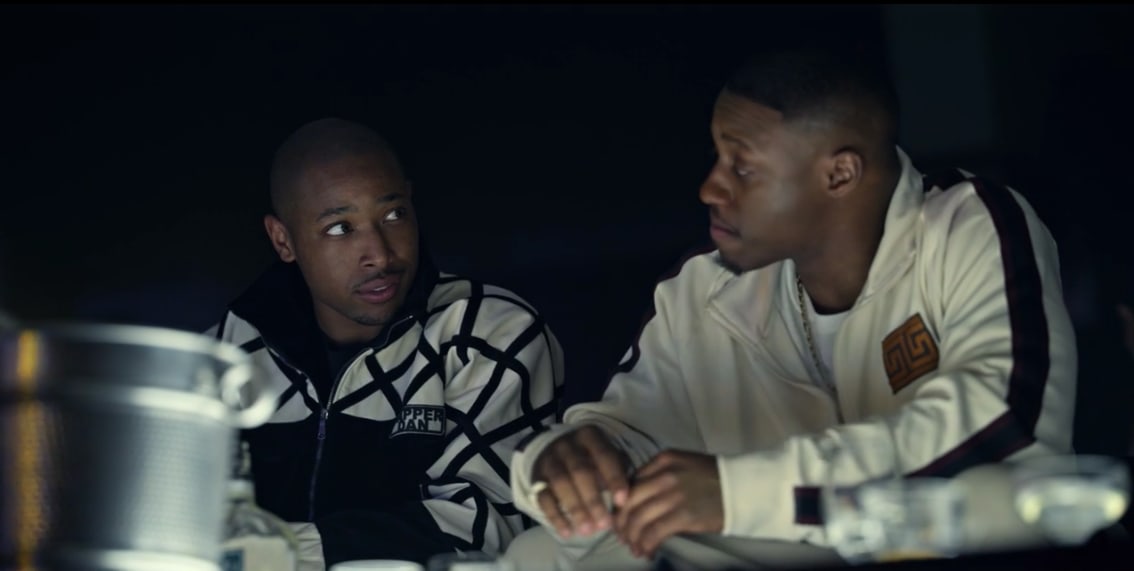 How did you collaborate with Dapper Dan?
Dapper Dan is a close friend of mine and I previously worked with him on season two of She's Gotta Have It, when we designed a piece for Fat Joe's character, Winny Win. He created a couple looks for that. So when I approached Dapper Dan for this, I told him I would like to create a costume for this one character, and I wanted it to be authentic, certified Dapper Dan. So when someone looks at the screen, they're like, "Hands down, without a doubt."
As a costume designer for this show, I was able to bring the story back to life through my design. But I'm also paying homage to the African-American designers that these hip-hop artists wore, like Dapper Dan, Karl Kani, Cross Colours, and Walker Wear.
One thing I've constantly noticed in films is that for some apparel companies you need to hide the logo. I noticed that Divine is wearing a North Face Nuptse and you had to make a patch over the logos. Could you explain that? 
I can't speak for brands. But what I will say is that when I approached Cross Colours to request that they be a part of our production, and work with me as far as costume design and sending me clothing, I was very transparent in telling them that this is a story about a group of men who came up in Staten Island and there would be sex, drugs, violence, and mayhem. And I gave them the opportunity to decide whether or not they want to be portrayed in that light.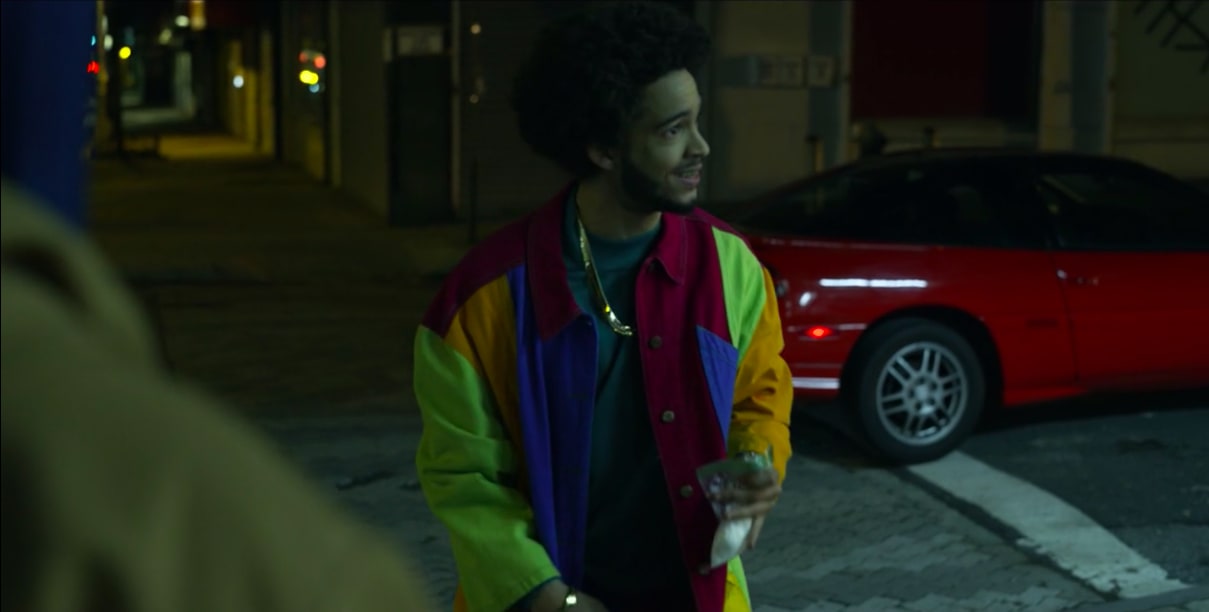 And the reason I reached out to them was because it was scripted that Jah Son wore Cross Colours, it was very specific that he wore Cross Colours. What I did was I gave him my spiel, went over what the scene would require, and I left it up to the designer. I did the same thing for Walker Wear, Dapper Dan, and MCM.  And they all said that's what was worn during the era. TJ Walker from Cross Colours essentially told me that although it's not portraying his clothing in the best light, it still made sense for Cross Colours to be a part of this project because it's a part of that era.
Last year, you worked on costume design looking back on the '70s for Spike Lee's BlacKkKlansman. What do you enjoy most about creating costumes for era-specific works? 
Yeah, this is actually going to be my third era. I have another project coming out on Netflix soon. What I like the most is really being able to get as specific as possible and tell the story visually. 
I do like the idea of finding that one piece that puts it all together, or several pieces. And more importantly, I think it's important that as a costume designer, it's very special to me when I see my actors or actresses put on costumes from an era, or in general, and they come to life. That's magic to me. That's what I enjoy the most as far as costume design.
For instance, Dave East, I did a fitting with him. I put the look together and I stepped out of the fitting room for him to change. When he put on a Hoyas jersey and turned around really quickly, I looked at him and went, "Whoa." I tell you he looked just like Method Man. 
And he was like, "What?" And I said, "Turn around and look in the mirror." And he was like, "Wow." That is magic to me.