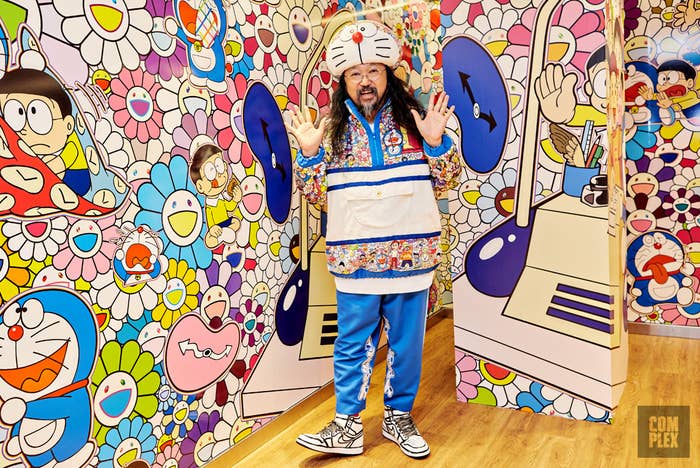 Earlier this morning, roughly 200 people lined up outside Uniqlo's 5th Avenue store. All of them—kids, tourists, hypebeasts, regular folks—were there for one thing and one thing only: to meet Takashi Murakami.
Murakami, the famed Japanese artist, is in town for the release of his new collaboration with Uniqlo's UT line inspired by Doraemon—a popular manga series created by Fujiko F. Fujio in 1970. The collection includes 15 different T-shirts and a collectable Doraemon plush toy. Each one features Murakami's "Anna koto iina dekitara iina" work, which was first shown at "Doraemon Exhibition Tokyo 2017," as well as designs from the Doraemon comic.
We caught up with Murakami, who was dressed in a Doraemon hat, pants and jacket with the same artwork on the UT line, and Joshua Vides Air Jordan 1s, to talk about the new collection. But of course, we also talked to him about his favorite sneakers, working with Virgil Abloh, and the cover art for Kids See Ghost, Kanye West and Kid Cudi's joint album, which West first shared during his recent Twitter spree. 
The "Doraemon UT" collection is available now at Uniqlo's 5th Avenue store. It will launch at select Uniqlo shops nationwide and online throughout May.
(This interview has been edited and condensed for clarity.)
Tell me about the artwork for this Uniqlo UT collaboration. This is the same artwork from last year's Doraemon exhibition in Japan right?
Yeah, this came from the paintings.
What did you want to do with the artwork?
Sixteen years ago, in 2002, there was an event in Japan where artists were asked to interpret the Doraemon, the character in the cartoon, and create their own work. It was a group show that toured throughout Japan, and it was a huge hit. Ever since then, there have been a lot of museums that have showcased Manga as a theme. So it sort of set off the boom for that. It's been 16 years, and they just did another show of that same theme, and they asked a lot of different artists to come up with interpretations of this character. During that time, there's been a Doraemon museum and the author, Fujiko F. Fujio, has passed away. But the cartoon is still selling, and they're trying out a lot of things to market the cartoon and keep it going. When I participated in the show, I was trying to combine the world of contemporary art and the Manga world.
What was your earliest memory of Doraemon?
Doraemon was actually my younger brother's time. For me, I was the generation slightly before. It was by the same author, but it was called Obake and Perman. Those were the two works that I grew up with. But I just recall my younger brother reading a lot of Doraemon.
Are you surprised at all at the reception of the collaboration? There was a huge line outside of the store earlier.
It came from ComplexCon[laughs]. This is true. I was surprised two years ago when I went to ComplexCon. When I walked around everybody was mentioning my name like, "Hey, Takashi!"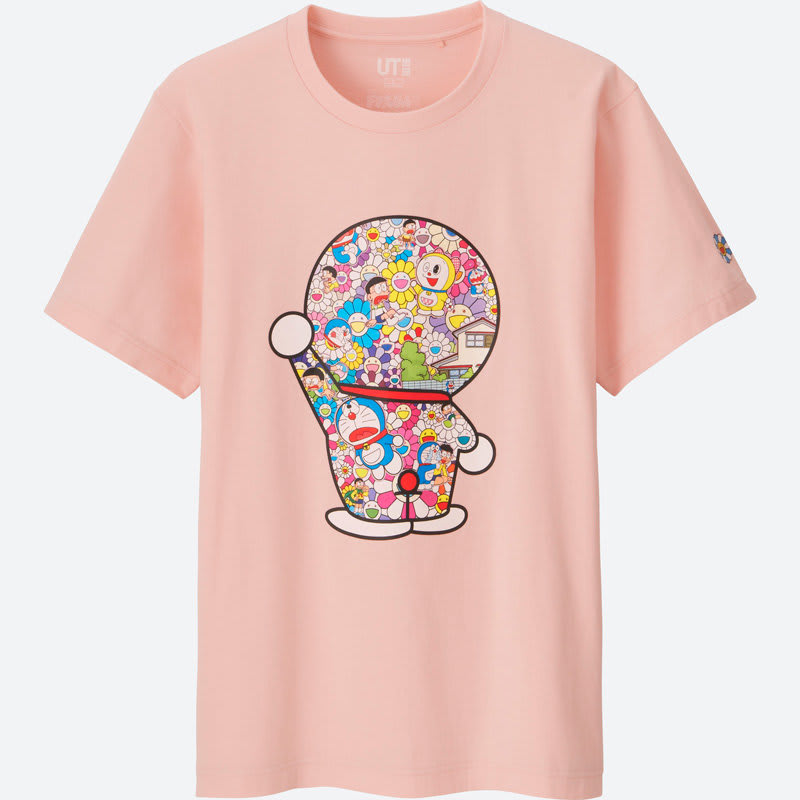 You're famous.
Yeah [laughs]. But I didn't know that, honestly. And these people don't look like fashion people. They looked like Star Wars fans, like Comic Con. But last year at ComplexCon, I understood what was going on more. Sneakerheads are still a mystery to me. But these people love me and that's why there's a long line. People standing in line is one thing, but now they've created a secondary [resale] market.
Speaking of sneakerheads. You've been wearing some heat recently. Do you have a favorite sneaker?
I'm not a fashion person, number one [laughs]. But Virgil Abloh, I connect with his concept because it's kind of the subculture and he's bridging many gaps. But mostly, I really like… What's that huge sneaker? Balenciaga.
The Triple S. You wear them?
Yeah. It's super heavy [laughs].
Yeah, 'cause they're really chunky.
Yeah. But number one is Kanye's Yeezy, number two is Virgil x Nike Air Jordan 1, and then the Balenciaga thing. But the Balenciaga thing really looks like the monster stuff. I love that.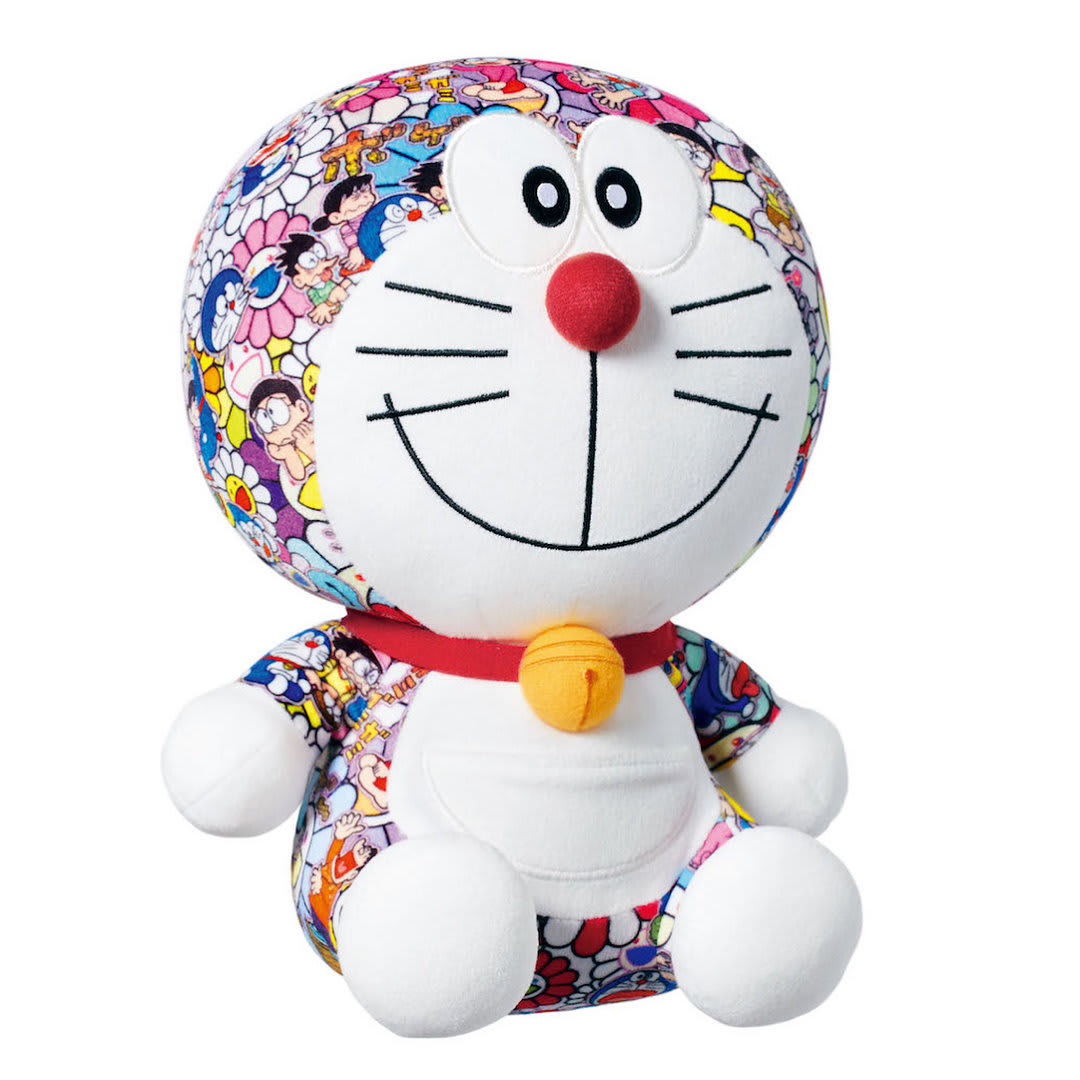 Would you ever do your own sneaker collaboration?
This is my newest project. I visited Nike. But I'm looking to make it in Japan, [get] some fabricator to make something. I don't know. If I can get some nice communication with some collaboration people, we want to release at ComplexCon this year.
You have something in the works with Nike?
I don't know. If Nike is pushing me, we can make some sample. But I visited last month in Portland, but nothing has happened yet.
What is is about Virgil that you admire?
In the very beginning, he came to my studio 12 or 13 years ago as Kanye's assistant in Japan. I just remembered that for the first time last year when Virgil came to visit my show at the MCA Chicago. He told me, "I've been to your studio." And then I stared at his face and realized there was this tall guy in the group. At the time, he told me growing up in Chicago, he didn't really have anything to do with the art world, but he and Don C saw the store window of Louis Vuitton and saw my collaboration, the colorful monogram, and they were really excited about it. They were talking about how these were the things that were going to come up in the near future. He said that that was his first experience with art. So I had the impression that he liked me and my work. And then we met again at ComplexCon and we had a talk. During that time, again he mentioned this incident, so I felt like he had a great regard for me. His Off-White brand and the logos and visuals are already super popular in Asia, so I asked if he wanted to collaborate with me in making art work together using the popular imagery. He immediately said sure. It was almost too immediate that I felt like, is that for real? [laughs]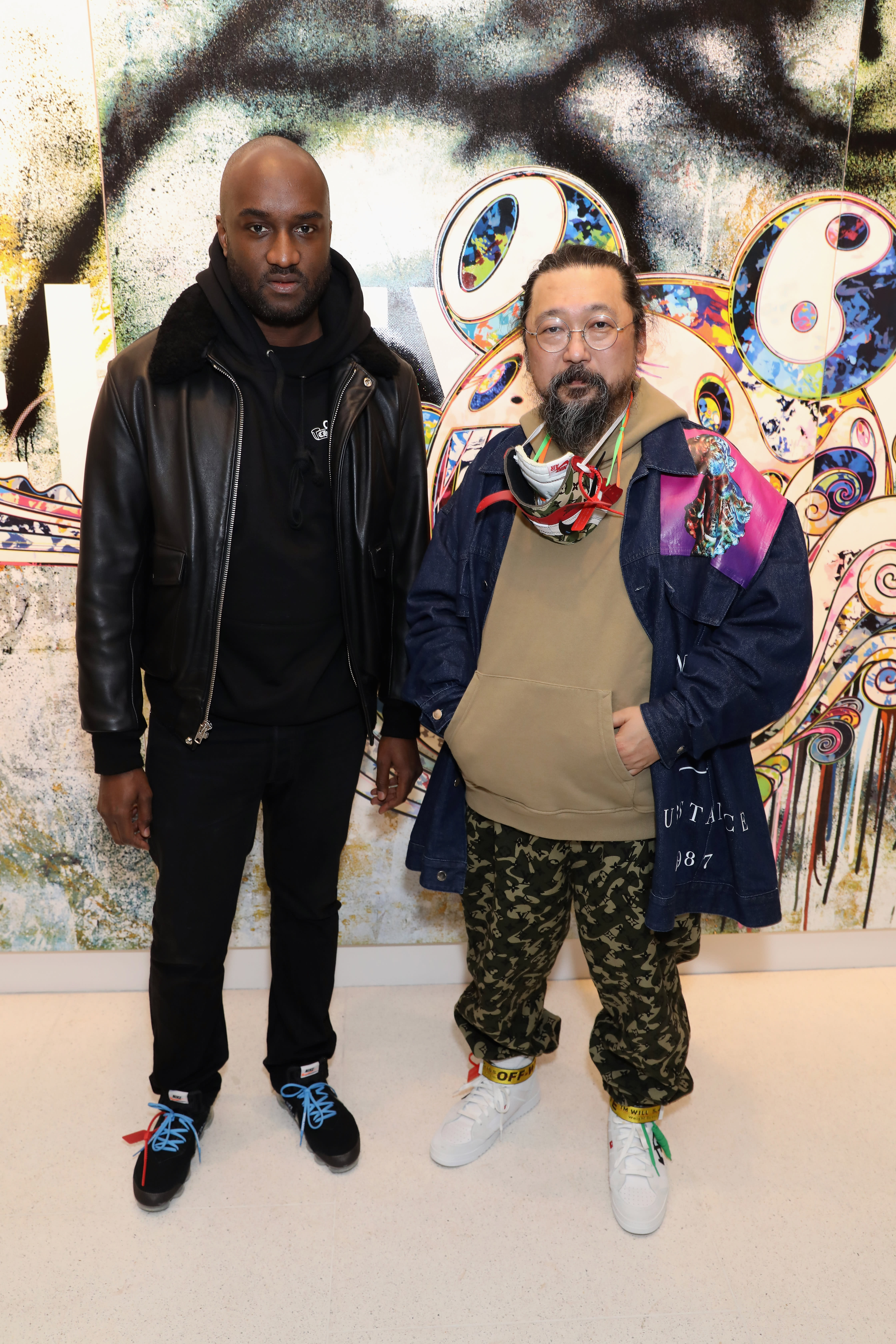 You posted a photo of the artwork for Kids See Ghost. How did that happen?
I'm not sure if I'm actually supposed to be talking about this [laughs]. But last year, Kanye and Kid Cudi said they wanted to come to my studio. They gave me a month notice, and maybe it was July or August that they came. But the day before they came, they suddenly said, "We need a guitar and an amp for speakers set up in the studio." They specified what type of equipment to get, so my assistants just ran around trying to get everything ready and set up the whole thing in my art studio. They came and we didn't even greet each other much. Kanye just started reading out the lines he had written on his phone, he started the beat on the computer, and then Kid Cudi started playing guitar. The whole session started right there. Afterwards, they said, "So how was it? How did you like it?" I was like, "I don't know" [laughs]. They said, "Ok. Let's talk. Kid Cudi and me are doing a collaboration. Why don't we do something together?" The next day, they came back.
The visual you saw on Twitter was something that me, my assistants, Kanye, and his assistants all got together for. We drew different ideas on a paper. That was the very rudimental plan. But then nothing came of it, so I didn't know what was happening. Then maybe two days before that visual was posted, Kanye announced that Kid Cudi and him were releasing an album, Kids See Ghost. So I was like, "Oh, I thought we were going to do something together. But I guess not." And then two days later, my drawing came up.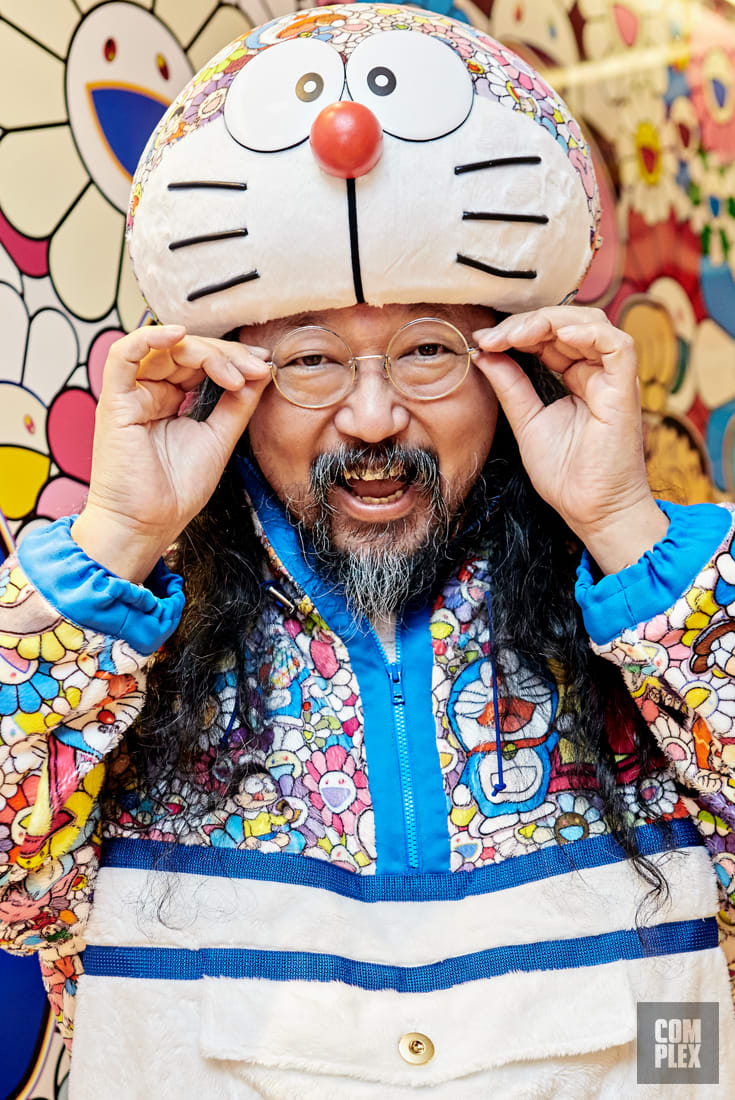 Is there a meaning behind the drawing? What was the inspiration for it?
That was Kanye. He gave us the idea. Initially, it was the Kanye bear and Kid Cudi is a fox. Kid Cudi said, "My character is a dog." We were talking and making up the character for two hours, and I did the bear thing and dog thing. Kanye was quiet and then finally he saw the character and was like, "Cudi, you are the fox. You're a fox. No dog. You're a fox, OK?" Kid Cudi said, "OK." So I had to change the character into a fox. But in my head it was already a dog, that's why the fox image looks like a dog. It's a very strange composition.
There's a generation of kids who grew up on your artwork or, like Virgil, were exposed to art through your work. How does that feel?
I actually don't know why this is happening. But the contemporary art world solely exists in New York, London, and Paris. For that world and market, I'm very strategically making my artwork. The merchandise I create has never been for profit. It's just because I was curious. But I've always wanted to explore what comes after Andy Warhol and Jeff Koons have done, because I wanted to explore that line further. So it was always a part of my fine art activity. By promoting this merchandise I was sort of claiming my place in the art world. But then there were these younger people who were buying this merchandise. For them, buying the merchandise itself is the very real experience. Then there's a whole generation, like Virgil, where the motivation is creating merchandise. That itself is the creative act. I'm learning that there's that kind of new perspective. I don't feel like I'm this artist they're looking up to and revering or anything like that. I'm more interested in what kind of chemical reaction is happening, why they would buy the merchandise I make, and what this can develop into.