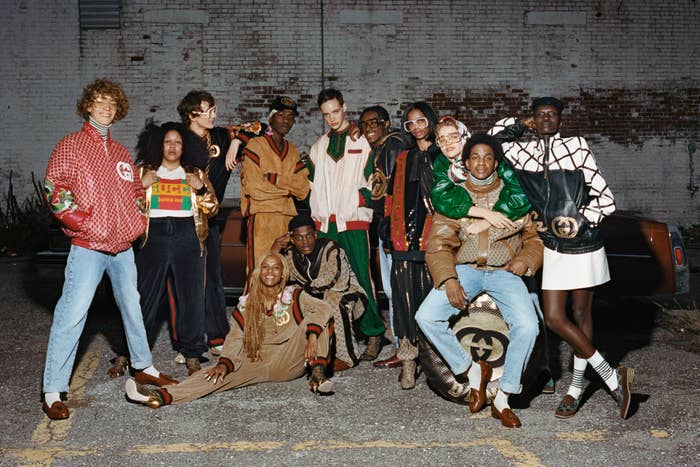 Dapper Dan's relationship with Gucci has done a complete 180.
It was about three decades ago when Dapper Dan—real name Daniel Day—began making a name for himself in Harlem, where he hawked one-of-a-kind designs that featured bootleg logos of popular luxury labels, including the storied Italian fashion house. Gucci eventually sued Dan for profiting off its trademarked branding, only to re-appropriate his designs more than 20 years later.
Shortly after the fashion house was called out for biting Dapper Dan's creations, Gucci announced it would finally give the man the credit he deserves. Not only did the label feature him in its Fall/Winter 2017 menswear campaign, its creative director Alessandro Michele also announced a proper collaborative collection with the iconic hip-hop designer.
"Everyone paid homage to Dapper Dan, but no one ever paid him," Dapper Dan said about the partnership last year. "The people have spoken and Gucci has listened. Nothing has been more significant in the Harlem cultural scene than Alessandro and Gucci coming to Harlem and partnering with Dapper Dan."
On Tuesday, Gucci finally released the highly anticipated range around the world. In celebration of the launch, the fashion house tapped New York-based photographer Ari Marcopoulos to showcase the collection in a series of portraits inspired by archival 1980s photographs.
The series features models in the neighborhood of Harlem, rocking Dapper Dan's reimagined archived garments and accessories. Pieces include tracksuits, knits, outerwear, as well as sunglasses, jewelry, and sneakers. All-over prints, nappa leather, and velour fabrications are also featured throughout the collection, which you can check out below.
The Gucci-Dapper Dan collection is available now at select Gucci retailers as well as Gucci.com.