Last night, Rihanna presented her third Fenty Puma by Rihanna collection at the Bibliothèque Nationale de France. I wasn't in town specifically for Paris Fashion Week, but when the team at Complex asked if I wanted to cover the show for them I couldn't say no.
At about 8:30 p.m., I hopped into an Uber to head to my first Fenty Puma by Rihanna runway show. Afraid that it'd be complete mayhem, much like any celebrity fashion show, I wanted to get there early (and by early I mean on time, because shows never actually start on time). To my surprise, the crowd outside the library was small and controlled. "Perfect," I thought. "Now the street style photographers can actually get into my Craig Green raincoat." They still ignored me.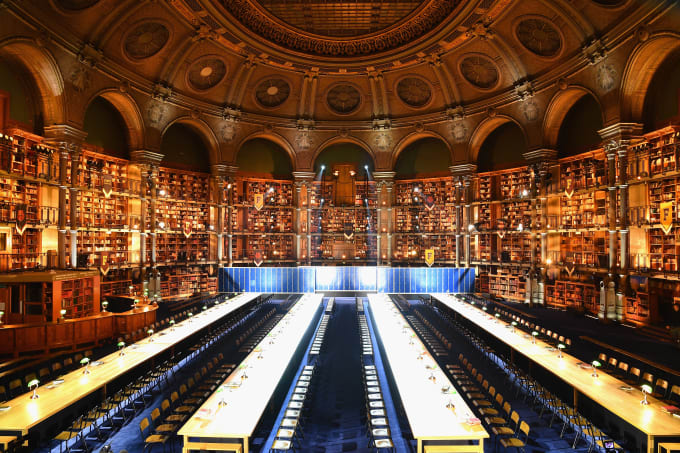 Once I checked in and made my way inside, I took a moment to soak up the massive venue. The detention card invites set up the school-inspired theme, but this was still next-level. The space looked like something out of the Harry Potter series, with floor-to-ceiling bookshelves and rows of long study tables with green reading lamps in front of every seat, which later served as the models' catwalks. Books were scattered across tables and small binders were stamped with "Fenty Class of 2017." Was I a part of this class? Where do I get my uniform?
Later, as I was chatting with a friend, I noticed a tall man in a burgundy fur coat and oversized sunglasses standing in the middle of the room. "Fashion kids are always doing too much," I thought. I assumed he was a gate crasher. It was actually Future.
There weren't a ton of celebrities at Fenty. Cara Delevingne showed support for her friend in a Fenty hoodie, along with Salma Hayek, Nick and Joe Jonas, and Rihanna's long-time collaborators, The-Dream and DJ Mustard. But, in this case, there didn't need to be A-listers everywhere. I mean, who else do you really need at your show when you're one of the biggest pop stars in the world?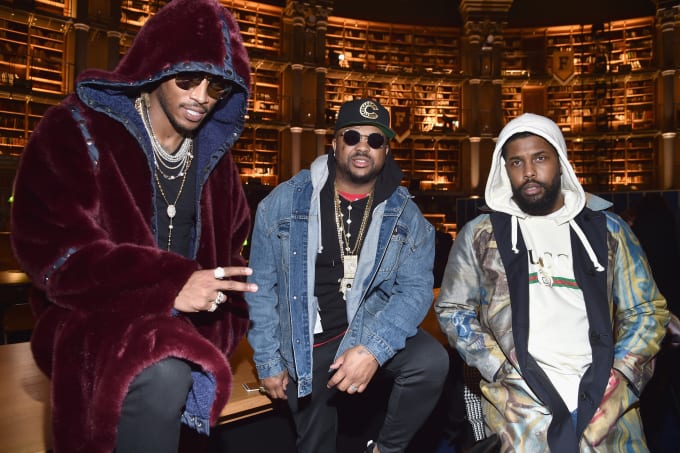 The show opened with a choral cover of Radiohead's "Creep" as it-girl Slick Woods, who also walked last season, strutted down the runway topless underneath a floor-length plaid puffer coat and a plaid mini skirt. Other male and female models, like Joan Smalls and Adwoa Aboah, followed as Die Antwoord's "Happy Go Sucky Fucky" and "I Fink you Freaky" and "Bad Girls" by M.I.A. played in the background. There were oversized, gender-bending pieces that played up to the theme perfectly, including coach's jackets, soccer jerseys-turned dresses, tracksuits, cropped and oversized crest polo shirts, baseball tees, chunky sweaters, and schoolgirl skirts, and "F" branded backpacks in the shape of teddy bears. It was as if Tommy Hilfiger and Hood by Air had a baby; collegiate apparel on acid. The wildly successful Puma creeper was also updated with stacked soles and ankle straps, and introduced in new colorways like plaid and bright yellow.
"When I was in school, it was always my dream to be able to dress up in whatever I wanted," Rihanna said about collection in a release. "But in Barbados it was mandatory to wear a school uniform, so I had so much fun this season creating these 'back to school' inspired looks, and I'm honored to present the collection in such a majestic national monument."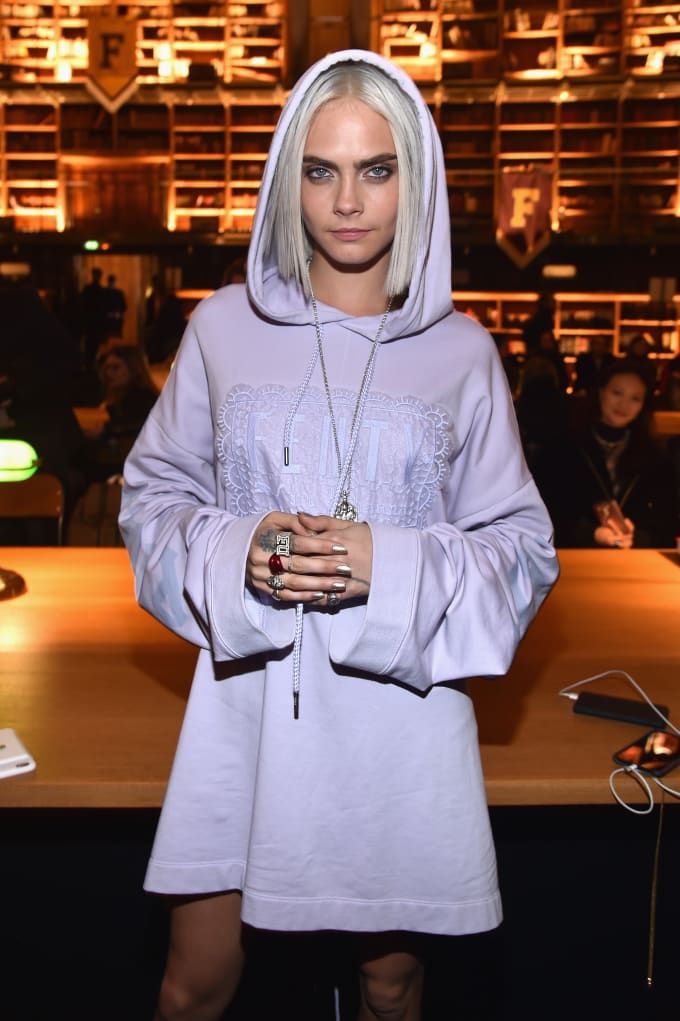 Rihanna's Fall/Winter 2017 Fenty Puma collection was definitely smarter and more wearable than the previous, which the singer has said was inspired by what Marie Antoinette would've worn to the gym. After the final walk, Rihanna appeared from behind the blue lockers in an oversized neon green coat (which I hope is part of the new collection) eyes beaming with excitement. Detention with Rihanna and the Fenty Class of 2017 was just as epic as I'd expected.
Still, I refused to stay and see the scene afterwards because seriously, have you ever tried getting a dinner reservation in Paris during Fashion Week? Impossible. 'Til next season, Rih.