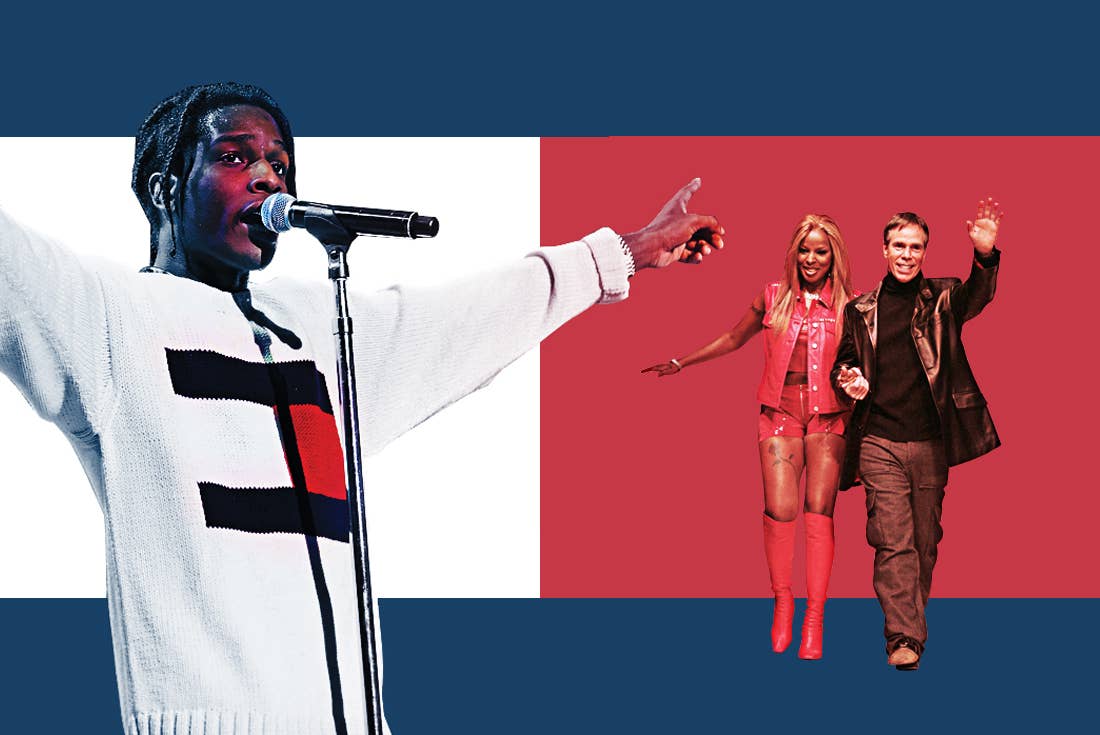 In 1992, Grand Puba appeared on an episode of Yo! MTV Raps  with Mary J. Blige to perform their song "What's the 411?" Puba was dressed in a white Fila visor, a pair of Nike Revaderchi sneakers, and a color-blocked Polo Ralph Lauren Alpine rugby shirt tucked at the belt loop of his Girbaud denim shorts. At the time, these were the hottest brands in hip-hop. But, in the lyrics of the song, Puba would introduce a designer label that was new to the rap community: Tommy Hilfiger.
"Well I be Puba on this here/The n***a from last year/Girbauds hanging baggy/Tommy Hilfiger top gear"
Born in Elmira, New York, Tommy Hilfiger got his start in fashion when he and two friends opened a small store called People's Place in his hometown in 1969. People's Place sold mostly bell-bottom jeans, rock n' roll posters, records, and rolling papers. The shop was a success and Hilfiger launched several other locations. But by 1979, People's Place had gone bankrupt.
Seven years later, Hilfiger founded his eponymous label. "I knew exactly what I wanted to do—I wanted to build some kind of lifestyle brand that was preppy and cool," Hilfiger explained to The Guardian. The label Tommy Hilfiger, which included classic collegiate styles like polo shirts and chinos, wasn't initially intended for rappers. But the bright graphics and colors spoke to many rappers' bold sensibility and drew them to the brand.
Hilfiger and his brother Andy took notice of the unlikely endorsement and started building relationships with hip-hop artists. Soon, they were dressing everyone from Raekwon to TLC, placing them in ad campaigns and inviting them to walk in runway shows for the brand's sportier offshoot, Tommy Jeans. But in December 1996, a rumor surfaced online that Hilfiger had appeared on The Oprah Winfrey Show and made racist remarks about the people purchasing his clothing. Hilfiger denied the hearsay, but ultimately, the controversy hurt his label and his relationship to rap music.
Decades after Hilfiger became the hottest brand in hip-hop, key players in the industry at the time reflect on Tommy Hilfiger's legacy with rap culture, how it fell apart, and where the brand is now.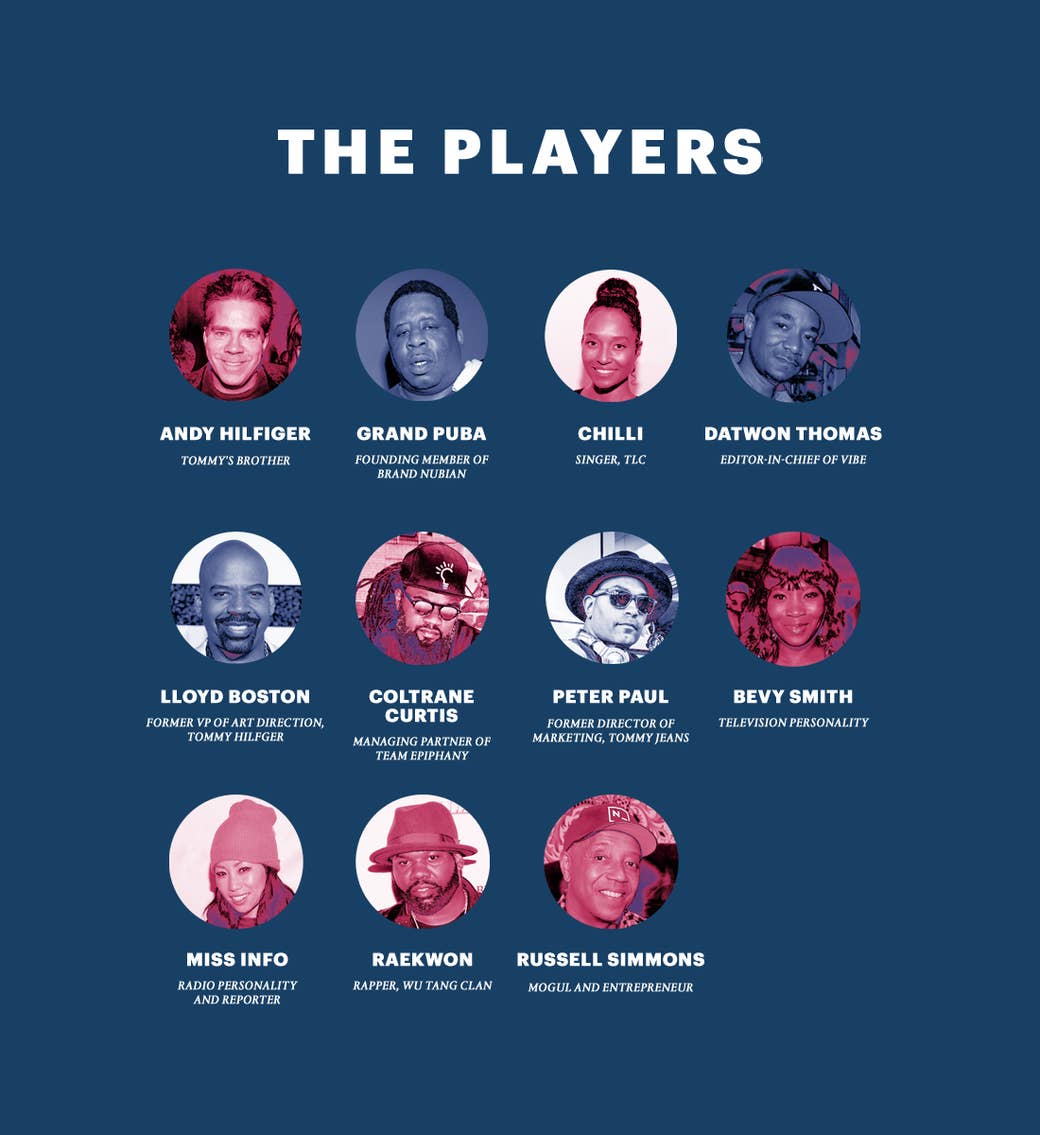 Mid-to-Late 1980s to Early 1990s: Polo Versus Tommy Hilfiger
In the early-to-mid '80s, Polo Ralph Lauren was one of the most in-demand clothing labels in hip-hop. In addition to rappers, the label was also worn by the Lo Lifes, a prominent crew made up of two Brooklyn gangs—the United Shoplifter's Association from Marcus Garvey Village in Brownsville and Ralphie's Kids from St. John's and Utica in Crown Heights. But then, trailblazing rappers like Raekwon and Grand Puba popularized Tommy Hilfiger.
Raekwon, rapper, Wu-Tang Clan: Tommy Hilfiger started to emerge back in the '90s. Before that—I would say between '84 and '89—Polo was king. But, Polo wasn't making the kind of stuff we felt was next level. So, a lot of people stopped buying Polo at the time. We started seeing this line called Tommy Hilfiger.
Coltrane Curtis, managing partner, creative agency Team Epiphany: It was Tommy versus 'Lo. Luckily for Hilfiger, he had Peter Paul in his corner. Peter was the New York City cool kid who really lit the candle for Tommy to be Tommy, as we know it in hip-hop. This could be crazy to say, but he was the Jackie Robinson of the urban fashion game for black kids. He is the unsung story of Tommy being who Tommy was.
Peter Paul, former director of marketing, Tommy Jeans: Once upon a time, even I was rocking all Polo. It was head-to-toe Ralph. Ralph represented the Hamptons and wealth. We may have never been to ski lodges, but here were street kids grabbing it and repping it. His clothing was undeniable—and still is. Yes, Ralph Lauren is timeless, and he may be number one, but Tommy was the one who made quick inroads into the community by embracing it.
Datwon Thomas, EIC, Vibe: I had a bunch of friends who were 'Lo heads, but personally, I didn't have the necessary Polo money. However, I could get Hilfiger for $40 to $60, compared to Polo, which was starting at like $100.
Curtis: Beyond price, Hilfiger was also speaking to the sensibilities of a specific hood kid. For example, to this day, my wife yells at me about my pants always hanging low, but they were never hood low. When you think of that "show-your-underwear" aesthetic that Hilfiger popularized, that was never part of the 'Lo look. That was straight hood low, because you have your work and your have your hammer, and your jeans are weighed down. That silhouette came from street corner culture—and Hilfiger was marketing to that 100 percent. It was brilliant.
Raekwon: My thing was, if I saw a Polo shirt with a lot of flags on it, I loved it. But, when they just started putting a horse, I got bored with that. I remember buying a pair of [Tommy Hilfiger] pants for the first time—it was a pair of khakis that had that same tag, and they fit good. Next thing you know, we started mentioning it in our rhymes. In my eyes, Polo started to get old, and Hilfiger was new.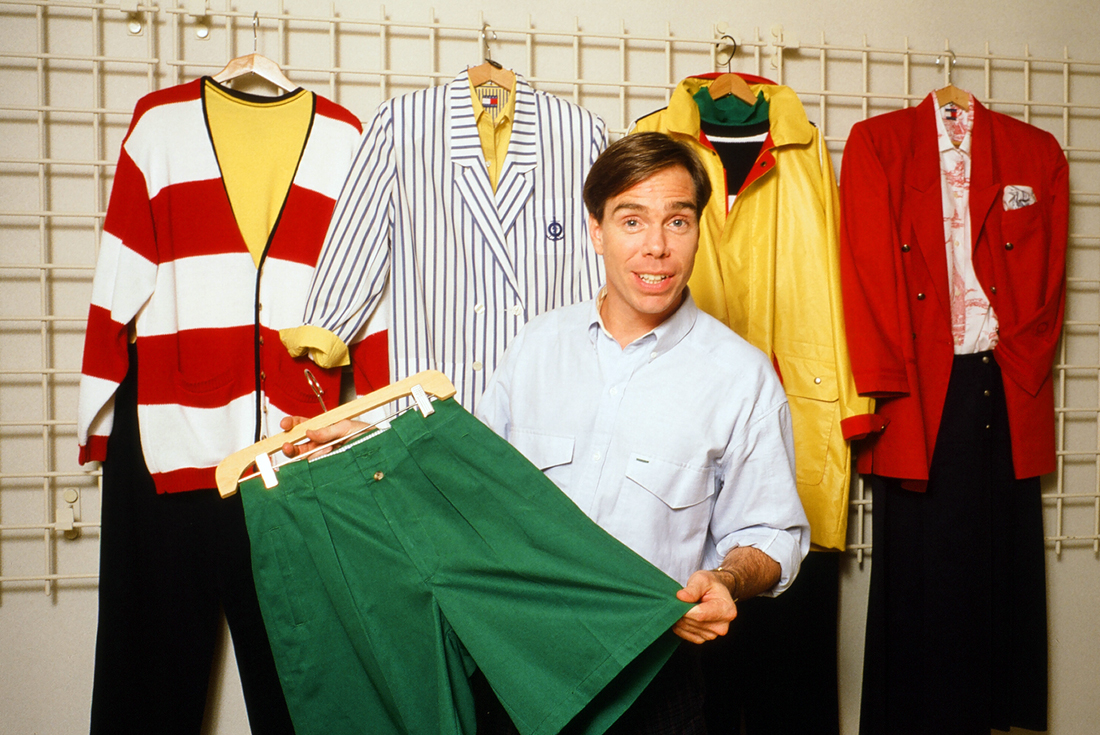 1992: Grand Puba Name Drops Tommy Hilfiger on "What's the 411?"
In 1992, Mary J. Blige's What's the 411? was released. The album put her in the spotlight, and the popularity of the album gave Puba's line about Tommy Hilfiger in the song "What's the 411?" a reach it wouldn't have had on a Brand Nubian project.
Grand Puba, founding member of Brand Nubian:[I wrote "What's the 411?"] 'cause that's what I was wearing. Tommy was my new wears. In the industry, we always shout-out whatever's fresh or whatever's dope. At that time, I came up on Tommy Hilfiger, and I was rocking that for a little minute.
Thomas: The craziest thing about the Grand Puba co-sign? This guy was in a group called Brand Nubian, which was all about being anti-establishment. It was about us being on par, or better, than the white man. These were basically Five Percenters, and for him to be talking knowledge of self while rocking such an American brand was cool, because he's not on that bull. He's a man of intelligence and integrity. That line solidified both the look for the '90s and Hilfiger's standing in the hood.
Curtis: That's when Tommy was at its coolest, because you have the Kanye West of back then, which was Puba. When Puba spit that out it was like, word? That is what kids were wearing.
Minya Oh, blogger/radio personality: I didn't have a lot of money back then, so I was definitely buying a lot of bootleg stuff. I was buying bootleg Hilfiger rugby shirts in men's sizes—XL and XXL—and I would specifically buy the striped rugby shirts because I saw Grand Puba wearing the same thing. That wasn't by accident, it was because I saw people like Grand Puba and I thought, "There's nobody fucking cooler than him. I wanna wear that. I'll even buy a poor approximation of that."
Andy Hilfiger, Tommy's brother and VP of marketing, Tommy Hilfiger: At the time, I lived up in Spanish Harlem on Broadway and 109th Street. I remember some kids came up to me and were like, "You gotta hear your brother's name in this song." I took it to Tommy and played it for him. The first time we met Brand Nubian and Puba, Tommy and I flew back from Hong Kong. We were at JFK at 6:00 in the morning, and I saw Brand Nubian and Puba. They had just done that TV show In Living Color. I said, "Tommy, here are the guys that are wearing your clothes and rapping about you." Then he was like, "Oh, cool! Let's say hi. Let's meet them."
Grand Puba: Andy ran up on me and introduced himself, and I looked at him crazy. But then he was like, "I'm Andy Hilfiger, and this is my brother Tommy."
Andy: They were all like, "What? That's Tommy Hilfiger?" Tommy was like, "Hey, you guys look great in my clothes. Why don't you guys come to the showroom tomorrow and we'll dress everybody? We'll give you guys all the clothes you want."
"I was like a blessing in disguise for that clothing line." - grand puba
Lloyd Boston, former VP of art direction, Tommy Hilfiger: They said they'd be there at 3:00, so at 2:55, Tommy and I were waiting at the elevator for them. Then 3:00 became 3:05, then 3:15, and they still weren't there. Tommy looked at me, and I was so nervous. All he said was, "Lloyd, relax. Rappers are rock stars, and rock stars are never on time." As a man of color, it put me at ease. Finally, at 3:45, they got off the elevator. I will say it didn't smell like they were coming from the gym. But sure enough, Tommy comes downstairs and he gave them the warmest welcome you can imagine. There was no press. He didn't want that—he just wanted to thank them.
Andy: We gave them, I don't know, $20,000 worth of clothes. We gave them the rugbys, all the gear.
Grand Puba: That was a good vibe. We took pictures. They were very cool. I've still got that picture from the showroom of me and Tommy, and I'm holding up a Tommy sweater.
Andy: At that time, our competition wasn't dressing hip-hop or rock n' roll [artists]. They didn't get it. But Tommy was like, "Wow. Can you imagine? They're freakin' on stage wearing our clothes? They're saying my name in a song?" He was so honored because that was unbelievable.
Grand Puba: Tommy was very supportive [of me]. Whenever I had a show or video to shoot, they made sure I was good. They gave me whatever I needed. I could go to the warehouse in Jersey and get whatever I wanted. One time, Tommy even wrote me a check—a nice sum of money, six figures or something like that, to say thank you. He actually just called me out of the blue and was like, "Hey, here you go, man. Thanks a lot." I guess it was for doing everything that I did to help his brand.
Paul: Today, an artist can borrow clothing from almost any brand. Back then, that process didn't exist. For photo shoots, you either had your clothes or you bought them. But, not at Tommy. Our doors were open. It so happened that I knew a group called A Tribe Called Quest, and we dressed them. I knew a group called Onyx, and we dressed them. I knew a group called Wu-Tang, we dressed them. What I didn't know at the time was the term "product placement," but I was doing it nonetheless. Meeting artists, getting them clothes, visiting sets, and laying them out without hangers.
Grand Puba: I'm telling you, when I mentioned Tommy [in my music], that's when it took off. I was like a blessing in disguise for that clothing line.
1994: Snoop Dogg Endorses Tommy Hilfiger on Saturday Night Live
On March 19, 1994, Snoop Dogg performed his cover of Doug E. Fresh and Slick Rick's classic "La Di Da Di" on Saturday Night Live wearing a red, white, and blue striped rugby shirt with "TOMMY" across the chest. At that point, Tommy Hilfiger was gaining prominence in both the hip-hop community and the mainstream, but the brand further solidified itself following Snoop's endorsement.
Andy Hilfiger: We didn't know a lot of celebrities then, but we would find out who they were and where they were. One time, Tommy and I were at the Grammy Awards after-party and I saw Snoop. I knew who he was because he had that song on Dr. Dre's record. Doggystyle wasn't even out yet. I said, "Tommy, he's the hottest rapper in L.A. right now." Tommy was like, "We should talk to him." So, I went over to Snoop and I was like, "Yo, I'm Andy Hilfiger and this is Tommy." He's like, "Oh cool, cool. Yeah, I've heard of your stuff. I've seen it." We said, "Well, if you want to hook up, here's our number." I thought there was no way this guy was going to call us. But then I got to work the next day, at about noon because we were out all night, and there was a message on my machine. It was Snoop. He was like, "Yo, Andy. It's Snoop. I want to come check you out." So, I called him back. About two hours later, he and his crew showed up at Hilfiger corporate. We gave them a tour of the showroom. We gave them clothes, hung out with them for a while.
Paul: Snoop noticed a basketball hoop in CEO Joe Horowitz's office and wouldn't leave. I ended up taking him and his crew to play, and I got dunked on.
Andy Hilfiger: About two weeks later, on a Friday night, Snoop called me. He's like, "Yo Andy, I need more gear." I'm like, "Oh, okay. Come on up!" He's like, "I can't. I'm rehearsing for Saturday Night Live. Can you come to my hotel tonight?" It was pouring rain. I went to Hilfiger and I undressed the mannequins and then headed to the Hotel Macklowe at midnight. I brought him these new logos and these new rugbys. The next night, at about quarter to 12, Tommy calls and says, "Andy, turn on Saturday Night Live. Those guys we met, Snoop, they're wearing my clothes." I'm like, "Yeah, I know. I forgot to tell you, I went to their hotel last night." He said, "Oh, my god."
Paul: The next day, the shirts sold out.
Andy Hilfiger: I went back to work on Monday, and our sales people from around the country for Hilfiger were like, "Did something happen because everybody wants more rugbys? Everybody wants more of our logo'd items." I was like, "Oh, yeah. Snoop Dogg was on Saturday Night Live." So, as much as Puba made it cool on the streets, Snoop brought it to the national level.
Paul: That was the shining moment. That's when Tommy went from subculture to mainstream. We now knew the effect of product placement and the strength and influence Hilfiger had on the hip-hop community.
Grand Puba: People tried to say Snoop wearing Tommy on Saturday Night Live is what made Tommy's clothing take off. And [Snoop] was trying to run with that, but everybody else kept correcting him. When you go to radio they're like, "No, correction: Grand Puba's the one." I mean, Snoop heard it from me. I felt like I was not getting the full justice. I just think I deserved more at that point.
Boston: Looking back, it may have seemed planned, but it wasn't strategic—it was organic. It was Tommy doing what he does: new twists on American classics.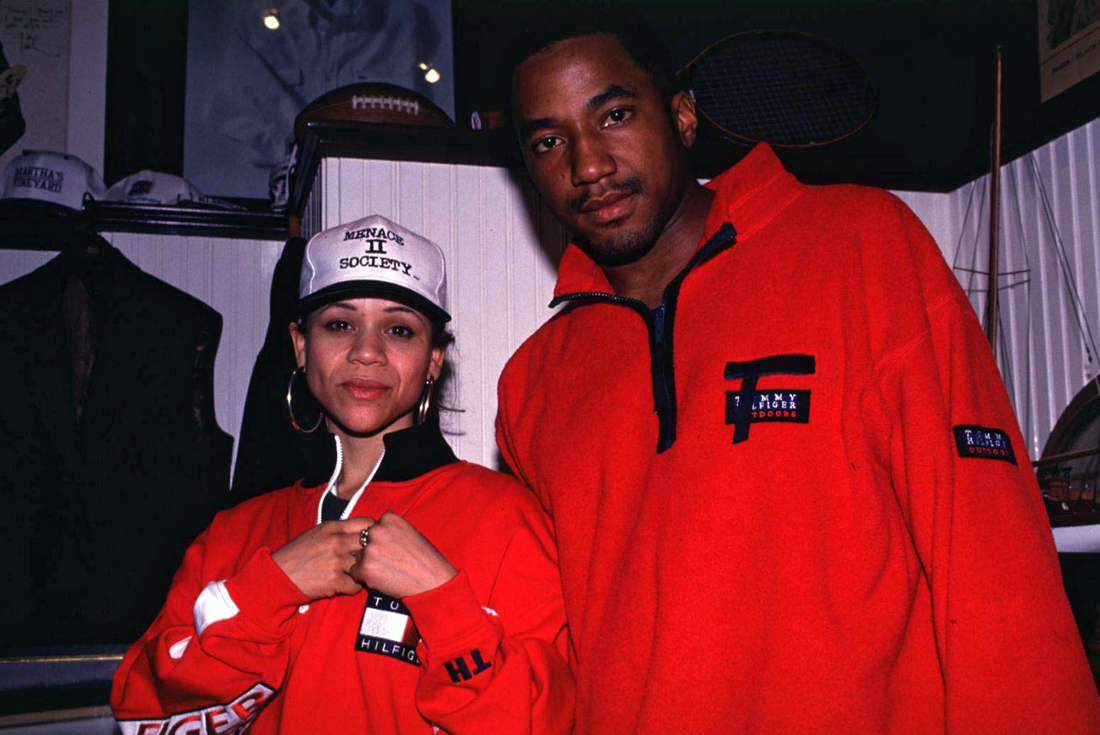 Fall 1996: Tommy Hilfiger Launches Younger, Sportier Label Tommy Jeans and Incorporates Hip-Hop in Its Runway Shows
Tommy Hilfiger had all the momentum. By 1996, he was awarded Menswear Designer of the Year by the Council of Fashion Designers of America, and had achieved $320 million in sales. Plus, the biggest names in hip-hop were wearing the brand. In the fall of 1996, Andy Hilfiger and Peter Paul launched a new label called Tommy Jeans. Tommy Jeans was the sportier offshoot of Tommy Hilfiger, which later became known for its runway shows that featured cameos from everyone from Raekwon to Treach from the rap group Naughty by Nature.
Andy Hilfiger: Hilfiger became so big with the youth and on the streets that we opened another division called Tommy Jeans. It was a little younger and it had more logos. My sister, Ginny, designed it, and we called it sport-tech denim. We wanted to market it to young people, and not just white people; we wanted to market it to cool kids. One day, [Uptown Records founder] Andre Harrell was like, "Andy, I want you to meet [legendary music producer and founder of Vibe magazine] Quincy Jones' daughters, Kidada and Rashida." Kidada was styling for Uptown Records and a lot of other people at the time, but I asked her if she would just work for us. We hired Kidada to do styling and product placement mostly for Tommy Jeans. Kidada moved to New York from L.A. We became best friends and partners in this whole thing.
Paul: The first fashion show we did was with Vibe, because Quincy and Tommy were really good friends. Tommy said, "Let's do this big fashion show." It was a mash-up of different kinds of people.
Boston: This was when the New York Fashion Week tents were not a scene yet. So, it was groundbreaking then.
Raekwon: I remember getting a call one day and my manager was like, "You won't believe who called." It was Andy and Tommy. I was like, "From the clothing line that we love?" He told us to come through and see their new line. I was shocked and I felt honored. I told Tommy: "I'm a big fan of your stuff. It reminds me of the days when we would wear these kinds of jackets, shirts, and pants." They was loving it and said they wanted me to walk in the show. I was like, "Word. Y'all got something that nobody else got? Because that's something I want to wear." They had this long fleece jacket that had these patches on it, and it was perfect. It felt good to go down that runway with it on.
Andy Hilfiger: The show was unbelievable. I remember the Fugees came to the show and said they wanted to be in the show, but it was too late, because we had it all produced and everything. A month later, they had the biggest record.
Paul: I came down the runway with Boris Kodjoe. Raekwon came out. Method Man came out in the Tommy robe. Quincy came down in the Tommy suit and a cane. Limp Bizkit was in it. It was classic Tommy.
"They had this long fleece jacket that had these patches on it, and it was perfect. It felt good to go down that runway with it on." - Raekwon
Andy Hilfiger: We had Q-Tip on one side of the stage and Mark Ronson on the other DJing, so it was a concert. It was TLC, Mary J. Blige.
Chilli, singer, TLC: You just wanted to be a part of that next hot thing, and that was the hottest thing. I get that phone call that [Tommy and Andy] want me to be a part of that runway, and I was freakin' out. I was like, "I've never done that before." So, I just put the clothes on and just strut. That night was very special.
Andy Hilfiger: Jay Z was there. Anna Wintour. Missy was there. It was a packed house. I'm sure Anna Wintour was like, "What the hell?"
Boston: Diddy and Russell would be right in the front row as VIP.
Andy Hilfiger: I remember meeting Jermaine Jackson there, too. He was like, "My brother wears your clothes."
Boston: Our shows were the template for what Russell [Simmons], Kimora [Lee Simmons], and Puffy wound up doing with their own labels. From Phat Farm to Baby Phat to Sean John, their shows were carbon copies of what Tommy originated.
Andy Hilfiger: I really think it was the beginning of what's happened over time. Even now, Kanye does a fashion show at Madison Square Garden, and it's packed.
Bevy Smith, television personality and former Vibe fashion editor: To know Tommy Jeans is to know those fashion shows. The Hilfigers are big rock n' roll fans, and they saw that hip-hop was the new rock n' roll. He gave the hip-hop artists that kind of a platform through Tommy Jeans.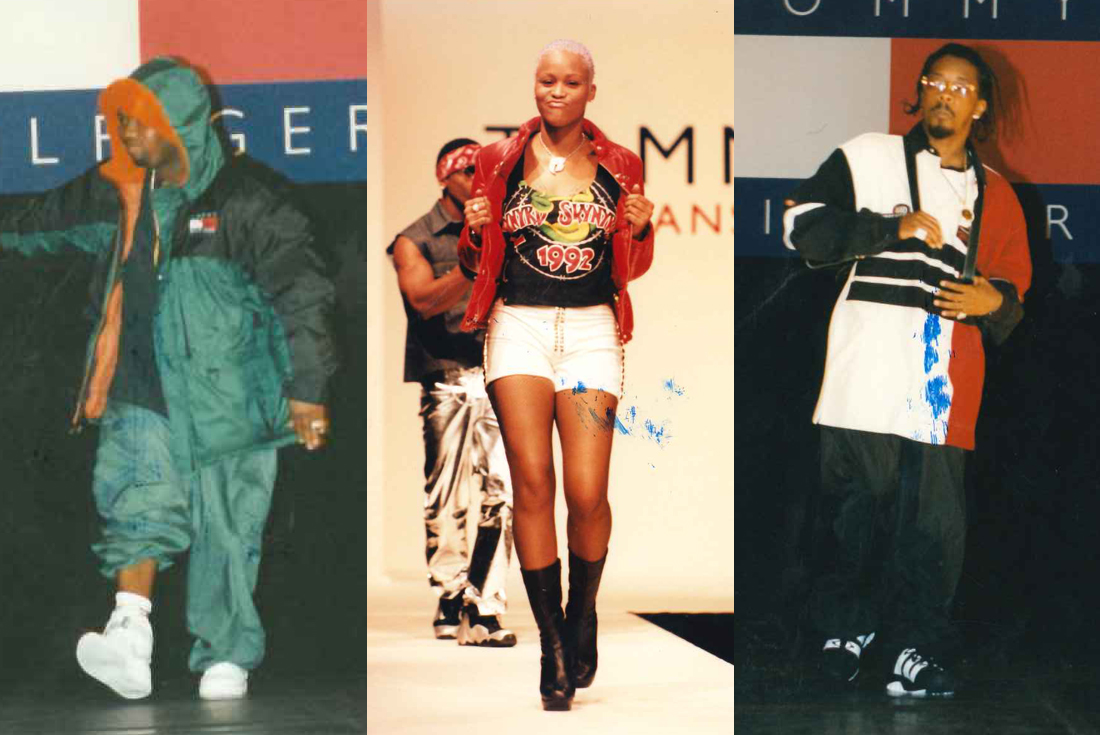 1996: Aaliyah Becomes an Inspiration for Tommy Hilfiger's Women's Line
During her career, Aaliyah was one of the most prominent supporters of Tommy Hilfiger. She appeared in ad campaigns and walked red carpets in Tommy Hilfiger, appearing in music videos in the label's jeans, boxers, and bandeaus. While the pieces she wore were from the men's line, she became an inspiration for the brand's women's collection. She created a new look—one that would be copied by a generation of women.
Andy: Somebody called me from Atlantic [Records] and said, "I have this artist, Aaliyah." I said, "Yeah, I know who she is." She wanted to model, so I put her in the ads.
Thomas: Aaliyah... She was just amazingly beautiful, sexy, effortless, and perfect for the brand. I remember one time she came to a Jay Z listening session with Dame [Dash, Roc-A-Fella Records co-founder], and he had to go up front, so she ended up sitting next to me. She just had on jeans, a regular shirt, and sneakers. She looked gorgeous. I remember her smelling so amazing. If there's a breeze in heaven, that's what she smelled like. It makes sense that she's the one that took their women's wear to a whole 'nother level. The oversized jeans, sports bra, and no waist: It worked.
Andy: What Aaliyah really did was show this style, the sexy but sporty-chic style. She brought this swagger, this sexiness. It was just incredible. We created a new look with Aaliyah, and that look is still popular today. Now, I see all kinds of companies doing the whole bandeau tops with the underwire waistband, and we did that first. I give Kidada a lot of credit, because she had such a vision. She and Aaliyah were on the same page. And Aaliyah loved Kidada and would listen to anything she said.
After we started working with Aaliyah, we put a lot of that stuff [she wore] into the line. Tommy Girl was [previously] very preppy, it had a lot of plaids and was very schoolgirl. But then we added this whole Aaliyah look to it, which really gave it some new legs.
Oh: This past year, there was a huge comeback campaign for Calvin Klein. I understand that it's a reference to the original Brooke Shields and Mark Wahlberg ads, but that whole image of a fly, drop-dead gorgeous woman repping hip-hop with her pants hanging low and her undies band showing? That's Tommy Hilfiger and Aaliyah all day.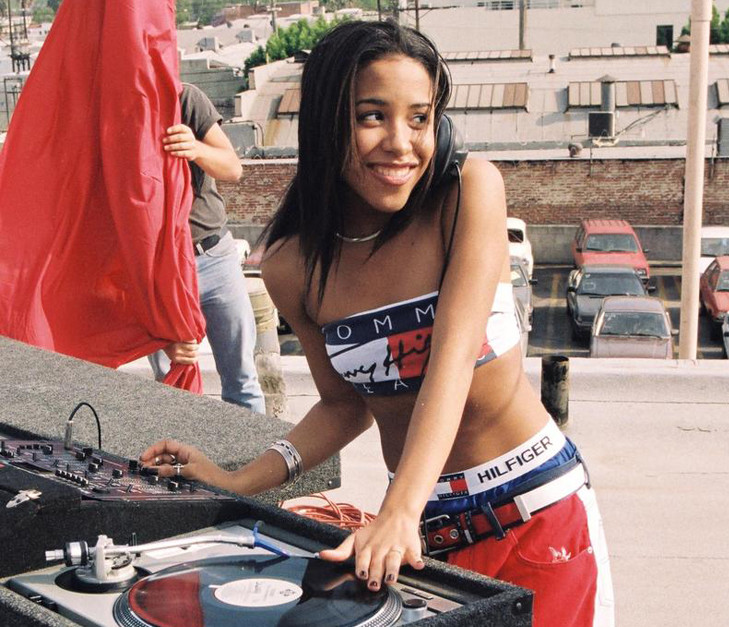 Late 1996: A Rumor Surfaces That Tommy Hilfiger Made Racist Remarks on Oprah
In late 1996, rumors began circulating that Tommy had appeared on The Oprah Winfrey Show and made racist remarks. The speculation took on a new life via a widely circulated chain email that alleged that Hilfiger said that "if he had known that so many chinamen and n***ers were going to buy his clothes, he never would have made it so nice." While a spokeswoman for Oprah denied that Tommy ever appeared on the show, the accusations remained in the zeitgeist.
Thomas: It was wild how folks ran with it. I remember it starting with people being like, "He said it on Oprah." But, I never saw the clip. Then people said they saw it in a newspaper. But, I never saw the article. Did someone deliberately plant that?
Boston: Unfortunately, that rumor had surfaced for several other designers in years prior. It was that same kind of thing, but when it made its way to Tommy, it was when the Internet was starting to explode.
Curtis: He caught the backlash because he was the biggest player on the block. Kind of like being the biggest dope boy on the corner. Cops are gonna come smoke you first, and I think he got caught up in it.
Grand Puba: I don't think [Tommy] said it like that. I knew his character. He wasn't racist.
Raekwon: He probably didn't mean to say that shit. It was probably just the people that was around him that was like, "You better separate right now." I know sometimes you get put against a wall, but at the end of the day, he made an apology. I didn't take that all the way to the left, because when I went up to his office, I saw there were people of all nationalities working in there. He couldn't have been racist, because he had multiracial people in his office.
"We've never pinpointed one specific group of people we want to dress or not dress." - Andy Hilfiger
Boston: The unfortunate part is Tommy Hilfiger's name is on his label, so there's a man attached. Had it surfaced about Gant, Izod, or Levi's, nobody would have cared. There were lots of labels who found themselves in hot water, but for them, there wasn't a person attached, so it didn't catch fire.
Andy: That was such bullshit. It was like, "Why are people saying that about us, about Tommy?" He's the total opposite of that. Tommy really took it personal. We've never pinpointed one specific group of people we want to dress or not dress. Tommy's first store was called People's Place—it was for everybody. It was really messed up that this happened, even after we did the Vibe show. There was jealousy out there, because people saw the success we were having. He wasn't on Oprah until Oprah brought him on to say it was a big lie.
Paul:[Tommy] was hurt. He was psychologically and physically hurt, but he wouldn't acknowledge it. I was ready to go out and scream the truth, but he thought it wasn't necessary. He believed people would see him for who he was, so initially he didn't speak out. He thought it would go away. He's not into negativity. He wanted to continue with business as usual. He figured, one day people will learn the truth. They will judge by our actions, not rumors. But the rumors wouldn't go away, and eventually, he ended up on Oprah to set the record straight. She even confirmed that there was never any physical evidence that he'd said it. Not on her show. Not anywhere.
Curtis: What else is he gonna go on the record and say? It's possible he didn't want those hood kids wearing his product, but when those hood kids are paying for his estates, yachts, cribs, and his planes, what else is he gonna do, but go on record and say the opposite?
Smith: I don't think that he ever felt disdain towards the hip-hop community. I just think at a point, he saw his bottom line shrinking because of the backlash from being heavily affiliated with just one type of consumer. Even if the 45-year-old white consumer in the suburb was willing to wear the Hilfiger golf line, they can't, because the overall brand has been usurped by the inner city kid. By that point, the advertising can't outweigh the public perception. And you know what? Everyone has a right to watch their bottom line.
2000s: Hip-Hop Moves On From Tommy Hilfiger
The alleged racist remarks didn't hurt Tommy Hilfiger's business. Tommy told Fern Mallis during her 92Y Fashion Icons series in 2012 that the company "went from $1 billion to $2 billion in that time." Still, the rumors ultimately tainted its reputation within the hip-hop community. By the 2000s, hip-hop artists moved on to brands founded by rappers and inspired by Tommy Hilfiger, like Sean John, Phat Farm, and Rocawear. There would be a short revival in the late 2000s, especially with the return of '90s fashion, but Tommy Hilfiger wouldn't regain the same popularity in the genre of music.
Simmons: Kids always wear alternatives if something gets big.
Andy: Once the stuff was everywhere, it wasn't as special.
Oh: Tommy catered too much to hip-hop, 100 million percent. The minute that any brand overly embraces hip-hop, it runs the risk of being rejected by hip-hop. I think that's part of the power of the genre, because it's made to be something that you have to work for and that you have to stay up on. I think that Tommy got too loud. It wasn't fly to me anymore.
Andy: For a while, it was about the '90s. I met these guys that now are huge—A$AP Rocky and A$AP Ferg. They were like, "Do you have anything from the '90s?" I was like, "Yeah, but why?" They were like, "We love it." But Hilfiger wasn't as popular with kids anymore. But it wasn't like anything happened.
Oh: People don't dress like they used to. A lot of the huge mega brands that ruled in the '80s and '90s—not just in hip-hop, but in America, whether it's Calvin Klein, Nautica, Polo—are really just trying to figure it out.
Simmons: Hip-hop built Tommy. They were proud of Tommy when he was a billion dollar company, and that they had built it. They took ownership, and I think that's what hip-hop does. They choose. Tommy was one of the brands that they loved and built. What was great about Tommy is that Tommy gave back to the community that built him. Without him, I wouldn't have had Phat Farm. I think he made a contribution to almost everybody who started brands, whether it was just advice or inspiration. He would sit down and talk to you. He actually introduced me to some of my licenses. He was very helpful.
Paul: Tommy embraced the fact that he didn't know any and everyone, but he saw positivity. It wasn't like, "I'm going to make millions off black people." It was more like, "I love hip-hop, and I'm going to take it seriously." He looked at it like an art form, and it just so happened that he built a brand from it. People like Lloyd and myself helped him figure out a way to embrace the community. I couldn't have predicted the percentages. We just knew that there was a movement, and it was real and we embraced it. By doing that, he showed that corporate America could live in the same space with hip-hop.
Boston: Hilfiger opened a door that was not opened to us by any other brand. Tommy was one of a few—if not the first—to say to hip-hop artists: "This is open to you, because we know style begins with you."
Andy: We didn't sit there and say, "Let's cater to hip-hop." We dressed snowboarders; I was dressing rock stars. It wasn't just one group of people. We were just doing a cool line. Maybe people thought [we catered to hip-hop], but people say and think a lot of things. What we were doing is what we wanted to do—make great clothing.
Additional reporting by Zandile Blay, Kadia Blagrove, and Rae Ogbu.