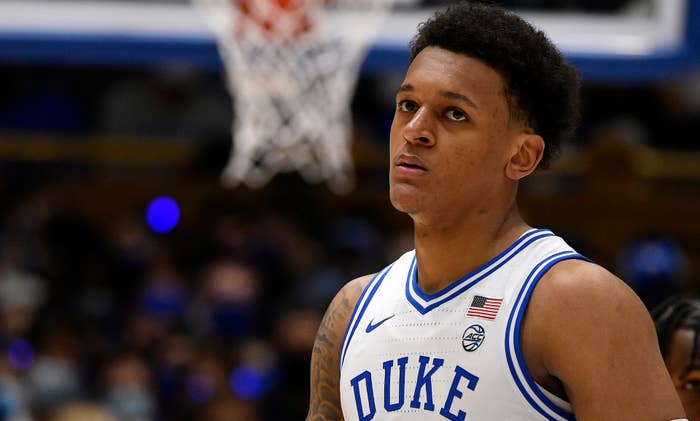 Duke basketball players Paolo Banchero and Michael Savarino are both facing charges in connection with a DWI arrest in Orange County, North Carolina, according to reports.
Per the News & Observer, 20-year-old Michael Savarino was arrested for DWI early Sunday morning. 19-year-old Banchero (pictured above), meanwhile, has been charged with aiding and abetting DWI. A spokesperson for the NC Highway Patrol told the outlet that the arrest began with Savarino being stopped for an alleged stop sign violation.
Savarino—grandson to Duke coach Mike Krzyzewski—was ultimately charged with DWI, as well as with driving after consuming alcohol under the age of 21 and a stop sign violation-related count. He reportedly blew a .08 on a breathalyzer. Notably, Banchero is reported to have been released at the site of the initial traffic stop. 
In a statement included in the N&O report, Krzyzewski said any additional action regarding the incident would fall under the domain of university officials including the VP and director of the athletics department.
"We are reviewing a legal matter involving two members of the men's basketball team," Krzyzewski said. "Any further actions as a result of this situation will ultimately be determined by the Vice President/Director of Athletics and University officials."
Banchero, as pointed out elsewhere, is widely considered to be a top pick in next year's NBA Draft. He's averaged more than 19 points and 8 rebounds each game, per a regional ABC outlet.
Complex has reached out to reps for Duke Athletics and the NC Highway Patrol for additional comment and will update this post accordingly.