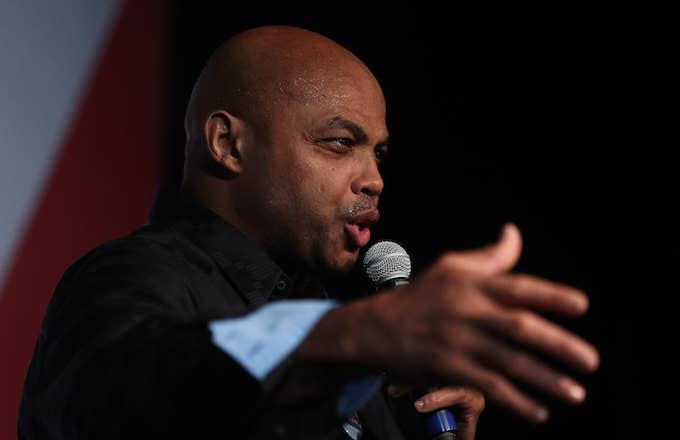 Last week, Jags running back Leonard Fournette got into a spat with a Titans fan on the sidelines and threatened to whoop his ass.
There was nothing idle about the implication, seeing as how Fournette is six feet tall and 230 pounds of battering ram muscle. Pro athletes are bigger and stronger than regular citizens, it's why they're professionals, so when fans and athletes do tangle, it can get ugly. Few athletes know this better than Charles Barkley, who once threw an overbearing autograph seeker through a bar window. "Let there be no debate," he said at the time. "If you bother me, I'm going to whip your ass."
But Barkley's tune has changed since then, and that's why he offered some sound advice about fighting fans when TMZ—that autograph seeker Barkley threw out the window disguised as a media company—caught up with the Round Mound of Rebound coming out of posh Beverley Hills Japanese restaurant, Matsuhisa. 
"If you hit a fan and hurt them, you might kill them," Barkley said. "But the main thing, you just gotta walk away or they're just gonna sue ya." He would know. A cursory Google search turned up another altercation Barkley was involved in led to a lawsuit.
Barkley understands better than most the impulse to pound a disrespectful fan's face in, but the financial liability remains. "Listen, they would never say that to you and fight you in the streets, but if you hit them you're gonna lose a lot of money," he continued. 

"You gotta let it go," Barkley says. "You got nothing to gain. Suck it up, brother."
Good advice, but because we aren't a professional athlete, we're gonna offer some advice to fans: Don't interrupt an athlete's meal to get an autograph, and don't throw drinks on them. Don't scream obscenities at them during games, and don't insult their family. Just don't. You're a clown if you do; No matter how much you might think that sort of behavior is part of the game, it's not.