NFL Releases Statement Addressing Eric Reid's Drug Tests: 'There Is No Evidence of Targeting'
Despite being drug tested seven times within three months, NFL officials state that there is no evidence of malicious targeting.
Getty
Image via Getty/Nick Cammott/Diamond Images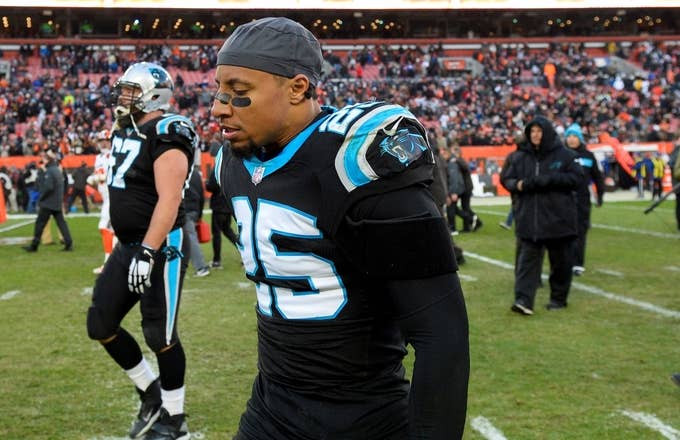 Two months after Carolina Panthers safety Eric Reid accused the NFL of unjustly targeting him via multiple drug tests, the NFL and the NFL Players Association have released an official statement addressing the matter.
After a joint investigation, the NFL and the NFLPA concluded that there was "no evidence of targeting or any other impropriety in with respect to his selection for testing," stating that his selections were "randomly generated via a computer algorithm."
Since signing with the Panthers on Sept. 27, Reid has been tested a total number of seven times, which led him to believe that his treatment was unjust.
However, as Larry Brown Sportspoints out, Reid may have been lying about the number of times he had been tested. According to Mark Maske of The Washington Post, an investigation into his claim reveals the number was actually less.
According to one source familiar with the report delivered to the NFL and NFLPA on Eric Reid's drug testing, that report says that Reid was not tested as many times as Reid asserted publicly.
In the current system, 10 players from each team are chosen every week to undergo a drug test. For the Win pointed out that, given the Panthers had 72 players on their roster this season, any given player would have a 13.8 percent chance of being picked, and a laughable 0.2 percent chance of being picked five out of eight weeks, as Eric Reid was.
Since joining former teammate Colin Kaepernick in protests, as well as Kaep's lawsuit against the league, Reid believes that the targeting has not been limited to the frequent drug tests. Last month, he alleged that he was unnecessarily fined twice for "legal plays" that were not flagged.