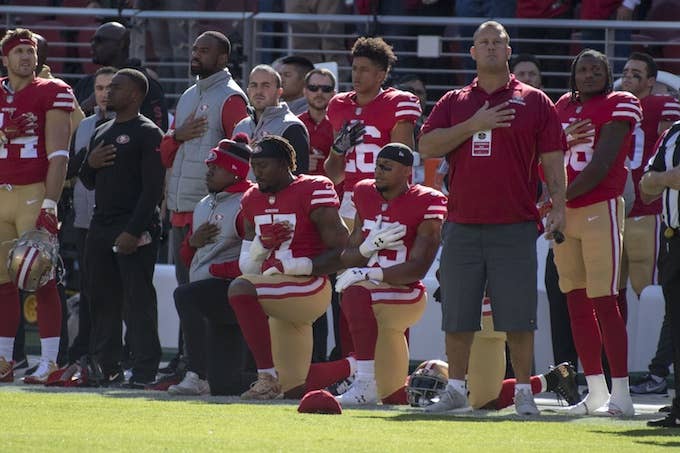 Though Colin Kaepernick became the face of National Anthem protests in the NFL, his former teammate Eric Reid was there practically from the start as well. Reid, like Kaepernick, remains a free agent, though he's only 26 years old and was a consistent starter for San Francisco last season.
Many have accused the league of blackballing Kaepernick, and the former 49ers quarterback filed a collusion grievance against the league last fall. Reid has followed Kaep's lead—he too is now suing the NFL for collusion.
Source: Former 49ers safety Eric Reid has filed a collusion grievance against the NFL. Reid's attorney is Mark Geragos, who's also represented Colin Kaepernick.

https://t.co/8MaBD0cC0k
Reid had two interceptions and 52 tackles last season.
Reid met with the Cincinnati Bengals last month, and reports indicated his stance on the kneeling during the anthem was a point of contention.
"(Bengals owner) Mike Brown reportedly asked Reid if he'd be OK with not kneeling during the Anthem," Cincinnati.com reported. "The Bengals are a team of non-kneelers. Team policy. Reid had already stated he wouldn't be kneeling anymore, that he'd find other ways to express his beliefs. For whatever reason, he didn't make that clear to Brown and so he's still looking for work."
Reid was fully aware his role in the peaceful protest could cost him his job. 
"I wouldn't use the word concerned," Reid said in December in regard to potentially facing the same fate as Kaepernick. "I would say I understand that's a possibility. And I'm completely fine with it. The things that I've done, I stand by, and I've done that for my own personal beliefs. Like I said, I'm fine with whatever outcome happens because of that."
Kaepernick's case is ongoing. NFL Commissioner Roger Goodell and several team owners and personnel were recently deposed.