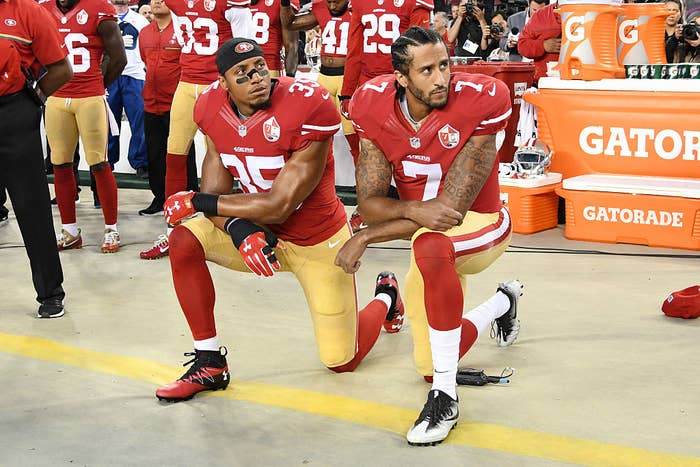 San Francisco 49ers safety Eric Reid was one of the first NFL players to kneel alongside Colin Kaepernick to protest racial injustices facing the black community in 2016. As Reid approaches unrestricted free agency, he has resumed kneeling during the singing of the national anthem, despite a common perception that Kaepernick's activism got him ousted from the league.
In a report by ESPN's Nick Wagoner, Reid said, "I wouldn't use the word concerned," in regards facing the same potential fate as Kaepernick. "I would say I understand that's a possibility. And I'm completely fine with it. The things that I've done, I stand by, and I've done that for my own personal beliefs. Like I said, I'm fine with whatever outcome happens because of that," he added. 
Kaepernick opted out of the final year of his contract with the 49ers in March after the team's general manger John Lynch told Kaepernick they would cut him otherwise. After remaining an unsigned free agent while many less accomplished and statistically inferior quarterbacks inked deals, Kaep filed a grievance against the NFL for collusion. Notable NFL stars such as Tom Brady have gone on record saying Kapernick's absence from any league roster is not a matter of skill.
Per ESPN, Reid has notched 61 tackles, one recovered fumble and two interceptions this season while splitting time between linebacker and strong safety. Wagoner's report essentially frames the hypothetical scenario of Reid, being a more than capable defender, dropped based on his activism.
Reid was one of several players who spoke out against the NFL's proposed $89 million social justice initiative which, at least at face value, would address some of the issues Kaepernick helped bring awareness to.
"I have had a lot of talks with my wife about it, just the uncertainty and also the possibilities," Reid told Wagoner regarding his pending free agency. "But like I said, at this point it's all hypothetical. I'm still a 49er, I've still got a game to play, I've still got a job to do. That's what I'm going to worry about."