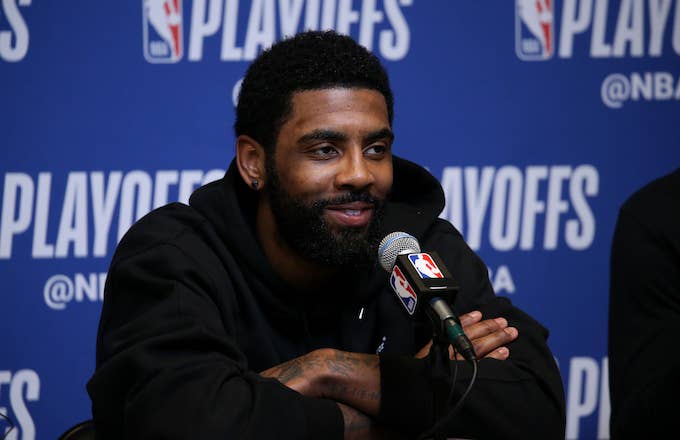 With NBA free agency beginning in a little more than two weeks, all signs appear to be pointing towards Kyrie Irving joining the Brooklyn Nets.
Their expected collision course only intensified Wednesday following a report from ESPN's Adrian Wojnarowski that Irving was expected to replace his longtime agent Jeff Wechsler with Roc Nation Sports. 
The easiest through line leading Kyrie to the Nets would be Roc Nation Sports founder JAY-Z to the organization where he was once a minority owner. However, the more intriguing connection is Michael Yormark, the president and chief of branding and strategy of Roc Nation, has a twin brother named Brett, who is the CEO of the Nets. 
As Kyrie's possible announcement that he's Brooklyn-bound becomes more and more likely, the Boston Herald's Steve Bulpett reports a source saying that Irving is "prepared to sign" with the Nets. "A separate league source told the Herald that his team (not the Celtics) has received the same information and is operating under the belief that Irving wants to join the Nets," Bulpett writes. 
Bulpett also warns that even though his sources are connected with Irving's current mindset, everything is subject to change. "To be fair to the situation, any story involving Irving needs to contain a disclaimer," Bulpett writes. "While the two sources cited in the second paragraph are to be trusted, most anything involving Irving should be seen as a fluid matter. Nothing can be truly settled until a contract is signed, and that cannot take place until the NBA moratorium ends on July 6 at noon Eastern Time. And, as Celtic followers have come to know, Irving remains eminently capable of changing his mind." 
Back in October, Irving told Celtics' season ticket holders that he planned on re-signing with Boston. A lot has changed since Kyrie uttered those words.