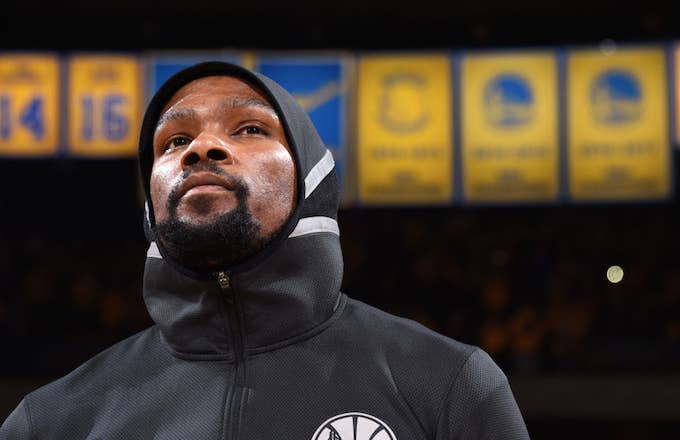 My friend Myles Brown, who is smarter and a million times better with words than I'll ever be, put it perfectly last night.
This is not anyone's fault. But it sure does suck.
Watching Kevin Durant apparently suffer a serious Achilles injury, after 12 minutes of game action during his debut in the 2019 NBA Finals, really, really, really sucked. It was a gut punch for basketball fans. Because only the lamest of lames, like the ones who initially cheered his injury during Game 5, would take any kind of joy not seeing the best player in the world on the biggest stage.
It was depressing, it was deflating, but it's also part of doing business in the NBA. Guys get injured—even the really good ones in the season before they hit free agency (just ask Boogie Cousins). But the big difference this time around is no one of Durant's caliber, no one of his stature, no one of his franchise make-or-break ability has been cut down with such a potentially devastating injury right before he's about to hit free agency.
And while you feel for Durant and wish him the speediest of recoveries, if we're talking business here, do you properly appreciate the earthquake that KD's compromised Achilles sent through the NBA Monday night?
The aftershocks, Captain Obvious, are going to be massive. We all know KD was set to potentially shift the power of the league away from the Bay Area just by signing with a new squad. Durant was supposed to be the first big domino to fall in free agency and his decision would shape the rest of the league. It's not an exaggeration to say that where he signed would directly alter the free agency strategies and ultimate the successes and failures of at least half a dozen other teams, if not more. Hell, moving to the Eastern Conference he would legit affect all 30 clubs. The injury muddies the NBA's off-season waters so badly you don't even know where to begin trying to get clarity on all the crazy scenarios.
For starters, what are his top suitors—the Knicks, Nets, Clippers, and Warriors—going to do? Hell, what should KD do?
If you were running the Knicks or Nets, would you have the stones to sign Durant to a four-year max deal knowing you may only get two very good years out of the world's best player?
Durant, 30, has a player option for the 2019-20 season that's good for $31.5 million. If his injury is truly serious and he can't return until deep into next season, maybe he can go the Cousins route. Just re-up with Golden State, rehab the hell out of his injury, and hopefully catch the Warriors wave for another postseason run. KD saw firsthand the awesome treatment Cousins received as he came back from his Achilles tear and maybe that's going to stick with him. Plus, we all know he's comfortable enough in the Bay Area having spent the past three seasons there and never giving us any kind of indication that he's tired of it. The organization catered to him—see the Draymond Green, "bitch"-gate fallout—and maybe he lets them pamper him for a season then reevaluates afterward. All that being said, ESPN's Brian Windhorst reported that Durant is still intent on opting-out. 
So do the Warriors offer him a longer-term deal that's both lucrative for Durant but kind of reasonable for the team? Does Durant, who will be athletically compromised for at least one season and maybe never quite the same, get insulted by anything that's not a max deal since he took a discount with his last pact? What kind of game will the two play against pitted each other? 
Tantalizingly, Durant was primed to create a new super team by pairing with another star free agent (popularly speculated to be Kyrie Irving) in a new city. Taking his talents east to, say the Knicks or the Nets and recruiting another All-Star to tag along with him, would end the Golden State dynasty as we know it and maybe create a new one.  
What should the Knicks—his most popular suitor—do now? They've reportedly been hoping, planning, praying, and basically banking their entire summer on Durant taking his talents to Madison Square Garden. He's practically their ONLY plan. Now what? Do you still throw a bag at Durant to entice him and hope by the 2020-21 season he's nearly back to the player he was? We all know the Knicks have the worst luck and their track record for bringing in previously compromised stars (see Amar'e Stoudemire) isn't great. Do they forget about KD and focus on landing a free agent a tier below, even though the Knicks have reportedly been focused solely luring the best of the best? Or do you sit out free agency yet again and save your dollars for the 2020 free agent class? Or does this mean you prioritize an Anthony Davis trade over everything else? The Knicks have a ton to sort out right now. 
What about the Nets? Durant hasn't been linked the Nets the way the Knicks have been, but there's been talk about Brooklyn going hard after KD. We made a pretty compelling case why it makes sense. If they get Irving, as in the new, hot rumor, would they still fawn over KD while he's rehabbing or do they forget about him?
What does Kyrie do now? He and KD would make one hell of a tandem if they linked up. But did the dream of a new destination and teaming with his BFF die for Irving? Does Irving re-up with Boston because of this? Is he cool with striking out on his own and not pairing up with the game's best player now? Does he recruit another high-level free agent to team up in Brooklyn or New York and tell his good pal KD thanks but no thanks?
What about the Clippers? They've seemed hellbent on getting Kawhi Leonard and have been linked to the southern California native unlike any other potential suitor not named Toronto. KD, of course, could have given L.A.'s other team a serious look, but now with this injury does it mean the Clippers are 1000 percent locked on Kawhi and completely ignore Durant?
If you were running the Knicks or Nets, would you have the stones to sign Durant to a four-year max deal knowing you may only get two very good years out of the world's best player? If you were running the Warriors, would you have the stones to offer KD something less than the max and fear insulting him? If you're KD, do you have the stones to not pick up your player option that guarantees you $31.5 million and demand a max deal even if you won't be playing anywhere near max level for a year or two? Or worse yet, maybe never be the player you used to be since Achilles injuries are about as serious as it gets for a basketball player? 
Reportedly, ESPN says NBA teams won't be scared off by Durant's injury and the idea of losing his services for at least a year is something most can stomach. That sounds nice right now, but investing nine figures in someone with a serious basketball injury, whose prime years are quickly dwindling since superstars generally start to see a decline after their age 32 season, is something you probably should think twice about. KD going down Monday night was an earthquake that will affect so many off-season decisions and ultimately determine so many jobs across the league that we've barely even begun to feel the rumblings.