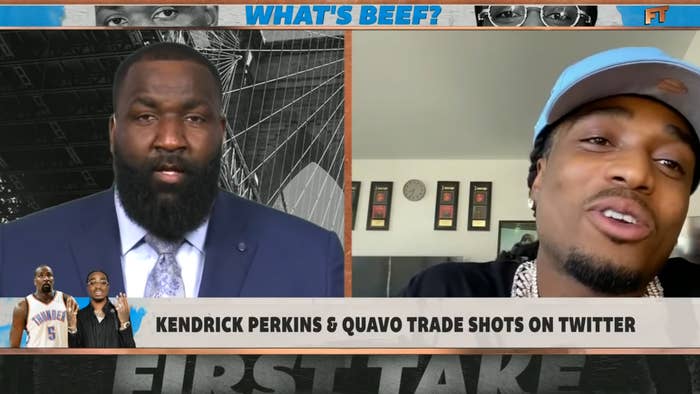 As basketball purists would say, Kendrick Perkins was one of the game's last true big men. Not only would he stay in the post and do the dirty work that was needed to win, but he also wasn't afraid to mix it up with opposing players to either gain momentum or keep the energy on his team's side. Although he's no stranger to on-court scuffles, his seemingly out-of-nowhere beef with the Migos' Quavo caught some people by surprise.
It all came to a head on Thursday, when the two playfully squared off on First Take. And while it may seem like their feud bubbled up out of the blue, Quavo and Perkins actually go way back. Aside from being wealthy Black men from the South, there are few reasons why Huncho and Big Perk would be in the same conversation. In fact, we're willing to bet that you'd probably find Bun B's "Get Throwed" or Big Mike's "Havin' Thangs" on one of Perkins's personal playlists before "Cocoon."
But, what if we told you that Quavo was actually caught in the crossfire of an issue that had nothing to do with him initially. In reality, he purposefully interjected himself into one that was sparked in part by one of the biggest stars the world has ever seen.
By 2018, Kendrick Perkins was a far cry from the scrappy hustle player who came straight out of high school in 2003 and helped the Big Three Celtics fulfill their prophecy. By this time, Perk was regulated to a locker room leader on the Finals-bound Cleveland Cavaliers. And by the time the playoffs rolled around, the 15-year vet was out of the rotation. 
But that didn't stop Perk from getting involved. So when LeBron James and the Cavs met the Toronto Raptors in the second round, Drake and Perk got into it on the sidelines. Although Drizzy is an honorary resident of the Greater Houston-Beaumont-Port Arthur metropolitan area, he decided to have a light—but entertaining—shouting match with the Texan.
Perk's career might've been waning, but Quavo was inching towards its zenith. The Migos member was recording his debut solo album at the time, Quavo Honcho, when he saw the man who broke the Migos into the mainstream having words with Perk, which inspired him to take a jab at Perkins on the album's song, "FUCK 12."
"Every time your bitch phone rings she workin'," Quavo raps in the song. "Get no playin' time, Kendrick Perkins."
After rumors of a growing rift between Perkins and Quavo, the now-retired NBA player sat down with Kristine Leahy on Fair Game in 2019 where he admitted that the lyric in "FUCK 12" bothered him.
"I almost got into it with Quavo because he tried to put me on a song 'cause him and Drake real close," Perkins said. "He tried to diss me. … I was like 'Uhhh, nah. And you need to stick to the Migos instead of going solo. I kind of wanted to fire back because his album flopped. I mean, it was trash. I'm just like, 'Why is these little dudes coming after me?' … But then again it goes to show you that people don't know the game."
Like Quavo's diss, there was some truth to Perkins's retort. Quavo's solo debut never made it to No.1, but it did peak at no. 2 on the Billboard charts and was eventually certified gold by RIAA. 
After Migos performed their single, "Straightenin" ahead of the Mayweather's entrance, Perkins took to Twitter where he doubled down on his 2019 opinion about Quavo's bars.
Quavo's marketing mind kicked in the following Monday, when he decided to use Perkins's diss as promotion for the Migos' upcoming album, Culture III. He did soby turning Perk into a meme mimicking the sports analyst getting punched in the face.
This was all the fuel Perkins needed to send more shots Quavo's way.
"Thank God you're back with the Migos because this photoshop uppercut is as close as you'll ever get to a hit as a solo artist! Carry on," he said in a quote tweet of Quavo's meme.
After creating a firestorm on Twitter, Quavo decided to venture into Perkins' world when he appeared on Thursday's episode of ESPN's First Take. During their conversation, Quavo explained why he made the diss while Perk defended his value as a player.
"When I was putting in work you probably still had Similac on your breath when I was helping the Celtics go to the Finals," Perkins told the Migos member.
Ultimately, Quavo and Perkins were able to settle their differences during the segment. Quavo even stated that he was willing to do a song for Perkins' children because they like his music and enjoyed the bar in "FUCK 12."
"All jokes aside, it ain't never no beef with Big Perk, man," Quavo said. "It's all love. It was just a bar."
While speaking to Complex's Speedy Morman, Quavo also mentioned Kendrick Perkins, saying he wants to take his kids on a field trip.
"I don't give a damn about no Kendrick Perkins, man," said Quavo with a smile. "He's an analyst. He said his kids love my bars, his kids running around and teasing him. Matter fact, I'm gonna take the kids on a field trip and just leave pops at home. Settle the beef like that." He made it clear that it's mostly in jest, however, and that it's just as "funny" to participate in the beef as it is to watch it all unfold.