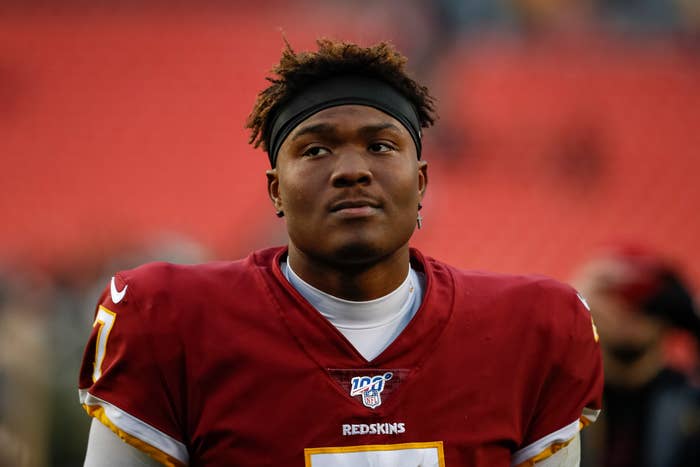 Although he's an NFL quarterback, playing to the final whistle is an elementary concept that slipped Dwayne Haskins' mind. 
While trying to mount a late fourth quarter comeback, the Lions' Jeff Driskel threw his third interception of the day to Redskins cornerback Fabian Moreau. Washington had to get off one more down to officially end the game, but Haskins was too caught up in the moment to realize that he needed to be on the field to kneel the ball. Instead, the quarterback was behind the bench taking a selfie with a fan. 
Interim coach Bill Callahan was forced to send backup quarterback Case Keenum into the game to conduct the final play. When talking to ESPN after the game, Callahan didn't find the humor in not being able to locate his starting quarterback during a game. 
"No, I don't laugh at it," Callahan said. "I'm happy we won. We'll address that. I'm just pleased we won the game."
Several NFL fans share feelings similar to Callahan. They took to Twitter where they either turned Haskins' blunder into a meme or condemned him for his lack of professionalism. 
When asked about the incident, Haskins explained that he was excited about winning his first game as an NFL starter. 
"I was so hype, I broke a water bottle," Haskins told the media. "I look up and we're in victory. I thought the game was over with already, but I'll get it next time."
The fan who was in the selfie, Jaime López-Verduzco, told CNN that the blame should be put squarely on his shoulders. He detailed how this was his first NFL game and he distracted the quarterback because he was just as excited as Haskins.
"It feels really special because it's my first NFL game and it's this guy's first NFL home win," he said. "At the end of the day it's a picture of a new player in the league and the new fan of the league."
The quarterback's performance wasn't anything to celebrate about either. He completed just 13 of his 29 pass attempts, raked up 156 yards, and threw a pick. But the defense kept the Redskins in the game, allowing Haskins to put together a drive that set up the winning field goal.