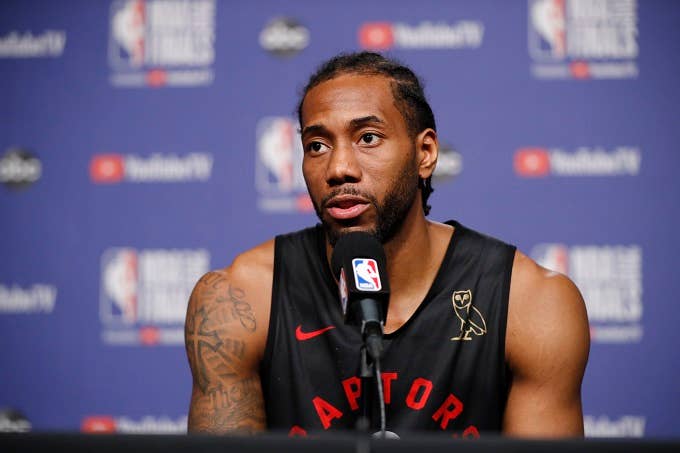 Kawhi Leonard's free agency stock was already high, but it's skyrocketing now that he's lifted the Toronto Raptors into their first-ever NBA Finals. With such stiff competition, teams that are interested in Leonard are cooking up some interesting benefits to entice the soon-to-be star free agent.
According to the New York Times, the Clippers have found a way to give Leonard a little bit more control over his own intellectual property.
Via Marc Stein: 
"The Los Angeles Clippers are said to have quietly looked into the feasibility of purchasing the portion of the rights to Leonard's "Klaw" logo that is still owned by Nike. The Clippers did not immediately respond to a request for comment Wednesday, but such an acquisition would theoretically enable them to bestow full control of the logo upon Leonard as part of their anticipated free-agency pitch meeting with the Toronto superstar."
You have to hand it to the Clippers. That's a pretty sweet perk if everyone is offering roughly the same amount of money his way. There are a few other factors that might lead Leonard, who's signed with New Balance, to the West Coast. Los Angeles is Kawhi's hometown. That coupled with the clear interest and big bucks the team are ready to throw Leonard's way has made the stepchild of Los Angeles basketball the odds-on favorite to land Leonard. 
Toronto is still high on that list, though well behind the Clippers. All of that might change if Leonard is able to bring a championship to Toronto.