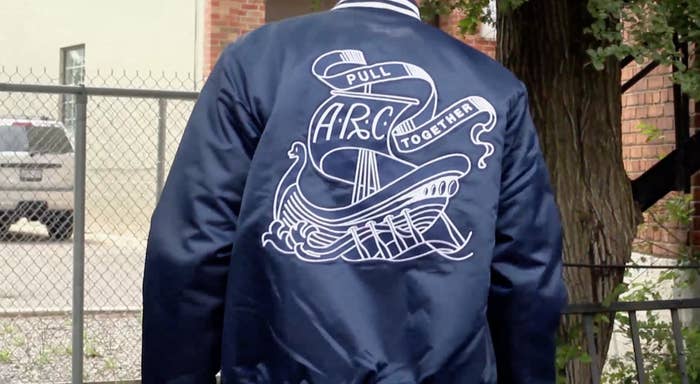 Despite this incredibly warm weather on the eastern seaboard, fall is still very much right around the corner. And with the seasons changing, it's likely time to update your wardrobe — because even though we haven't properly enjoyed a hot spiced beverage in a minute, the leaves are about to drop and jackets will be in order. Thankfully, if you're a fan of the Toronto Argonauts, or just a lover of slick streetwear, you're in some major luck.
The reigning Grey Cup champs are busy defending their title on the field, but the organization is celebrating their storied history with some dope new threads this month. Available now via the team's onlinestore is the fresh "Pull Together" bomber jacket, which blends classic varsity vibes with iconic Argos symbolism.
This navy blue piece is outfitted with logos and tinges from the Toronto Argonauts Rowing Club, who ended up forming the football team we have come to know and love way back in the late 1800s. That decision to pivot to a totally new sport was made almost a century and a half ago, meaning that wearing it will attract real ones who share your hardcore CFL knowledge.
Retailing for about $200 Canadian, the clean jacket is made from 100% polyester box twill Satin, outfitted with the team's primary trademark colour, and augmented with detailed embroidery on the back and front. If you take a closer look, you'll also see that it comes with a simple and elegant striped collar, cuffs and bottom band. Take a peek at the announcement video below via Instagram and then head to their online shop here.