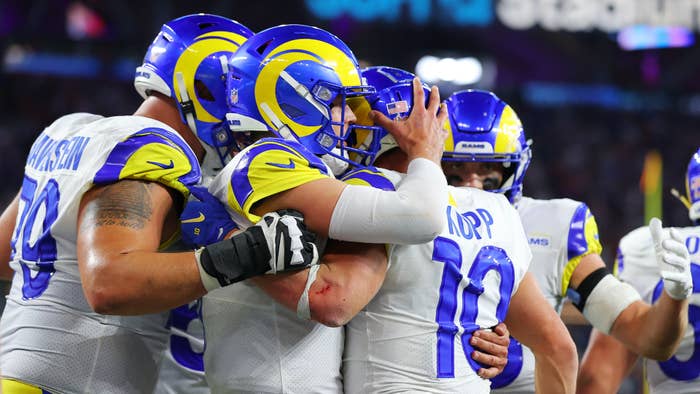 NFL Twitter was abuzz on Sunday as the Los Angeles Rams took on the Cincinnati Bengals at SoFi Stadium in Inglewood, California.
The Rams ended up defeating the Bengals to become the Super Bowl LVI champions with a final score of 23-20.
The last time the Rams won the Super Bowl was back in 2000 when the franchise was still in St. Louis. The team left that city and came back to California in the 2016 season. With the win, Sean McVay, who is 36, is now the youngest head coach to ever win a Super Bowl in NFL history, USA Today reports. Speaking of history, it was only the second time that a team got to play at their home stadium for the Super Bowl.
"I'm just so happy, I wanted this so bad. I dreamed this, man. I dreamed this and it's, like, surreal," an emotional Aaron Donald said after the game. "It's the best feeling in the world. God is great."
The Rams got an early boast in the first quarter when Odell Beckham Jr. scored the game's first touchdown, which was later followed by one from Cooper Kupp. Odell suffered a left knee injury in the second quarter and did not return after being ruled out. Despite being out for the remainder of the contest, his team was able to clinch the victory and Odell is now a Super Bowl champion. Kupp, who scored two touchdowns in total, was named Most Valuable Player.
"Man, just so proud of this team, the way we prepared, the way we loved on each other, trusted each other," Kupp said. "I don't know. I just don't feel deserving of this. God is just so good. I'm just so thankful for the guys I get to be around, for the coaches, for my family. I don't know what to say."
Sunday also saw Dr. Dre, Kendrick Lamar, Eminem, Mary J. Blige, Snoop Dogg, 50 Cent and Anderson .Paak perform during the Pepsi Super Bowl LVI Halftime Show. Head here to watch it. 
You can check out some reactions to the Rams' victory and moments that went down following Super Bowl LVI below.