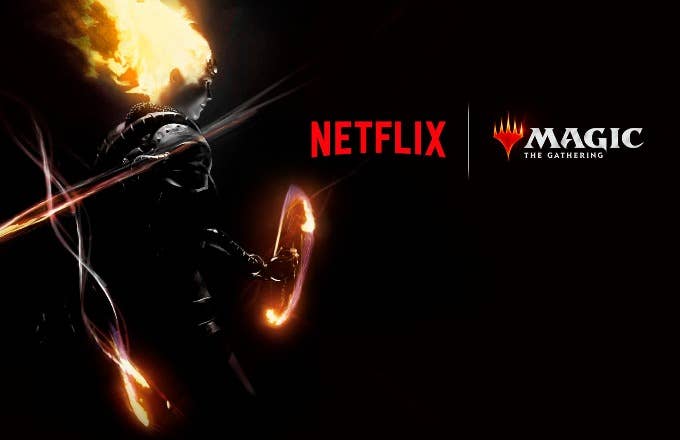 UPDATED 7/19, 3:30 p.m. ET: In addition to Magic: The Gathering becoming an animated series with Netflix, the card game might also be adapted for a live-action film, Deadline reports.
Joe Russo teased the possibility at Comic-Con: "It's an animated project with the potential to spin it off into live-action," he said, adding, "It's a game we love—we're geeks and love Magic: The Gathering and we're excited to tell stories with it."
See original story below.
Magic: The Gatheringwill be adapted for the screen for the first time with some guidance from Joe and Anthony Russo, the brothers and creative team responsible for a little indie comedy known as Avengers: Endgame.
"We have been huge fans and players of Magic: The Gathering for as long as it has been around, so being able to help bring these stories to life through animation is a true passion project for us," the Russos said in a press release for the upcoming Netflix series.
Per Netflix, the Russos have been tapped to "oversee the creation of an all new storyline and expand on the stories of the Planeswalkers." They are also credited as executive producers. Star Wars: Clone Wars alum Henry Gilroy and The Tick's Jose Molina share lead writing duties, with Yoriaki Mochizuki aboard the Bardel Entertainment-animated project as supervising director.
In addition to expanding the Magic universe into new mediums, those behind this new take on the franchise also have broader goals aimed at pushing animation into fresh territory. 
"This series will cross the genres of suspenseful thriller, horror, and drama with deeply developed characters the likes of which are not often seen in animation," Isaac Krauss, CEO of Octopie (who's also overseeing production), said Monday.
A projected release date or additional details haven't been announced.