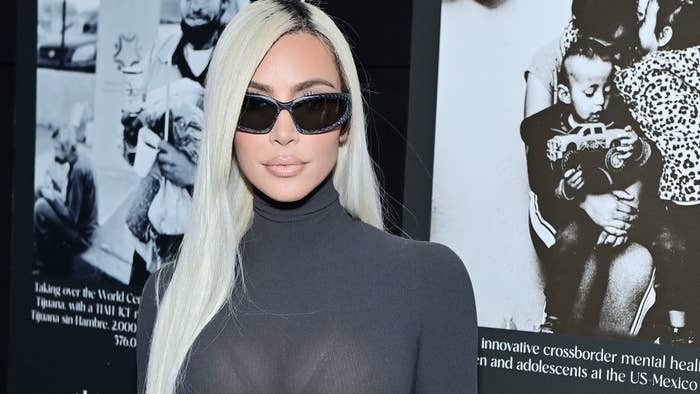 Deep into the resulting chat, which is presented in full here alongside photos captured by Nadia Lee Cohen, Kardashian's prior tongue-in-cheek usage of the line "Not bad for a girl with no talent" is referenced. This prompts a 2022 revisiting of the intention behind such remarks from Kardashian, who recently starred in the latest Balenciaga campaign alongside Alexa Demie and more.
"I think it came from people saying, 'What are you famous for?' And I'm like, 'Well, we have a TV show,'" Kardashian told Ottenberg. "But just because we're not singing and dancing and acting on the show doesn't mean that the fame didn't come from that. But then, I would write that as a hashtag, not bad for a girl with no talent, because people used to be like, 'Well, what do you do? What's your talent?' And I'm like, 'Didn't know I needed one.'"
Continuing, Kardashian noted she is capable of giving someone "a million fucking talents" and also noted the role "magic" plays in her success. 
"But I think my talent is marketing and the business behind selling products and knowing what the customer wants and making it feel attainable, but also a bit unattainable at the same time," Kardashian said.
Although it's unclear when, exactly, the interview for the feature was conducted, a Pete Davidson-referencing question did make its way into the final version of the piece. The two were reported to have split up in August.
Later this month, the second season of The Kardashians is set to premiere on Hulu. See the latest trailer for the post-KUWTK series' return below. A previous teaser clip featured a widely headlined Davidson moment in which a hastily tossed pack of American Spirit cigarettes was given some screentime.
But first, Kardashian has revealed her latest venture: the newly launched SKKY Partners, a project involving private equity figure Jay Sammons—who will serve as both co-founder and co-managing partner—and Kris Jenner, partner.
"Together we hope to leverage our complementary expertise to build the next generation Consumer & Media private equity firm," Kim said in an IG-shared statement announcing the firm, more details of which can be found in thisWall Street Journal piece.