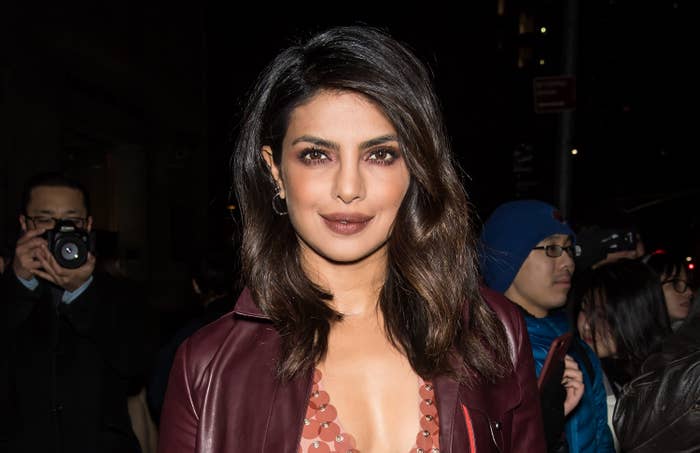 Whether you were once a Disney Channel fangirl who was hot for the Jonas Brothers or just know what's relevant in pop culture, you've probably heard of Priyanka Chopra. The 36-year-old actress, model, and humanitarian is an international celebrity whose career has spanned over 18 years. Since being crowned Miss World 2000 when she was just a wee lass of 18, Chopra rose to fame as a beloved Bollywood actress in her home country of India. Her work outside of Bollywood cinema, along with her status as a global activist, has made her a relevant figure all around the world.
In recent months, her once-contained private life became the leading headline of every tabloid, when she began publicly dating her now-husband, Nick Jonas. The couple's December 2018 nuptials felt like a more colorful and less Eurocentric Royal Wedding (a winning combination, no doubt).
But Priyanka is more than just an ageless beauty with a new husband. With a career full of achievements in charity and entertainment, Chopra shows promise as a tenured celebrity beloved by people at every corner of the world, so you might as well learn more about her. Here's everything you need to know about Priyanka Chopra.
Where was Priyanka Chopra born?
Priyanka Chopra was born in Jamshedpur, Bihar, located in the northeastern region of India.
Who is Priyanka Chopra related to?
Priyanka Chopra's parents are Ashok and Madhu Chopra, who both worked as physicians in the Indian Army. Her maternal grandmother was Smt. Madhu Jyotsna Akhouri, a member of the Bihar Legislative Assembly, and her grandfather, Dr. Manohar Kishan Akhouri, was a former Congress veteran (a prominent political party once led by Mahatma Gandhi).
Chopra also has a younger brother named Siddharth, and her cousins are the notable Indian actresses Parineeti Chopra, Meera Chopra, and Mannara Chopra. A family of legends, no doubt.
When did Priyanka Chopra come to the United States?
Though her father's work in the Indian Army meant lots of moving around India throughout her childhood, Chopra eventually made her way to the States when she was 12 years old. What started as a family visit to Iowa turned into enrolling in junior high and staying in the U.S. until she was 17, when she returned to India in hopes of becoming an engineer (no spoilers, but engineering didn't work out).
How did Priyanka Chopra get famous?
In 2000, Priyanka Chopra competed in the Miss World pageant and walked away with the crown. At just 18-years-old, Chopra was the second consecutive winner of the pageant from India.
When did Priyanka Chopra start acting?
After winning the title of Miss World 2000, Priyanka made her Bollywood acting debut in The Hero: Love Story of a Spy in 2003. Making a career for herself in Indian cinema, Chopra went on to star in a number of critically acclaimed films like Barfi! and Agneepath.
Breaking into the American television industry, Chopra starred in ABC's Quantico during its three-year run, and became the first South Asian lead actor in an American network drama series. Now, with her own film production company Purple Pebble, Chopra produces films across India's regional film industries in a number of languages.
What movies has Priyanka Chopra been in recently?
Red swimsuit and all, Chopra made her American film debut in the 2017 film adaptation of the classic NBC series Baywatch, alongside Zac Efron and Dwayne "The Rock" Johnson. Last year, Chopra hit the Sundance Film Festival in A Kid Like Jake; her next film, a romantic-comedy called Isn't It Romantic, hits theaters Feb. 13.
Does Priyanka Chopra sing?
Though she wanted to focus on her acting career early on, Chopra has recorded songs for a few of her films, and has even released a few singles of her own. Songs like "In My City" featuring will.i.am and "Exotic" featuring Pitbull were commercially successful in India; perhaps a collab with her husband would set her music career on fire.
What type of philanthropy is Priyanka Chopra involved with?
A longtime advocate for aiding underprivileged children, Chopra began The Priyanka Foundation as a nonprofit for chronically ill children around the world, to provide customized care and reduce stress for their families. In 2013, she donated $70,000 USD to the Nanavati Hospital in Mumbai in order to build a cancer ward in honor of her late father, whom she was incredibly close with.
Chopra has received the Indian honor of a Padma Shri, and was honored as one of Time's 100 most influential people in the world in 2016 for her achievements as an international humanitarian and all-around superstar.
What religion does Priyanka Chopra practice?
Chopra is rather open about her Hindu beliefs, and even travels with a mandir shrine for her morning prayers. Her recent wedding to Nick Jonas saw a beautiful blend of her Hindu faith with Jonas's Christian upbringing.
How did Priyanka Chopra and Nick Jonas meet?
Though we can't be exactly sure when the two first linked up, Chopra and Jonas allegedly started their relationship just like every other modern day couple: through text messages. Chopra admitted to Jimmy Kimmel that their 2017 Met Gala set-up was simply a luck of the draw, when Ralph Lauren dressed both of them for one of the biggest nights in fashion. The rest, as they say, is history.
Where did Priyanka Chopra and Nick Jonas get married?
The reception tally seems to be going up, but Priyanka and Nick first tied the knot in Jodhpur, Bahir back in December. Coming full circle with their fateful time spent together at the Met Gala, all of the wedding party and guests wore Ralph Lauren for the extravagant affair. Yes, we're still mad that we didn't get an invite.
Is Priyanka Chopra on social media?
She's not only on social media—she owns it. With over 32 million Instagram followers and 24 million on Twitter, Chopra isn't afraid to flex on us with her stunning fashion sense. And while she probably doesn't mean to rub it in, Chopra constantly breaks the heart of every girl who once had a Jonas Brothers poster on their wall by sharing pics featuring her new brother-in-law Joe Jonas and his bride-to-be, Game of Thrones star Sophie Turner.