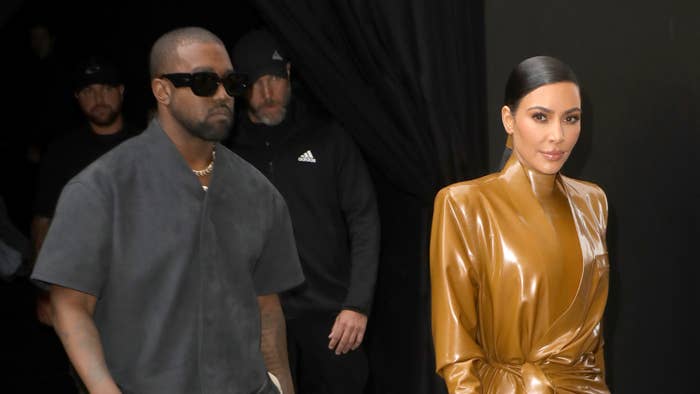 The Kardashians Season 3 trailer promises plenty of tears, shocking family disputes, and some more Kanye West drama.
The two-and-a-half-minute clip below begins with a scene of Khloé Kardashian asking big sister Kim if she's OK. The mother of four shakes her head and begins to break down, telling Khloé, "No, I'm not OK. I'm just having such a hard day today."
The trailer goes on to highlight Kim and Kanye's contentious divorce, which was finalized nearly two years after Kim filed for separation. Kendall Jenner weighs in on the split in an interview clip, saying "I don't know how Kim handles everything with her ex-husband."
The preview then cuts to a scene of Kim and Kris Jenner sitting on the couch discussing Kanye's alleged dishonesty.
"He has made up the most insane narrative," Kim says. "We stay silent through all the lies, for my kids."
Though the details surrounding the comments were unclear, Kim was likely referring to Kanye's public criticism of her parenting. The multi-hyphenate made countless headlines last year when he publicly accused his then-estranged wife of trying to keep him away from their children. The former couple share four kids: 9-year-old North, 7-year-old Saint, 5-year-old Chicago, and 3-year-old Psalm.
In 2022, Kim released an Instagram statement in which she described herself as her children's "main provider." Kanye hit back with his own message that included kidnapping allegations.
"What do you mean by main provider?" he wrote. "America saw you try to kid nap my daughter on her birthday by not providing the address. You put security on me inside of the house to play with my son then accused me of stealing I had to take a drug test after Chicago's party cause you accused me of being on drugs."
The third installment of The Kardashians will also address Kim's split from Pete Davidson, her wedding dispute with Kourtney Kardashian, Khloé's "deadly" skin cancer scare, and Kylie Jenner's regrets over cosmetic procedures. The reality series will return to Hulu on May 25.