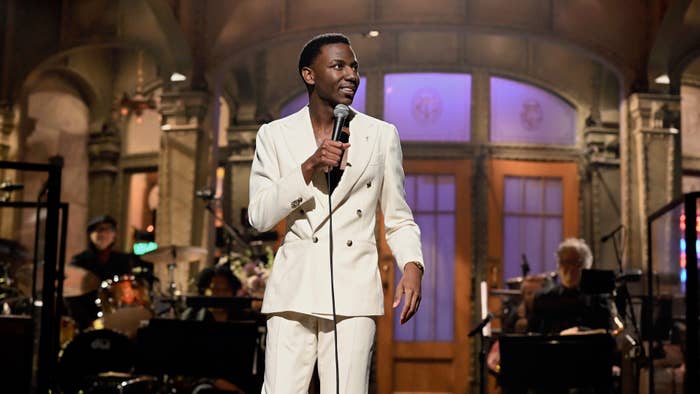 HBO continues its relationship with Jerrod Carmichael.
According to the Hollywood Reporter, the 35-year-old will star in a "comedy documentary series" that focuses on his personal life. Carmichael first teamed up with the network for his 2014 standup special Jerrod Carmichael: Love at the Store, followed by 8 (2017), his two-part video diary Home Videos and Sermon on the Mount (2019), and his 2022 breakout Rothaniel, in which publicly came out as gay. The latter project also earned the North Carolina native an Emmy for Outstanding Writing for a Variety Special.
The forthcoming untitled series will follow Carmichael "through encounters with friends, family, and strangers, all in his quest for love, sex, and connection." The project is part of Carmichael's two-year overall deal with HBO that was inked over the summer. 
"We've loved working with Jerrod over the past 10 years, and to watch him discover new layers of both himself and his comedy," Nina Rosenstein, HBO's executive vice president of programming, said in a statement. "Rothaniel resonated with audiences in such a profound way, and his honesty and vulnerability are a perfect fit for this original format."
Carmichael will not only star in the docuseries, he will also serve as its executive producer, alongside Eli Despres and director Ari Katcher. HBO has yet to confirm a premiere date. Carmichael's directorial debut On the Count of Three—in which he also co-starred—released in 2022.
The announcement comes just weeks after the comedian hosted the 80th Golden Globe Awards, which included a controversial monologue as well as eyebrow-raising jokes. Carmichael called out the Hollywood Foreign Press Association on a number of high profile scandals, including its history of lacking Black members. He also cracked a joke about Scientology and another that referenced the death of Whitney Houston, whose estate said they felt the joke was "in poor taste."