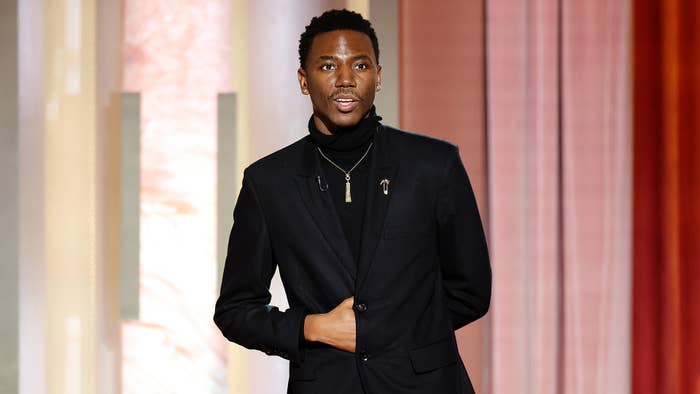 Jerrod Carmichael made a reference to Whitney Houston's death as part of his hosting gig at the 2023 Golden Globes, and the late singer's estate isn't happy about it.
"Alright you guys, we are back, we are pressed for time but they wanted me to shout out the venue we're in," said Carmichael after a commercial break during the Peacock-streamed awards show. "So we are here, live, from the hotel that killed Whitney Houston, the Beverly Hilton, you guys—so uh, that's very exciting."
At the broadcast's start, an announcer hyped up the ceremony as being "live from the star-filled International Ballroom of the Beverly Hilton hotel." 
In a statement provided to TMZ, Houston's longtime manager and sister-in-law Pat Houston denounced the joke.
"The Whitney Houston Estate is disappointed in the joke, and felt it was in poor taste," said Pat, who is the sole executor of the estate.
Sources with knowledge of the production team behind the Golden Globes said 35-year-old Carmichael did not alert the Houston estate about the joke, and it remains unclear if he checked in with NBC about it.
Houston was found unconscious in a bathtub at the Beverly Hilton on Feb. 11, 2012. Her death at the age of 48 was attributed by the Los Angeles County Coroner's Office to drowning and "effects of atherosclerotic heart disease and cocaine use." Toxicology results showed she had cannabis, Flexeril, Benadryl, and Xanax in her system at the time of her death as well.
The comment about Houston wasn't the only joke Carmichael made that prompted a shocked reaction from the audience. In another transitional moment, Carmichael appeared onstage with three trophies and joked they were the ones returned by Tom Cruise amid the Hollywood Foreign Press' public drubbing in 2020. 
"I have a pitch," Carmichael said. "I think maybe we take these three things and exchange them for the safe return of Shelly Miscavige."
The wife of Church of Scientology leader David Miscavige has been notoriously missing from the public eye for years, with her whereabouts and condition by most accounts unknown.