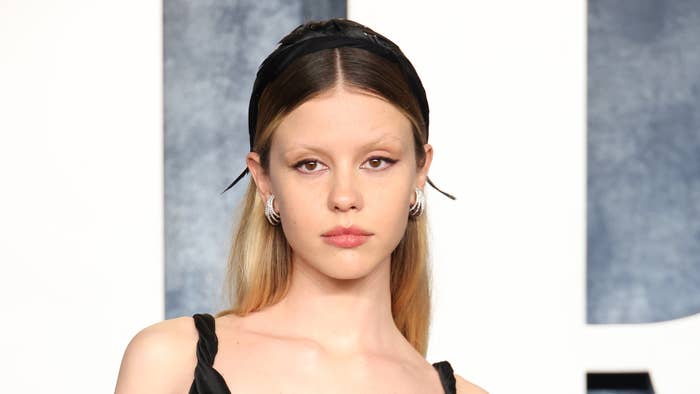 Mia Goth will star alongside Mahershala Ali in the Marvel Cinematic Universe reboot of Blade, according to Deadline sources. Details regarding the 29-year-old's reported casting remain a mystery.  
Goth's career reached new heights last year following the release of A24's dual period pieces X—which saw her memorably play multiple characters—and Pearl. It appears filming for MaXXXine, the third entry in the Ti West-directed trilogy, started yesterday.
Mia Goth continued mining the horror vein this year in Brandon Cronenberg's unsettling sophomore feature Infinity Pool, co-starring with Alexander Skarsgård. Her previous work in and around the genre includes Suspiria, A Cure for Wellness, and Marrowbone.
Back in 2019, Marvel Studios president Kevin Feige delivered the surprise announcement of a Blade revival with Ali to play the titular character. Since then, the film has experienced a few setbacks. Bassam Tariq announced in September 2022 he was stepping down as director, but would retain his role as an executive producer. A Marvel rep told the Hollywood Reporter that Tariq's departure was due to "continued shifts" in the production schedule.
"I'm eager to support and see how the next director builds on the foundation we've set," he wrote on Instagram regarding his exit. "I'll now be joining the project as an EP [executive producer] as I move on to what's next."
Marvel Studios decided just a few days later to pause the project and "take some extra time" to find a new director and develop the script. 
In November, Yann Demange (White Boy Rick) took over as director. Michael Starrbury was also tapped to pen the new script as Marvel wanted Blade to take on a darker tone. 
Blade was originally scheduled to be released in theaters on Nov. 3, 2023, but has been pushed back to Sept. 6, 2024.