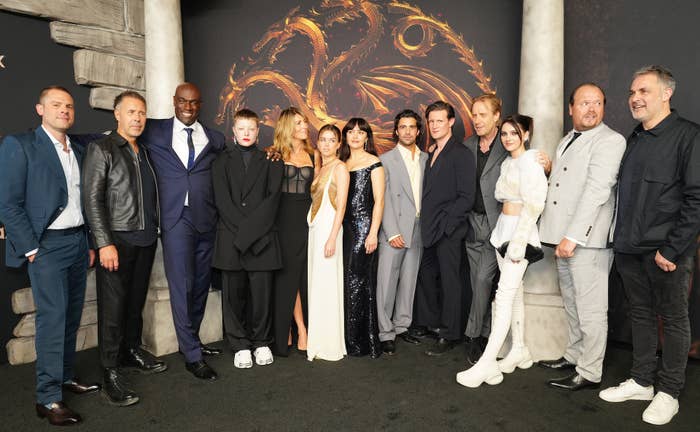 UPDATED August 26, 10:50 a.m. ET: After premiere ratings blowout, HBO has just renewed House of the Dragon for a second season.
"We are beyond proud of what the entire House of the Dragon team has accomplished with season one," says Francesca Orsi, executive VP, HBO programming. "Our phenomenal cast and crew undertook a massive challenge and exceeded all expectations, delivering a show that has already established itself as must-see-TV. A huge thank you [to co-creator and executive producer George R.R. Martin and co-creator and showrunners Ryan Condal and Miguel Sapochnik] for leading us on this journey. We couldn't be more excited to continue bringing to life the epic saga of House Targaryen with season two."
See original story from 8/22/22 below.
House of the Dragon may be living proof that absence does make the heart grow fonder. 
It's been over three years since an overwhelming majority of Game of Thrones fans came away disappointed by the abbreviated eighth and final season, but nearly 10 million viewers were willing to give the prequel's debut episode a shot. House of the Dragon drew 9.986 million viewers across HBO and its HBO Max streaming service, becoming the largest original series premiere in the network's history. 
Varietynotes the premiere of Thrones pulled in 4.2 million viewers in 2011, but as the juggernaut's numbers continuously soared, with 17.9 million people tuning into the Season 8 premiere.
Unless you've been living under a rock these last few months, you were probably well aware of House of the Dragon. According to Deadline, HBO spent over $100 million on marketing its potentially new cornerstone series. "The House of the Dragon campaign is really about generating big, broad awareness and interest throughout the summer, but to also make sure we're signaling to existing fans as well as new fans alike that this is a new Game of Thrones story coming to HBO Max," HBO Originals Marketing EVP Pia Barlow explained. 
In 2019, HBO scrapped the Game of Thrones spinoff tentatively titled The Long Night starring Naomi Watts, then swiftly moved forward with a straight-to-series order for House of the Dragon. The decision was met with some confusion since the Age of Heroes–set show seemed well on its way to being green-lit after filming its pilot episode, which cost the network a reported $30 million. 
Former WarnerMedia Entertainment Bob Greenblatt told the New York Times he knew pulling the plug on their first attempt was the right thing to do because the pilot wasn't "expansive or epic enough." Ultimately, House of the Dragon had what the now-defunct series lacked, as well as a sense of relatability.  
"What appealed to me about it was it's a family drama," HBO chief content officer Casey Bloys said. "Anybody who has stepparents or siblings or half siblings, or had warring factions of a family—I think every single family in America has dealt with some version of this." 
HBO was also assured House of the Dragon was in good hands with Miguel Sapochnik—who directed previous landmark GoT episodes like "Battle of the Bastards" and "The Winds of Winter"—as its showrunner. Most importantly, the prequel has received the blessing and guidance of George R.R. Martin, who signed an overall deal with HBO last year. 
"George, for us, in this process has been a really valuable resource," Bloys told the Times. "He is literally the creator of this world. He is its historian, its creator, its keeper. And so I can't imagine doing a show that he didn't believe in or didn't endorse."
While House of the Dragon is off to an amazing start, if history has told us anything, it's not how you start, but how you finish.