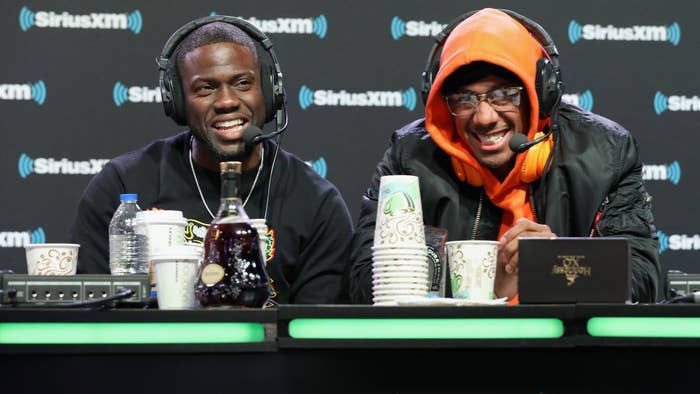 As the prank war between Nick Cannon and Kevin Hart continues, Cannon has stepped it up a notch by plastering a jumbo image of himself on Kevin's private plane.
In a new clip that Cannon shared to Instagram, Kevin Hart was surprised when he pulled up to the airport hangar to find that his jet had a giant poster promoting the entertainer's new self-titled talk show wrapped across one side of his jet.
"I got you good @kevinhart4real – and I GOT you as the FIRST GUEST on my new talk show," Cannon wrote in the caption for the post. Later in the show, Cannon revealed that the wrapping isn't permanent but won't be coming off for at least a month.
However, this is only the latest in a string of pranks between Kevin and Nick. A few months back, Hart bought a Billboard that read "For any advice on fatherhood? Call my best friend Nick Cannon," and shared what looked to be Cannon's phone number.
"Since my brother @nickcannon decided to buy me a lama for my B Day I decided to do something nice for him as well….Here is a digital billboard in Los Angeles….I also did some in ATL & NY….if u want any advice on fatherhood please call my BEST FRIEND @nickcannon ….I'm sure his phone has been ringing nonstop 😂😂😂😂😂😂 GOTCHA BACK BITCH #PRANKWARS," he wrote in the caption.
This prank was a play on the running joke that Cannon has been having a lot of kids lately, something he jokingly addressed while joining Entertainment Tonight last week.
"My therapist says I should be celibate," Cannon said with a laugh. "You agree with the therapist? I'mma take a break from having kids."