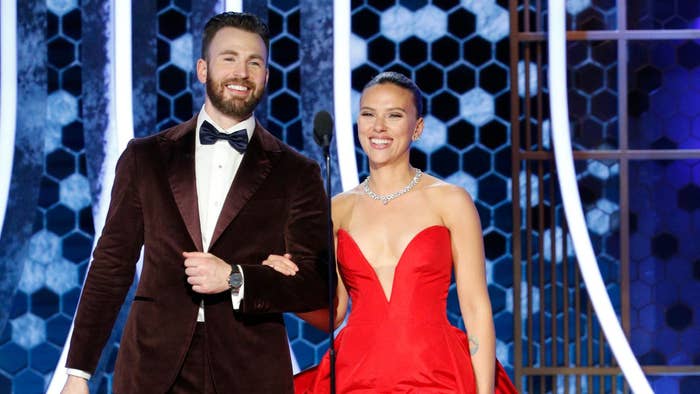 The dynamic duo of Chris Evans and Scarlett Johansson are taking their talents outside of the Marvel Cinematic Universe and co-starring in a new Jason Bateman-directed movie, per Deadline. 
The film is reportedly called Project Artemis and the Ozark star will be acting as director and executive producer for the Apple-purchased project, while Evans and Johansson will star in the movie that is rumored to be centering around the space race. According to Deadline, Apple purchase the upcoming film in a deal worth over $100 million. Evans responded to the report on Twitter as well, voicing his excitement.
Johansson and Evans starred in several MCU movies together, with their last appearance in the same film being Avengers: Endgame. It's unclear whether or not either of their characters, Black Widow and Captain America, respectively, will be making a return in any future Marvel titles, but Kevin Feige did tell a reporter in November that they were supposedly working on a "top-secret" project.
"We are already working with Scarlett on another non-Black Widow-related top-secret Marvel Studios project with her as a producer," he said at the time.
Despite a legal dispute with Disney+ last year over the release of Black Widow, Johansson and her team were able to reach a reported $40 million settlement.
"I am happy to have resolved our differences with Disney," Johansson said at the time. "I'm incredibly proud of the work we've done together over the years and have greatly enjoyed my creative relationship with the team. I look forward to continuing our collaboration in years to come."
There is no release date or additional information available at this time about Evans and Johansson coming back together on Bateman's Project Artemis.