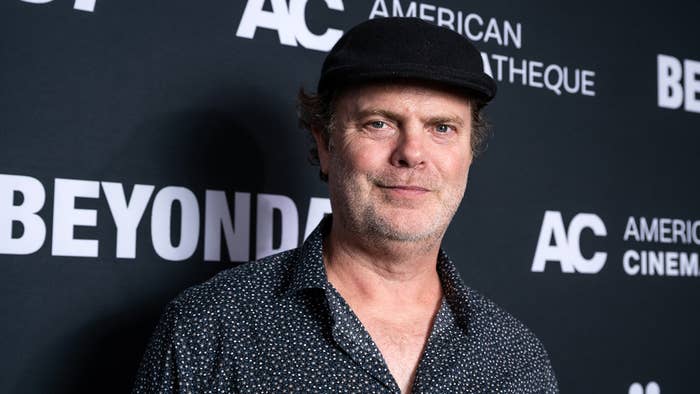 Rainn Wilson has shared a hilarious video showing a man watching The Office on a flight, completely unaware he's sitting next to the man who played Dwight Schrute.
In a post shared on his Instagram Stories on Monday, Wilson filmed himself shaking his head before panning the camera to show the person next to him. "When the person sitting next to you has no idea who you are," he wrote, as the video showed the man enjoying his meal while watching The Office. The timing couldn't've been any better, either, as it showed Wilson on the in-flight entertainment screen. 
In fairness, Wilson doesn't seem immediately recognizable in the clip. He's wearing a hat, a face mask, and isn't sporting Dwight's signature glasses. 
The Office star has been keeping himself busy as of late, as it was announced in January that he will be starring in a buddy action-comedy alongside Lil Rel Howery. The actors will join forces for the Christopher Leone-directed flick Code 3 from Wayfarer Studios and Circle of Confusion. According to the synopsis, the project will follow a pair of underpaid EMTs who become fed up with their jobs. Wilson and Howery will also serve as executive producers. He's also set to appear in the upcoming comedy-drama Inappropriate Behavior alongside a cast that includes Robert De Niro and Bobby Cannavale.
Last year, Wilson announced that he changed his name to Rainnfall Heat Wave Extreme Winter Wilson in an effort to draw attention to climate change.