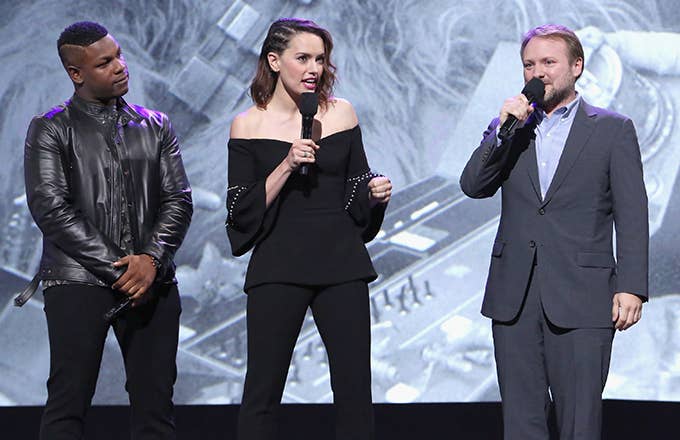 Despite grossing over $1.3 billion dollars at the box office and receiving generally positive reviews, Star Wars: The Last Jedi was divisive with audiences. Certain hardcore fans were heavily critical of writer-director Rian Johnson in particular, taking issue with some of the bold choices he made in the story. Plenty of viewers instantly loved Johnson's take on the franchise, and plenty more have grown to love it, but the Rise of Skywalker cast and director J.J. Abrams have explained they weren't totally in love with the movie.
In an extensive feature from The New York Times detailing the production of the Star Wars sequel trilogy, Abrams and the cast threw some not-so-subtle shade at Johnson. Abrams, for one, said he appreciated that The Last Jedi was "full of surprises and subversion and all sorts of bold choices," but added, "It's a bit of a meta approach to the story. I don't think that people go to Star Wars to be told, 'This doesn't matter.'"
One of the most frequent complaints about the film was that it made certain elements—Rey's parents, Supreme Leader Snoke, Finn's story, Luke's role—seem trival in the grand scheme of the story. When it was announced that Abrams, who also co-wrote and directed franchise revival The Force Awakens in 2015, took over directorial duties for the third entry of the trilogy from Colin Trevorrow, Daisy Ridley said she cried, appreciative of the comfort and structure Abrams lends. She wasn't the only one feeling relief. "Even as a normal person in the audience, I wanted to see where that story was going," co-star John Boyega said.
This isn't the first time the cast has been critical of Rian Johnson's divisive film. Earlier this week in an interview with Hypebeast, Boyega made it clear he was not a fan of the direction taken, which is perhaps fair considering how sidelined his character was after The Force Awakens. "The Force Awakens I think was the beginning of something quite solid, The Last Jedi if I'm being honest I'd say that was feeling a bit iffy for me," he explained. "I didn't necessarily agree with a lot of the choices in that and that's something that I spoke to Mark [Hamill] a lot about, and we had conversations about it. And it was hard for all of us, because we were separated."
Hamill, who said goodbye to his character in The Last Jedi, has gone on record with his opinion, too. In a short behind-the-scenes look at the film, Hamill said he felt as though the character of Luke Skywalker was "demoralized." He even told Johnson that he hated some of choices he made in regards to Luke.
With more and more fans coming around to The Last Jedi, specifically in regards to how it did something fresh for Star Wars, Twitter did not react positively to the cast and Abrams throwing Johnson under the bus. Many added that this has them worried for The Rise of Skywalker, which could go for a more safe approach after the volatile reactions its predecessor inspired.
See what Twitter had to say about the cast and Abrams' comments below.
Also worth noting, a thread of ways Boyega's Finn was indeed mishandled for TLJ: