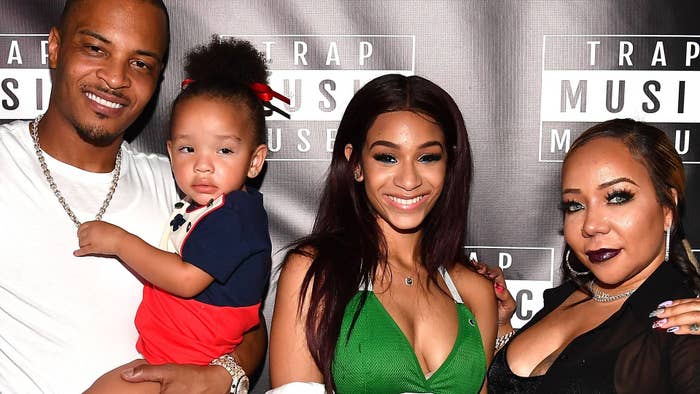 Deyjah Harris is tired of followers bringing up her dad and step-mom under posts about her mother. 
The 20-year-old daughter of T.I. popped up on Twitter Monday to share photos of her mother on her 41st birthday. The four photos Deyjah shared were complete with a caption, saying her mom, Ms. Niko, "done went to greece for her 41st birthday and she think she grown." 
After seeing comments from fans about T.I. and Tiny, Deyjah made sure to respond. 
"man why y'all gotta bring up my pops and stepmom everytime i post my mom," Deyjah asked her 238,000 Twitter followers. "do those thoughts really need to be tweeted/said out loud? why we can't just enjoy the photos of her without some people bringing my other parents up…. just chill. everyone is happy so it don't matter."
She then elaborated after another user apologized for others' behavior, noting that it is nothing she's "not used to," but that it only happens under posts about her mother.
"like when i post my pops, don't nobody ever mention my mom so why are they mentioning him + tiny under her posts," Deyjah, who previously said she didn't want to mention her parents on social media again, asked her followers. "just ridiculous tbh smh."
Harris' comments come two weeks after T.I. and Tiny's assault case—where they were accused of drugging and sexually assaulting a woman in Los Angeles in 2005—was dismissed. TMZ first reported that prosecutors decided against charging the couple since the case was not within a 10-year statute of limitations.
Since January, several alleged victims have accused the pair of sexual misconduct. A woman in Las Vegas also accused T.I. and Tiny of drugging and assaulting her after meeting at an airport, but prosecutors decided against going after the pair over those allegations, which were also not within the statute. 
"To be honest with you bro, stupid people listen to stupid people," T.I. said in a recent episode of The Big Facts Live podcast. "It's simple as that. The name of the show is Big Facts. You show me one motherfuckin' big fact on the subject and we can continue the discussion. This shit started January 29th."