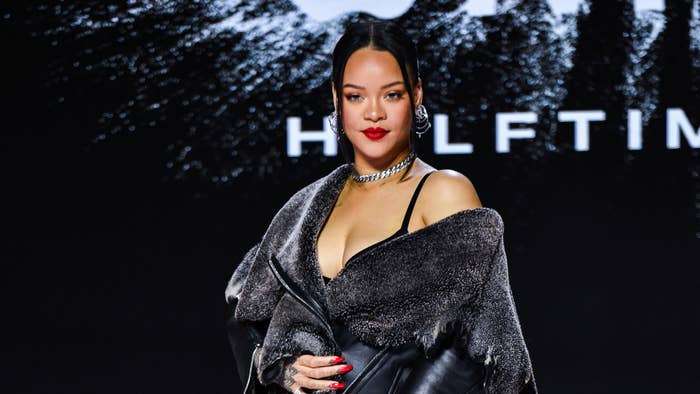 On Sunday, Rihanna delivered her wildly anticipated Apple Music Super Bowl LVII Halftime Show set, becoming the latest artist to perform on what's often referred to as "the world's biggest stage."
Rihanna's halftime experience follows a 2022 edition of the football-assisted spectacle that was led (to much acclaim) by Dr. Dre. Before Rihanna's own time on the stage, Dre offered some advice informed by his set last year alongside Snoop Dogg, Eminem, Kendrick Lamar, and Mary J. Blige.
"Put the right people around you, and have fun," Dre told Ebro Darden last September. "That's basically what it is, making sure you have the right creative people around you. She might want to look into some of the people that we used to do our show."
Notably, Rihanna's appearance on Sunday night (like Super Bowl halftimes of years past) is the result of extensive planning and rehearsal, not to mention a slew of setlist iterations prior to what viewers were ultimately given. Rihanna confirmed the latter aspect of the show's development during an Apple Music press conference with Nadeska Alexis last week.
According to the singer, the setlist had at that point already been changed about "39 times." This is a sign of how seriously Rihanna took this commitment, as well as the unique difficulty of trying to summarize one's discography in such a short-form setting.
"You're trying to cram 17 years of work into 13 minutes, so it's difficult, and some songs we had to lose because of that, but that's okay," Rihanna explained.
Below, get a look at how people are responding to Rihanna's set so far, all while collectively holding out hope for an Anti follow-up in the months (years?) ahead.