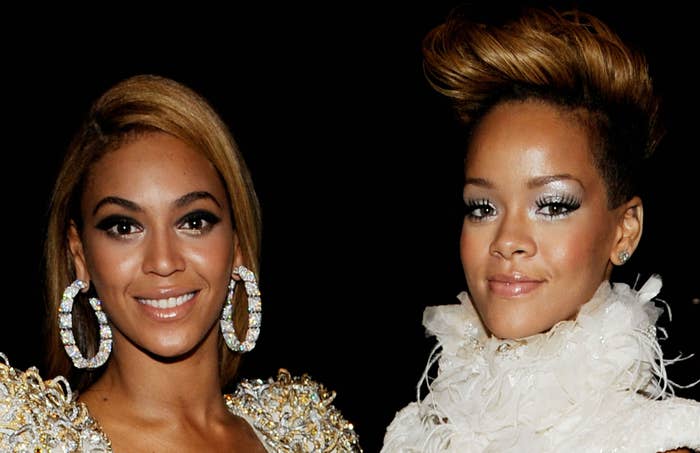 While preparing for this year's Apple Music Super Bowl LVII Halftime Show, Rihanna drew inspiration from another Queen of Pop, Beyoncé.
Over the weekend, iHeart and the NFL's The Process with Nate Burleson podcast aired a recent interview with Rihanna, who opened up about her preparation ahead of her headlining performance on Sunday at the State Farm Stadium in Arizona.
Rihanna didn't shy away from admitting that she studied past Super Bowl Halftime Show performances, namely Beyoncé', who headlined the Super Bowl XLVII Halftime Show as a solo act in 2013, before making a surprise appearance alongside Bruno Mars and Coldplay at Super Bowl 50 in 2016.
"I watched Beyoncé's halftime performances a couple of times," Rihanna revealed. "She is a beast and a whole other level. Just to be inspired, really."
Earlier this week, Rihanna spoke with reporters about her how important Sunday's performance is to her career.
"That was the hardest, hardest part: deciding how to maximize 13 minutes but also celebrate. That's what this show is gonna be. It's gonna be a celebration of my catalog in the best way that we could've put it together," Rihanna told Apple Music's Nadeska Alexis.
"You're trying to cram 17 years of work into 13 minutes, so it's difficult. Some songs we have to lose because of that, and that's gonna be OK, but I think we did a pretty good job of narrowing it down," she added.
Super Bowl LVII airs at 6:30 p.m. ET on FOX.