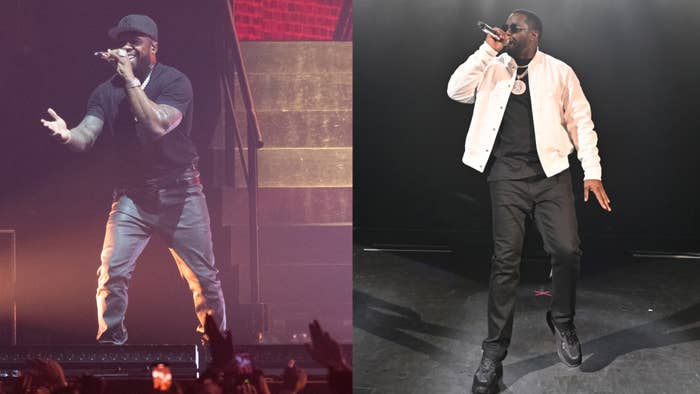 50 Cent has again referenced Cassie's lawsuit against Diddy in which the Bad Boy Records founder was accused of abuse.
In an updated shared to Twitter on Monday, 50 plugged the G-Unit merch store when sharing a meme featuring a photo of Cassie and Diddy.
"If I text you this, it means I want my money by tomorrow," the text of the meme reads.
When sharing the image to Twitter, 50 wrote, "I'm not waiting till Monday."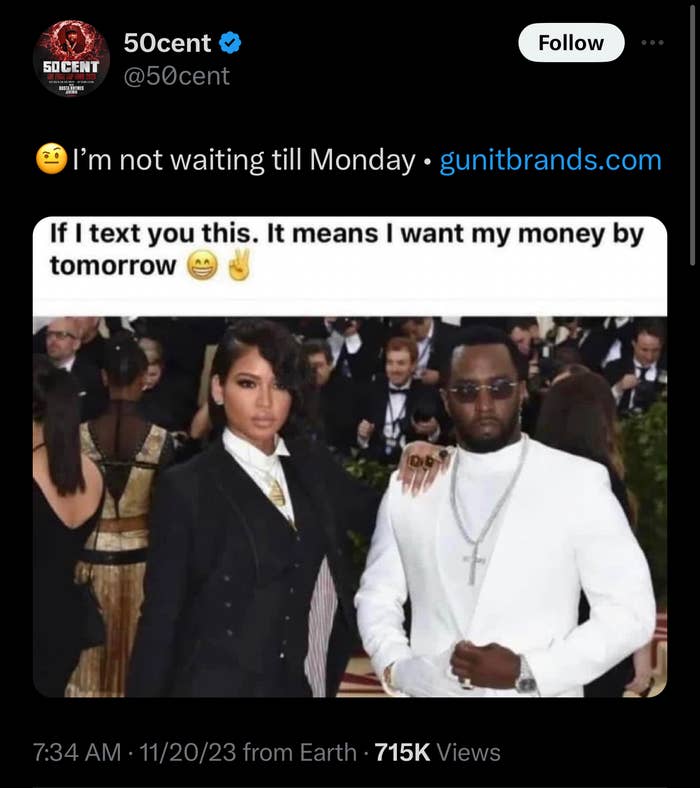 This isn't the first time 50 has spoken publicly about Diddy and Cassie. Over the weekend, it was reported that 50 had directly addressed the lawsuit's settlement. "He paid that money real quick," 50 wrote in an Instagram post that was later removed.
When news of the lawsuit first broke earlier that week, 50 immediately mocked Diddy on social media, telling his 30 million Instagram followers that the Love Album artist was "out here looking crazy as a MF."
He's also inspired numerous headlines in recent months for mentioning Diddy in connection with the latest 2Pac murder case developments, as well as for criticizing his alleged style of hugging.
As previously reported by the New York Times, a settlement was reached in Cassie's lawsuit against Diddy alleging rape and abuse, though exact details of that settlement have not been made public.
"I have decided to resolve this matter amicably on terms that I have some level of control," Cassie said on Friday. "I want to thank my family, fans, and lawyers for their unwavering support."
In a statement to Complex, Diddy said, "We have decided to resolve this matter amicably. I wish Cassie and her family all the best."