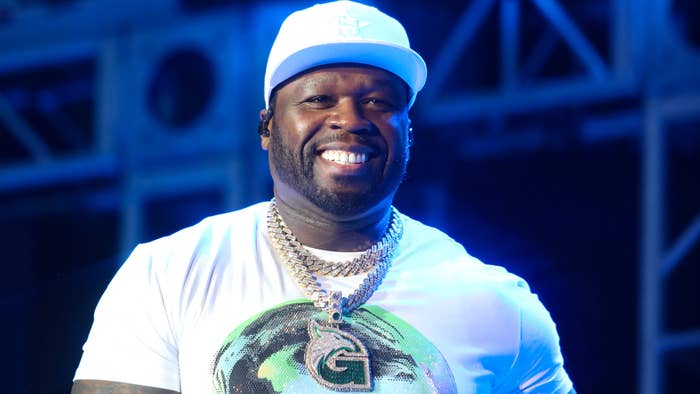 At this point, it's impossible to deny 50 Cent's repeatedly proven successes in the world of TV. But that doesn't mean 50 hasn't continued to face questionable behind-the-scenes tactics from studios, or that he has become immune to headlines-spurring legal proceedings unrelated to any of his work in TV or beyond.
In fact, as 50 himself details in a new Vulture piece out this week, he's felt like "the alien in the world" at various points in his career. To elaborate on this, 50 spoke generally about being sued, using the hypothetical scenario in his response to a question about what he's learned over the years about how best to change up his approach.
"There's points where I feel like the alien in the world, in where I come from versus what's actually happening," 50 told Carvell Wallace, as seen in full here. "Let's say you're being sued for a ridiculous amount of money, and nobody wants to budge because of how much money they believe you have at the present moment. You're sitting there thinking, I could really leave, and for $5,000, I can kill who I want. You know what I'm saying?"
Elaborating further, 50 pointed to being shot nine times back in 2000 and surviving; the shooting, of course, has long been a key facet of 50's ongoing trajectory in pop culture at large.
"This is really not a maybe," he said. "I'm sure! When I got shot nine times, that was $5,000. Because that's where I'm from. Even they missed — if you went at them and you missed, they wouldn't show up to court next time."
Earlier this year, Lil Tjay revealed that he received a personal call from 50 after sustaining his own shooting-related injuries in 2022.
"Every artist needs pain or something to feed off of," Tjay, who was shot seven times during an attempted robbery, told Rolling Stone in January when recalling what 50 said to him. "This right here, you shake this shit off."
In terms of lawsuits, 50—like many public figures—has faced a number of them. Since 2003, the same year he released his major label debut Get Rich or Die Tryin, 50 says he's spent more than $23 million in legal fees in connection with various cases. Most recently, it was announced that Pras had notified 50 and other parties that he was planning a defamation lawsuit against them.