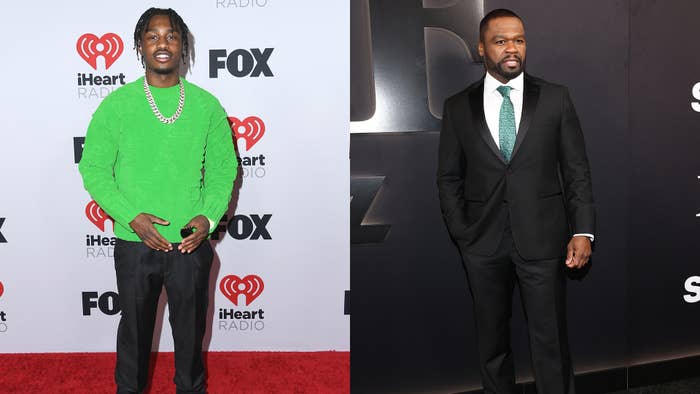 Lil Tjay was shot seven times during an attempted robbery last year, and following his miraculous recovery he received some advice from 50 Cent.
In an interview with Rolling Stone, Tjay revealed that after his condition stabilized he got a phone call from Fif, who was on a jet at the time. "Every artist needs pain or something to feed off of. This right here, you shake this shit off," Tjay recalled 50 telling him. "You got the length for greatness. You going to be bigger than ever." Of course 50 Cent is no stranger to overcoming such injuries, as he was shot nine times in 2000 ahead of his breakthrough success with his debut album, 2003's Get Rich or Die Tryin'. He noted that Diddy called him to show support, too.
Elsewhere in the interview, Tjay spoke about his journey to recovery in hospital and reflected on his memories from the shooting. "I don't even know [if] I knew it was seven times," he said. "When them shits get to hittin' you, it's different. When it's again and again, it's like, yo! I ain't going to lie, everybody that was there and seen me—undeniably it looked like it was over."
While waiting for the ambulance after the shooting, Tjay passed out. He was in a coma for five days, but when he woke up he thought it had only been a couple of hours. "The hospital lady came over to me like, 'Hey, you didn't look so good the other day, bud,' " he added. "I'm thinking, 'The other day? What you mean, the other day?'"
After waking up it took him a few days to start talking again, and he still had a bullet lodged in his neck that later had to be removed through the use of just a numbing agent and a scalpel because he didn't want to be put back under. "I could feel the bullet, too," he said. "She's touching my neck, and I could feel a bullet, and I'm like, 'Yo, this is crazy.' All I'm thinking is, 'What? I got a story to tell.'"
Read the full interview with Tjay here.