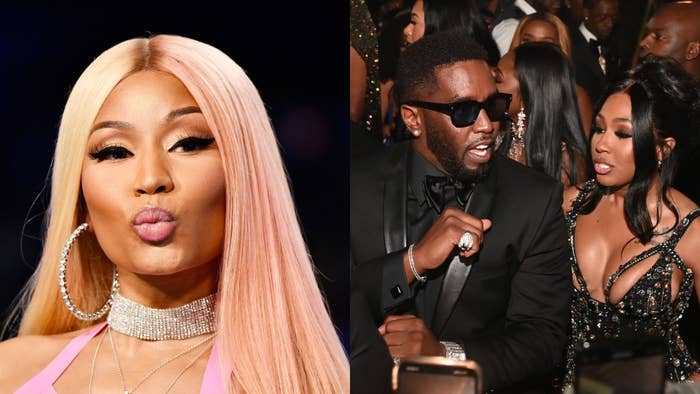 Nicki Minaj started trending after a dispute regarding Yung Miami surfaced on Twitter—and Diddy was requested to assist.
On Wednesday, Minaj addressed Miami after she heard the City Girls member used a term Nicki claimed to have made famous on her show.
"*Hits @Diddy to advise him that a young lady on a show that appears on his network seems to have 'borrowed' a very popular #QueenRadio catch phrase*," she penned, quote-tweeting Miami's teaser of her latest episode of Caresha Please featuring Summer Walker. "Puff, who representing u these days chile? I got my shit drafted in my HEAD B!CH @YungMiami305 talkin bout u got into some thangssss. Um chile, anyways, so…😂🤣."
The "Act Up" rapper—who has legitimately beefed with Nicki before—responded, "Nicki @NICKIMINAJ what's really the problem??? cause I definitely didn't get that from you LOL 'let's get into some thing Chile' actually is a gay slang Lmaooooo."
Minaj wrote back, "Caresha now you know damn well 'gay slang' is the first go-to nowadays. Let's discuss it on #QueenRadio chile. If not, I'm hittin Puff right now. You know he used to manage me right? Now it's my man my man my man. Puff what up? Hit my line chi @Diddy."
"Yeah I'm On my way to his house im Finna call you when I get there," Miami fired back.
The "Red Ruby Da Sleeze" MC also trolled Miami by creating a poll.
"Talkin bout 'gay slang' caresha please! Let's ask the gays ms Bitch!!!!" Nicki's comical voting options all insisted Miami was lying.
In response, Miami told Minaj to bring her on Queen Radio.
"I'm ready when you are Ms. bitch," she tweeted.
Nicki closed out with, "*stops typewriter* *Looks at the first legal draft* *rips it up* *Hears Puff desperately calling my line* *Doesn't answer* *gets my questions ready for Ms Caresha*."
Diddy never got involved in the dispute, or lack thereof, but Yung Miami did take a second to question Nicki's use of "desperately" before calling it a day.