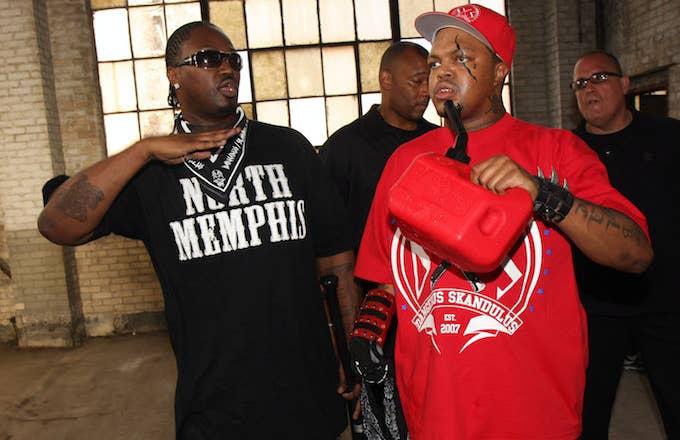 In the uncertain world of the music business, there seems to be one surefire way to make a hit song: sample or interpolate something from the Three 6 Mafia family. From Rae Sremmurd on "Powerglide" to ASAP Ferg on "Plain Jane" to G-Eazy's "No Limit" to J. Cole's "No Role Modelz" to Cardi B's "Bickenhead" to ASAP Rocky's "Gunz N Butter," songs by Three 6, Project Pat, and other artists from the influential Memphis crew are the backbone of some of the biggest hits of the past few years.
To get to the bottom of how a crew that began in the early 1990s (and that already had one previous career revival in the mid-aughts) became instrumental to so many of today's most popular songs, we spoke to Three 6 co-founder DJ Paul and longtime affiliate Project Pat. The conversations, which happened separately, have been combined here.
When did Three 6 really get started?
DJ Paul: We came out the door with an EP—artwork, cover pressed up, shrink wrapped, and everything... That was in 1990.  The group was [initially] called the Serial Killaz, and the name of the tape was Portrait of a Serial Killa. After that, I went to the regular mixtapes on TDK tapes. [Note: A collection of Paul's mixtape-era tracks can be found on Underground Vol. 1: (1991-1994).]
Where did your sound come from?
DJP:  My daddy always used to tell me that I was going to be the next Michael Jackson. And I was like, "Dad, I don't think that's going to happen." But I would try. He would put me in organ lessons, and he bought me an organ that I still have—a $5,000 organ he bought for me back in 1985 when I was a kid. Between me being in love with horror movies and having an organ, which is a creepy instrument anyway, that all just went hand-in-hand and made it happen.
Project Pat: Me personally, I always was a Scarface and Too Short fan. That's why my music goes towards storytelling. I got that idea and vibe from Scarface, and when I talk about women, I got those ideas from Too Short.
Three 6 was doing that turn-up, hype music. What influenced me with Three 6 and [their label/crew] Hypnotize Minds was that Paul and [my brother] Juicy J made the beats, so it was a straight original sound.
So that's the music. How did Pat come up with his distinctive rapping style?
DJP: We actually trained Pat to be how he is. Pat was like a dude who was in Three 6 Mafia, but he wasn't. He was affiliated, but was on his own. I told him, it's going to be harder for you because what makes Three 6 Mafia so unique is like the title of our first album, Mystic Stylez: we have different people who sound different. Juicy don't sound like me, and I don't sound like Juicy, Crunchy [Black] don't sound like none of us, and Koopsta Knicca don't sound like nobody else in the world. It kept the songs interesting because of all the different people. You want to see what the next person is going to do. So I said, "Pat, you on your own so what you're going to have to do is change up your flow on every verse. It's gotta sound almost like a new person just stepped up to the mic." That's what I told him and he did it. He came up with the flows himself. So that's what made it go together so great: 'cause he did that and he did it well.
PP: It wasn't even hard for me, though. To me, rap was easy. I had never looked at myself as a rapper. I used to look at myself like a hustler. I was like, this is all I need to do to get that money?
Let me put it to you like this: I could listen to someone else's rap, and I can take one of their lines, just one line, and I can make a whole song out of it. I can take the style of one line and make a whole song out of it. I don't care who it is.
Man, I'mma tell you something. Right when Pac had passed, they were [bootlegging] a whole bunch of his old music out in L.A. So I used to be out in L.A. a lot right after Pac passed, and I used to get CDs from these people on the streets and mom and pop stores. And these were songs that had not been released. So I used to take lines that Pac would say, and I used to just vibe off his style.
I could listen to someone else's rap and take one of their lines, and I can make a whole song out of it. - Project pat
When did you first start getting a sense that your sound was coming back with this new generation of artists?
DJP: The first one that I remember and the biggest one to my knowledge, was the J. Cole song ["No Role Modelz"]. That song right there, which is a sample from Pat's [song "Don't Save Her"]. That was the first one when I seen it coming back.
PP: I was glad about it. I mean, I look at this whole rap thing as a blessing. We never knew we had that type of an influence that people would be sampling us.
Pat, did you know in advance that Cardi B was remaking your 2001 hit "Chickenhead" for her song "Bickenhead"?
PP: I knew a little bit before it came out, but I hadn't heard it. But I loved it though. I was glad. Salute to Cardi B, that was love. Cardi B, man, she's the truth. She helped me out, like for real.
There have been a whole bunch of recent hits that have been based on Three 6-related songs. Why do you think that's happening now?
DJP: To be honest with you, I feel that people got tired of the sound that was going on because there was a lot of crappy rappers the last few years. People are back ready to have fun in the clubs. People are ready to get back crunk. They ready to get back to having fun and dancing in the club and tearing clubs up, and I think that's why they started to discover where they came from.
Shout out to the ASAP crew. They were always big fans of ours and they always kept some Three 6 samples going on. "Plain Jane" is huge, and that's a Three 6 Mafia sample. So they influence a lot of the young guys to want to sample it, as well. G-Eazy's "No Limit" is huge, so people are like, "Damn, everybody who sample Three 6 Mafia are making hit songs around this motherfucker." I just cleared a couple more samples for ASAP Ferg that's finna come out. I've been clearing three samples a week: movies, TV shows. I just cleared one for a Jim Carrey movie.
PP: That's a blessing, man. They don't got to do that, you know? I mean, I mess with all of them younger artists. They be keeping an O.G. alive out here. They're keeping me afloat. They could have chose anybody to sample from back in the day, but they chose us.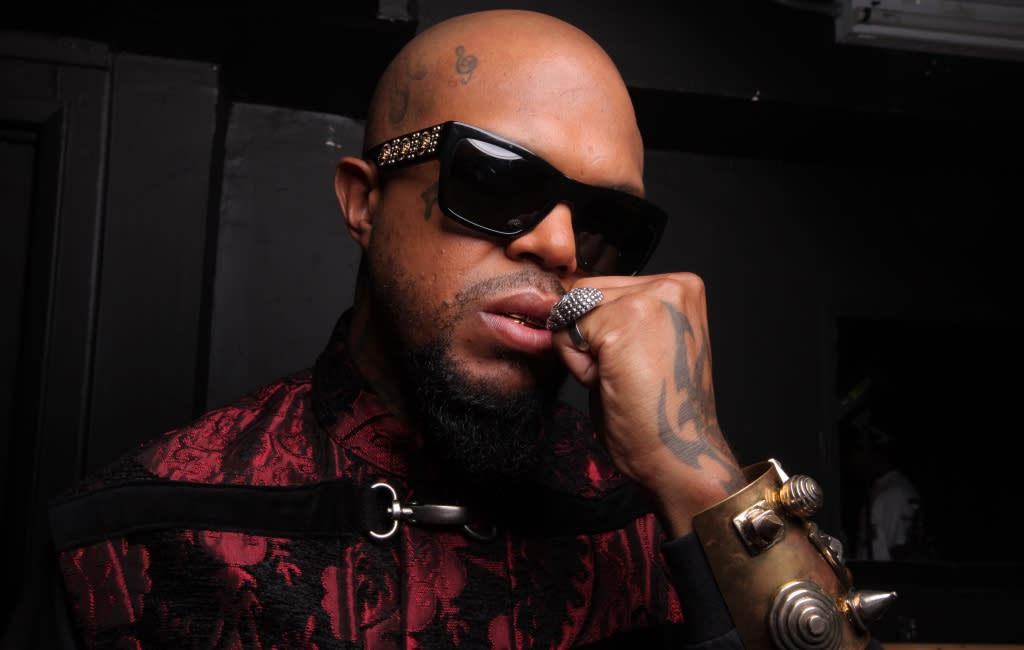 What did you think when everybody began freestyling on your song "Who Run It"?
DJP: When I first saw it, I was a little upset, because [the artists rapping on the beat] didn't know whose song it was. So I was like, this is kinda weird—they don't even know what this song is and they're shouting out the wrong people.
So I just started posting about it and telling them that they need to learn their history and figure out what is going on and not just take advantage of stuff you found on YouTube and you don't even know what the hell the story is behind it. [Members of the group]gone and died and all kind of stuff, so you need to give some shoutouts.
When I first saw [the "Who Run It" Challenge], I was a little upset, because they don't even know what this song is and they're shouting out the wrong people. - DJ Paul
My "Who Run It" ended up being the one a lot of people liked the most. There are other ones that get a lot more views, but nobody's was harder than mine. 2 Chainz, Migos: these people went public on Instagram saying that I had the hardest one. You can't cook that meal better than me. I made that recipe up.
The craziest thing is that right now is your second career revival after your historic Oscar win in 2006 for "It's Hard Out Here For a Pimp". You're on life number three at this point. Can we expect another revival in 2030?
DJP:[Laughs] I think so, man. Because it's good music. Think about this, too: maybe 10-15 years from now, they will be sampling those guys who sampled us, and I will get paid from that, as well. So I will be long gone out the music world probably 20 years from now, and guys like ASAP Ferg will be the old-school cats that the new guys will be sampling. They will sample songs which will bring me right back into the picture. Not directly—they won't know. But my name will be in the print. I'll be a part of that check.