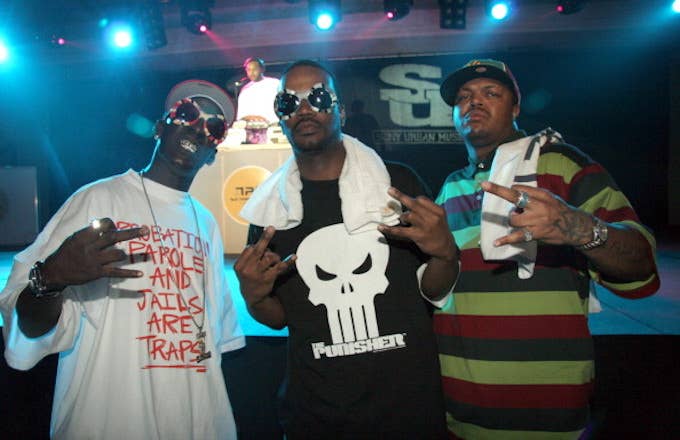 When Rae Sremmurd dropped "Powerglide" early Thursday morning, astute fans quickly noticed that the Atlanta duo and producer Mike Will Made-It had taken heavy inspiration from Three 6 Mafia's 2005 "Side 2 Side." "Powerglide"'s keyboard melody and hook were an obvious nod to the Memphis pioneers' Most Known Unknown cut. And just in case anyone missed it, Swae and Jxmmi brought along Three 6 member Juicy J for a verse.
If all of this seems familiar, it's because ASAP Ferg did something similar just last summer with his hit "Plain Jane." That song, as Ferg was the first to admit, was his version of the 1999 classic "Slob on my Knob," from the Three 6 side project Tear Da Club Up Thugs. 
"I was in the car with my uncle, and we were going hard to 'Slob on My Knob,'" Ferg told Billboard about writing "Plain Jane." "I was like, 'Hold up, nobody did this song over yet?' That song meant so much to me."
So what does it mean that a bunch of the biggest hits of recent months ("Slob on My Knob" also served as inspiration for "No Limit") use the same source material? The answer goes back, at least in part, to Hustle & Flow. 
Well before they were Lucious and Cookie on Empire, Terrence Howard and Taraji P. Henson were DJay and Shug in Craig Brewer's 2005 film. Howard played a Memphis pimp and aspiring rapper. To help him seem authentic to the city, Brewer and John Singleton enlisted Three 6's Juicy J to help write songs and guide Howard's rapping performances. 
That led to Three 6 creating "It's Hard Out Here for a Pimp" as the movie's theme, and the group won an Oscar for the tune. The win led immediately led to an unlikely late-career (they had been around since 1991) renaissance. Mere months after Hustle & Flow's summer 2005 release, Three 6 Mafia released Most Known Unknowns, an album that more than capitalized on their newfound attention, delivering the group's biggest hits to date. That fall they dropped Most Known Hits, a greatest hits collection for those not up on the group's history at that point. 
This put the long-running group in a unique position. They were legitimate pop stars: Three 6 was scoring with hits like "Stay Fly" and "Poppin' My Collar," winning Oscars, and starring in their own reality show on MTV. But, they were simultaneously boasting an unfuckwitable decade and a half-long track record of countless group albums, mixtapes, side projects, affiliates, and spinoffs. It's rare that the star of the moment has a back catalog, and rarer still for that back catalog to include a series of near-classics. 
So it's no wonder that kids who were in their teens when "It's Hard Out Here for a Pimp" blew up—kids like, maybe, a young ASAP Ferg or Mike Will Made-It—would become Three 6 fans. And, if that's not where they first found these songs, it's certainly responsible for why the references still resonate today. For people of that generation, Juicy J, DJ Paul, Gangsta Boo and company are as worthy of veneration as the Golden Age rappers were to spitters of the '90s and 2000s. Three 6 are to Ferg and Mike Will Made-It what EPMD were to Beanie Sigel and Memphis Bleek (the Roc-A-Fella rhymers recorded a loving homage to Erick and Parrish's "So What Cha Sayin'" back in 2001) or what Slick Rick was to Snoop Dogg (the D-O-double-G famously gave Slick Rick some "brand-new Doggie underwear" on 1993's Doggystyle). 
And there's one more reason why Three 6 is still in the hip-hop conversation. The "Migos flow" is one of the most-copied rap innovations of the last several half-decade. As many people have noted, while figuring out the very first person to use a triplet in a rap is a near-impossible feat, there's no doubt that the late Three 6 member Lord Infamous was one of the early pioneers of the practice. Whether Quavo learned it directly from Triple Six or not, the renewed focus on triplets has people talking about Lord Infamous again, and by extension the group of which he was such an important part.
This role as respected, influential elder statesmen is a strange fit for a crew that was frequently accused of devil worship in its early days, and was controversial enough in its initial heyday that their record label made a $60,000 commercial talking about how controversial they were. But when you trace the dark sounds of Memphis rap, and Three 6 in particular, to the more nihilistic strains of rap that's hitting the charts today, it's not too hard a sell. 
Somehow the crew's new role is working, and the collective's nearly three decade old catalog will surely be mined for more hits in the months and years to come. And the next time it is, take a second to thank a pimp named DJay.