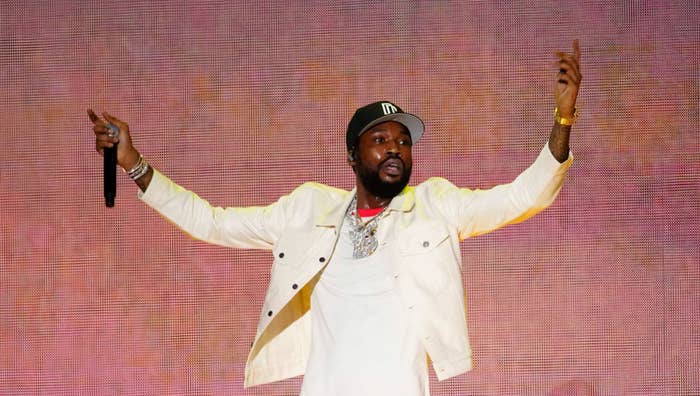 It seems everyone's talking about Squid Game these days. 
Meek Mill became the latest person to join the conversation about Netflix's surprise hit, when he took to Twitter to compare aspects of the shows to what he called "hood poverty." 
"Squid games' pay attention how fast people switch and kill each other to survive," Meek wrote. "Now think about the 'hood' poverty ...it's the exact same thing ...if you just help them with work/money they won't be that way 'just a common sense message.'" 
Squid Game follows 456 contestants who leave their impoverished lives behind for a deadly competition with a huge cash prize. It's a scathing social critique of economic disparity in South Korea, and it's clear that Meek sees similarities between certain systems there and the ones in place in America.
But not everyone agreed with Meek's interpretation
Others agreed with the Philly rapper's take.
The rapper and activist is currently celebrating the release of his fifth studio album Expensive Pain, which moved around 95,000 album-equivalent units its first week and featured appearances from Kehlani, ASAP Ferg, Moneybagg Yo, Young Thug, and Brent Faiyaz, among others. "I think this is probably one of my favorite albums where I express myself," Meek told Zane Lowe recently.
"I actually said expensive pain on a song with Uzi when we was in a booth rapping. I said, 'You ain't rich, your stash can't pay my drug bill.' Basically we smoke a lot of weed and stuff like that, and I was playing it for Brent Faiyaz one day in the studio, he heard me say that, he was like, 'That bar hot.' He was like, 'That's a fire word, expensive pain.' He was like, 'That should be an album title.' And I start thinking about it and then I stuck with it."