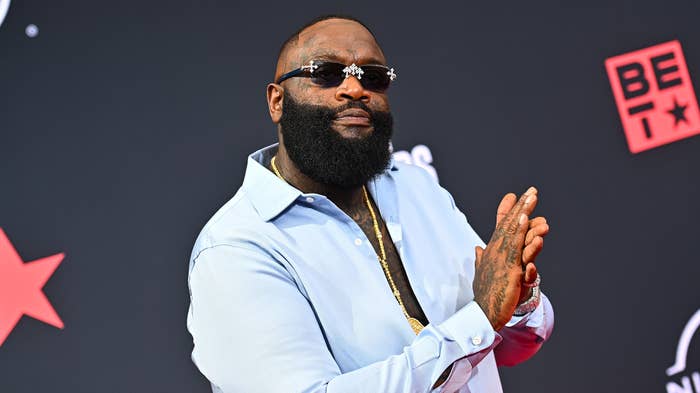 Georgia State University's School of Law will launch a course later this year focused on Rick Ross.
According to FOX 5 Atlanta, the course, which was created by professor Mo Ivory, director of the school's Entertainment, Sports & Media Law Initiative, will learn from Ross' success as an artist and businessman and see what lessons can be applied.
"As a lover of rap music, hip-hop culture and in celebration of the 50th Anniversary of Hip-Hop, I could not think of a better time to study the career of a visionary like Rick Ross," Ivory said. "When I began my research on Ross, I realized early on that my students would learn about a businessman who turned his love of music into an empire that includes massive real estate holdings, food and beverage franchises, investments in the car and bike industry, literary works and corporate equity ownership."
On Instagram, Ivory added, "Last week, we had the privilege of opening the first day of class with [Ross'] mom, Mrs. Roberts and his sister, Tawanda Roberts (see pic). We laughed and even cried as we learned about Rick Ross' childhood and rise to stardom. Quick fact we learned-Ross still calls his mama and sister when making business decisions and they decide as a family, together, all the things."
On his IG Stories on Friday morning, Ross saluted everyone taking part. "That's such an amazing thing. I can't wait to come sit in that course and I get to talk this talk in the flesh, as a boss, early in the morning, you feel me? … Whoever came up with the Rick Ross course, ahh! You a fucking genius. … Fucking iconic."
News of the course fittingly comes after TMZ reported that Rozay dropped a whopping $35 million on a 40,000-square-foot home in Miami Beach's Star Island. The six-bedroom, nine-bathroom residence comes with an entertainment room, heated pool, 40-foot dock, and more.
This is Ross' fifth home in a collectio including the well-known Promise Land ranch in Georgia where the multihyphenate publicly addressed complaints earlier this year from a neighbor who allegedly had her property damaged by two of his 2,000-pound Bison and a bull after they escaped.
Ross bought his other Georgia home from Meek Mill in April. "It was something that Meek had posted online," the 47-year-old said on Drink Champs. "Shit was moving slow...Meek Mill my family."
In the same interview, Rozay confirmed he and Meek were working on new music together, and it appears the two recently linked up in the studio once more.