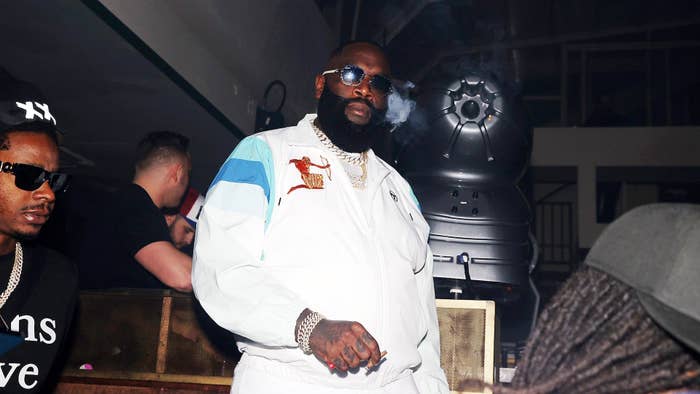 Rick Ross' Car & Bike Show didn't disappoint.
The Maybach Music boss hosted the inaugural event Saturday at "The Promise Land," his 235-acre property in Fayetteville, Georgia. Ross has been hyping the show over the last several months, teasing some of the whips he planned to showcase. We're talking everything from a Lamborghini Murcielago and custom 1971 Chevrolet Impala to novelty vehicles like a firetruck and a camo tank.
Ross spoke about the event during a TMZ interview earlier this week, saying he expected more than 4,000 attendees, including some of his celebrity friends in the sports and music worlds.
"The stage is huge. I'm gonna leave it open for all the Atlanta big boys, all the superstars," he said. "I just expect to be huge."
Ross compared the car and bike show to a "youth fair," as it would feature DJ sets, 20 food trucks, and prizes for the best showcases. The rapper posted the awards portion on his Instagram stories, where he was seen handing out 24 karat diamond chains to the winners.
Ross said he would not be involved in the competition, but intended to make some purchases throughout the day.
"My partner (@57Freddy), he actually flew some judges from California and a few other states, so we keep it balanced all the way, you know what I mean?" he said about the competition. "I thought that would make that much more credible and meaningful. We got big boy judges coming out."
He continued: "Trust me, this is going to be a memorable event … It's gonna be a huge."
You can check out videos and photos of the sold-out event below.