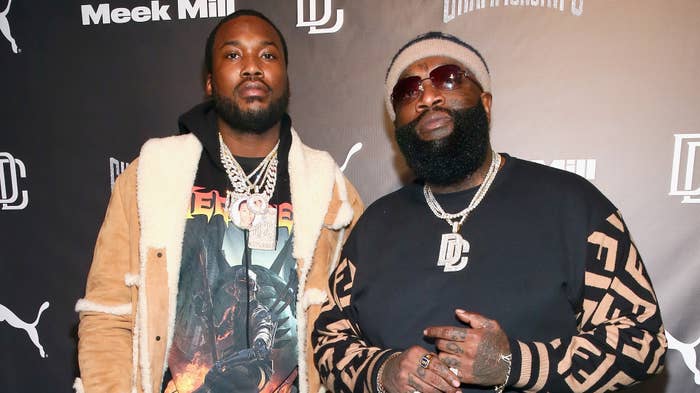 UPDATED 4/19, 10 p.m. ET: Meek Mill revealed that Rick Ross bought another house from him. He shared on Twitter that the Richer Than I Ever Been rapper purchased the estate for $1 million.  
"Ross bought another crib off me for a 'm' yesterday!" the 35-year-old wrote. "I had to ask him tf you doing with all this property 😂😂😂😂." 
See original story below. 
Meek Mill has found a buyer for his mansion in Atlanta: Rick Ross.  
In a news release obtained by WSB-TV, realtor Alisha Gillooly said Ross paid $4.2 million in cash on the eight-bedroom, nine-bathroom compound in Buckhead. The home also comes with a jacuzzi, movie theater, outdoor pool, playground, sauna, tennis court, and double garage. 
Meek tried to get the ball rolling on a sale, urging someone to "come grab this jawn" on Twitter. He posted a tweet Monday revealing he finally sold the mansion after spending two years on the market. 
The MMG boss has yet to chime in on purchasing Meek's Atlanta mansion. 
Rozay issued a statement last month after one of his neighbors shared footage of the rapper's two buffaloes roaming on their property. 
"When you see my buffalo, give it a carrot. Give it an apple," he said. "They so kind, they so peaceful. Thank everybody for watching. Thank everybody for making sure all of my animals got back into the Promise Land."
Promise Land is the name of Ross' 235-acre property in Georgia.