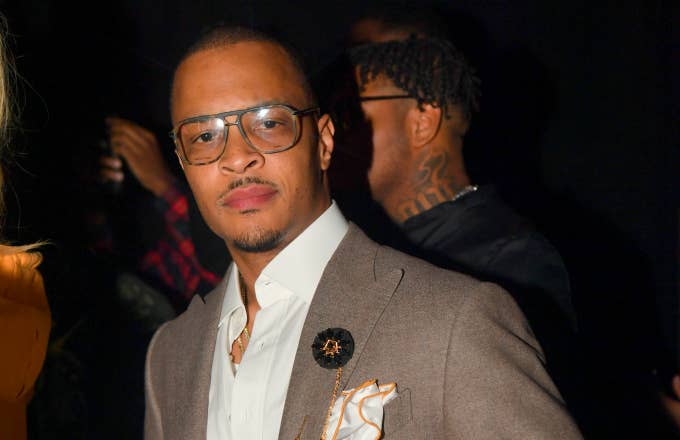 T.I. didn't just inherit the nickname "Trouble Man." Even before his mainstream success, stories have been told of T.I.'s run-ins with the law. Somehow he's always evaded a prolonged jail sentence. Instead of applauding his luck, people began to wonder if T.I. was working with the authorities. Despite putting these rumors to rest over a decade ago, rapper Spider Loc is still convinced Tip is a snitch. 
Instead of communing with his family, Spider Loc spent his Easter Sunday trying to pressure T.I. into proving he's not an informant. While many would choose to focus on the fact T.I. only served a year and a day in jail after being arrested for having over 500 unregistered machine guns, Spider Loc decided to target on the 2008 trial surrounding the murder of T.I.'s late friend Philant Johnson. Through multiple Instagram posts, Loc upload footage and audio from that time frame in hopes to prove T.I. is an informant.
While T.I. admits he conceded to testifying, the rapper constantly reminds people of his circumstances. At the time he was subpoenaed to participate, he was unable to ignore the order. As mentioned, Tip was out on bail after being arrested in 2007 for felony gun charges. He alleges that he was ordered to be accompanied by federal agents at all times because his money and status made him a flight risk. As a result, he had no other choice but take the stand.
Spider Loc's argument hinges on what T.I. said while under oath. Though T.I. insists that he didn't incriminate anyone, there are rumors of audio tapes from the trial that proves different. However, neither Loc or anyone stating the tapes exist have personally heard them. Also with the current state of the internet, if they were real, someone would have found them. This thread of common sense didn't stop Loc from finalizing his theory.
Yet, if inclined to read into these claims one should be urged to find another source. A day after trying to taint T.I., Spider Loc called his former boss 50 Cent a snitch as well. It is easy to see that trolling has no age limit.