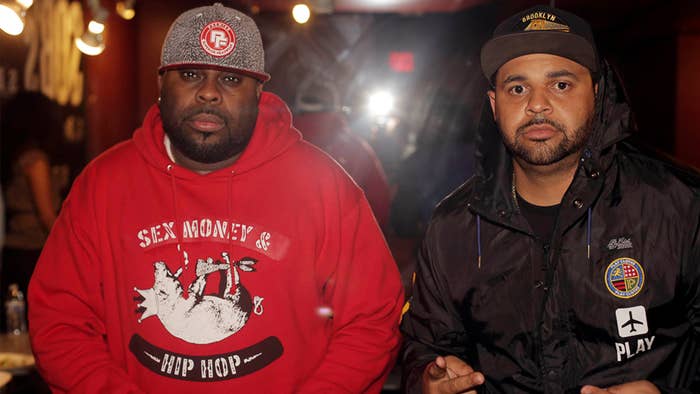 Slaughterhouse is in the news again. But unfortunately, it isn't for a reunion album.
KXNG Crooked joined a Twitter Spaces on Saturday to give his thoughts on the Instagram Live between former Slaughterhouse members Joell Ortiz, Royce da 5'9," and Joe Budden.
In the clip below, Crooked talked about how the group's dynamics were going south, sharing with everyone that he wanted to get added to the IG Live. "I was trying to get in there because I just had simple questions for them: 'Did I call you Royce and say I had a deal? Very lucrative. Ownership involved for us to present music to our fan base. Did I call you to do that? Yes or no?'"
In another clip, Crooked clarified what Mike "Heron" Herard, VP of A&R at Shady Records, tweeted about PRhyme originally supposed to be a collaborative EP between DJ Premier and Slaughterhouse.
Though he said he doesn't remember too much of the details, he went on to give his take on the group's Shady Records deal and Budden's lack of motivation to put out another group album.
Crooked and Joell made Royce and Budden upset when they announced their new project Rise & Fall of Slaughterhouse. Royce posted a response on his Instagram making an analogy about an apartment building that was built by four individuals, two of whom would go on to burn it down without the others' consent.
"You have 25 percent ownership/equity in a building… Let's say an apartment building…" he said. "You built this building with your three partners, brick by brick.. It's worth millions.. Suddenly, the value drops because it needs renovations etc .. You and your partners have been talking about when and how this work is gonna get done.. Y'all just need to agree on plan of attack."
Joe Budden replied in Royce's comments with "SMH," and even took it a step further during the IG Live with Royce and Joell. Apparently, Joell was trying to make a case that Crooked brought a deal for Slaughterhouse, even though Royce and Budden have removed themselves from the group.
During the recent IG Live, Joe said, "Joell, I love you and I want nothing but the best for you."
"So then n***a, listen to the album then," Ortiz responded. "Fuck with the album, bro. … If you want nothing but the—fuck with the album, man, tell people to listen to the album, son."
Budden appeared befuddled, asking, "Tell 'em what album? Suck my dick, are you kidding me?"
Ortiz immediately hit back. "N***a, suck my dick, don't go there! Don't do that."
Budden pushed further, saying, "You want me to [push] people to this clown show? … Get the fuck outta here with that shit, man." Joell signed off immediately after, telling Joe "you gon' wish you retracted that one."
Rise & Fall of Slaughterhouse is expected to release on March 11. Slaughterhouse released two albums – Slaughterhouse and Welcome to: Our House – and tried to finish their third album Glass House before splitting up. The last few years Budden has been vocal about not wanting to record new Slaughterhouse music, telling the guys he would consider it once they own their music and get off of Shady.
Of note on Rise & Fall of Slaughterhouse's tracklist is 'FUKGLASSHOUSE." Potentially more to be revealed in this Slaughterhouse saga.