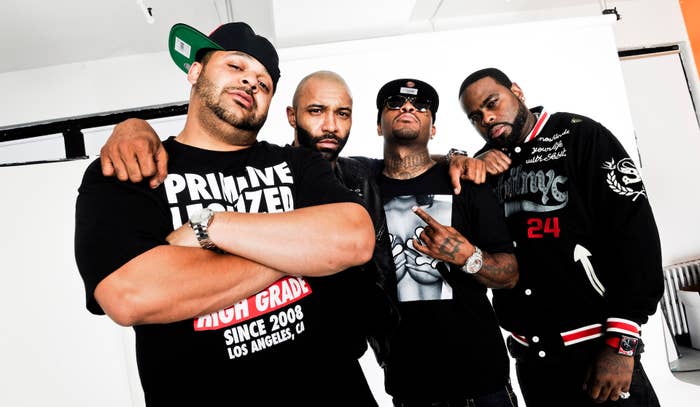 Fresh off Joell Ortiz and KXNG Crooked announcing their new collaborative project, Slaughterhouse jumped on Instagram.
The friendly IG Live quickly went south, as Joe Budden and Ortiz exchanged some harsh words. Things took a turn after Joell called out Budden and Royce da 5'9" for spinning some "wild ass narrative" about his and Crooked's forthcoming album.
"Y'all out here running around with some wild ass narrative, lying about me and [Crooked] like we went and took a bag," Joell said. "Y'all got people out here saying we doing things for a bag. I never done nothing for a bag."
Joell continued, "Y'all know me better than that. If anybody spinning the narrative, it's y'all two gentlemen. Especially you, Royce. You out here talking about the 25 percent. You had 25 percent and you burned it down. You doing all types of mathematical equations about housing ownership and shit. The bottom line is this: Crooked brought a bag to the table for something y'all ain't been fucking with for a long time."  
From there, Royce disagreed and Joe stormed off. A while after he returned, he insisted, "Joell, I love you and I want nothing but the best for you."
"So then n***a, listen to the album then," Ortiz answered. "Fuck with the album, bro. … If you want nothing but the—fuck with the album, man, tell people to listen to the album, son."
Budden looked baffled, saying, "Tell 'em what album? Suck my dick, are you kidding me?"
"N***a, suck my dick, don't go there!" Joell yelled. "Don't do that."
Budden kept on with the same demeanor, asking, "You want me to [push] people to this clown show? … Get the fuck outta here with that shit, man."
Joell Ortiz immediately said he'd had enough. He signed off by saying, "Yo Joe, that little comment right there? You gon' wish you retracted that one."
See the clip above or catch the full Live below; the aforementioned exchange starts at the 12:50 mark.