 On Friday night, Kanye West revealed the visual for "Famous" in front of a live audience at The L.A. Forum. You can now watch the visual above if you missed the livestream earlier.
It features several static bodies—12 to be exact—laying naked in a bed (click here for our breakdown of the visual). Kanye, Kim Kardashian, Amber Rose, Rihanna, Chris Brown, Taylor Swift, Caitlyn Jenner, Ray J, Anna Wintour, George W. Bush, as well as:
Donald Trump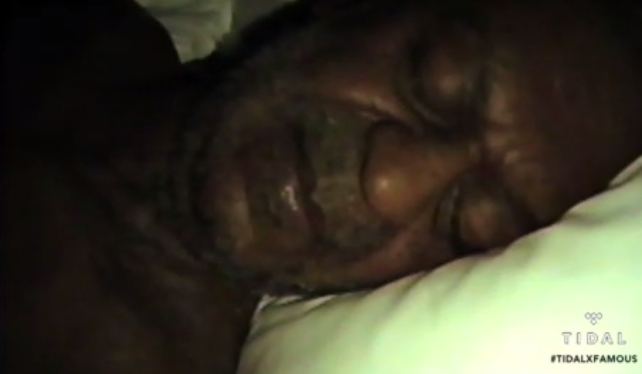 And yeah, it's a lot to take in. In an interview with Vanity Fair, Kanye said he got the approval for "Famous" from Kim. "[I say] a lot of lines other wives would not allow a husband to say. But my wife also puts up photos that other husbands wouldn't let them put up. One of the keys to happiness in our marriage is we're allowed to be ourselves."
That same interview sheds light on some major details about the visual. For one, it was filmed over the course of three months and the final format went through its own process. Kanye also worked with "several different collaborators" for the visual, and it's still unclear which bodies were real and which were not. Guess you'll have to use your imagination.
Due to popular demand, West announced a second screening for the new visual to "Famous," which means two shows in one night. For Tidal members and non-members, the visual will be available on Tidal exclusively for one week.
If you want to catch Yeezy performing The Life of Pablo and "Famous" live, he's embarking on the Saint Pablo Tour starting on Aug. 25 in Indianapolis, IN at Bankers Life Fieldhouse and ending in Las Vegas on Oct. 29 at the T-Mobile Arena. Kim Kardashian also promised to livestream some of the tour.
Kanye continues to update Pablo on Tidal, too. He recently added "Saint Pablo" to the official tracklist of the album. Who knows—maybe he'll revisit "Famous" and re-add what Chance the Rapper originally did for the song. We can only hope, right? In the meantime, check out the visual above. For those that missed the premiere or don't have a Tidal account, you can catch watch the full "Famous" visual when it makes its broadcast debut on E! News Monday night at 7:00 p.m. and 11:00 p.m. EST, which will also air an exclusive reaction from Kim.
UPDATED 6/27/16: Vincent Desiderio, the artist whose work inspired Kanye's "Famous" video, has penned an essay about meeting the rapper and how he felt about being "sampled."
In the piece, published in W magazine, Desiderio writes about being contacted by Kanye's team. A day after several missed calls and urgent text messages, the artist was flown out to L.A., where he would meet Kanye and learn about a mysterious event going down at the Forum.
"No other information was given. When I arrived the next day, I was told not to go to the hotel but instead directly to the Forum. The mystery redoubled as I was lead through a system of corridors and security checks to a room whose door was streaked with wild Abstract Expressionist marks. Inside was a small gathering of men and women seated around a laptop. Kanye stood up and greeted me warmly. We spoke about his new album, "The Life of Pablo," and about a particular quote by Edgar Degas, about how a painting should be constructed "like the perfect crime." I ventured that the Pablo referred to in the title was a dual reference to Pablo Picasso and Pablo Escobar. Kanye smiled and said, "St. Paul, too." His eyes glistened. We were on the same page."
After getting acquainted, Desiderio was shown the "Famous" video and immediately recognized its similarity to his painting "Sleep." He admits that he had unknowingly participated in a "remarkable collaboration," one that resulted in a "video of tremendous power and beauty."
You can read Desiderio's full essay at W magazine.