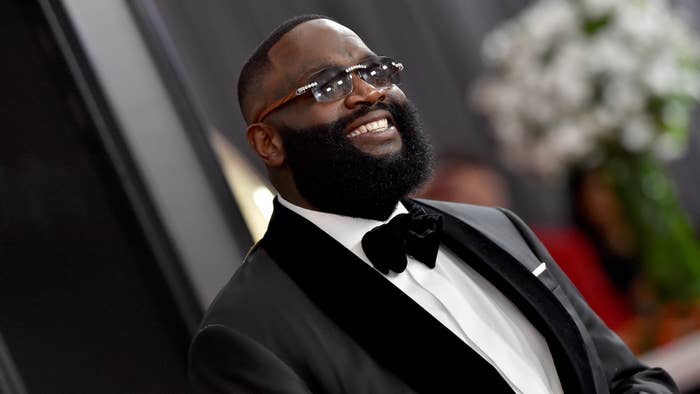 UPDATED 2/23, 1:55 p.m.: Rozay has given his first bull a very Marvel name and set his sights on his next large acquisition.
"Y'all know I just bought a bull last week—one of my homies called it a steer. … I named it Thor. My first bull," Rick Ross said on Instagram. "But I went to sleep last night, and while I was sleep, Thor began whispering to me. And you see this on the wall?" He gestured to a buffalo portrait. "You see that? That's a buffalo. You thinkin' what I'm thinkin'?"
Watch the video:
See original story below.
Rick Ross is flexing a different type of wealth these days.
The rapper took to his Instagram Stories to show off his latest purchase—a bull. He captioned the video, "My 1st cow."
"I'm ready for it right now. I'm ready for it," Ross says as he shows off the bull. "I'm happier than a motherfucker, this a dream come true for Rozay. You know what this is for a young boy from Carol City, [Florida] to have horses and now—a big boy added? Come on down. You good," he says when the cow is let out of a trailer.
"Yeeeeeeah!" Rozay yells while the bull runs around its fenced-in pen. "That's yours! Welcome to the promised land, baby. … Look at them horses looking, mind y'all business." 
Ross has already come out the gate super hot in 2022 with the release of his Richer Than I Ever Beendeluxe album. The updated version follows the project's initial December arrival, with the deluxe boasting three unreleased songs, one of which is "Not For Nothing" with Anderson .Paak. The album already included features from Future, 21 Savage, Wale, Jazmine Sullivan, Benny the Butcher, and more.
The Florida rapper discussed his childhood, beginnings, and success with Complex last November: "I came from Miami. I ain't have no big producer. We put in the work and went around, city to city, and put together a fucking database of the best producers, regardless of how big they was. We created a sound," he said. "When it comes to that luxurious shit, it's nobody whose name is going to come before mine. And that's coming from the pianos to the harmonies, the flows, the John Legend collaborations."