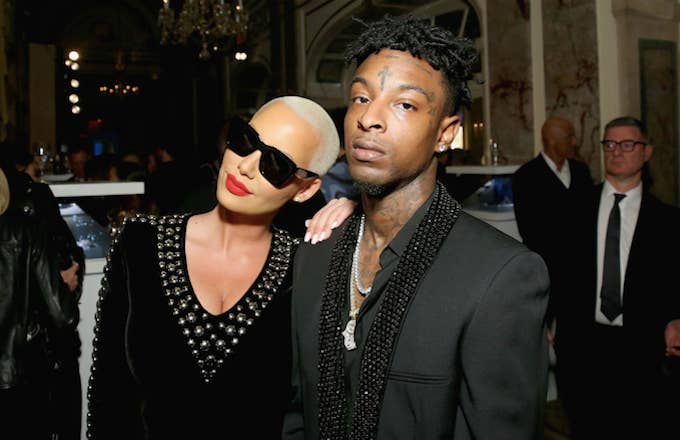 Amber Rose and 21 Savage are officially over.
Though it took a minute for the couple to confirm they were dating, Amber and 21 quickly reached "relationship goals" status after a series of intimate outings, publicized romantic gestures, and interview after interview in which they expressed their fondness for one another. Naturally, some fans questioned the authenticity of the couple's connection, but as the months passed, it became increasingly clear that it was true love.
21 began to shelve his hardened persona and slowly embraced his softer side, going above and beyond to demonstrate his affection. The man reportedly cut off his dreads for Amber, serenaded her with Alicia Keys' records, and made beneficial lifestyle changes at his girlfriend's request.
"She's a real cool woman. She treats me like a king, you know. It is what it is," he said during a 2017 interview on the Real 92.3 LA. "[She] makes me do shit that I don't normally do, like take vitamins and drink water."
He DGAF what the skeptics or haters had to say; 21 was head over heels. And the feelings appeared to be mutual.
In light of the couple's recent breakup, we're taking a look back at some of the most memorable moments of their relationship. Who knows? It may give fans some hope for reconciliation.
Dating Rumors Swirl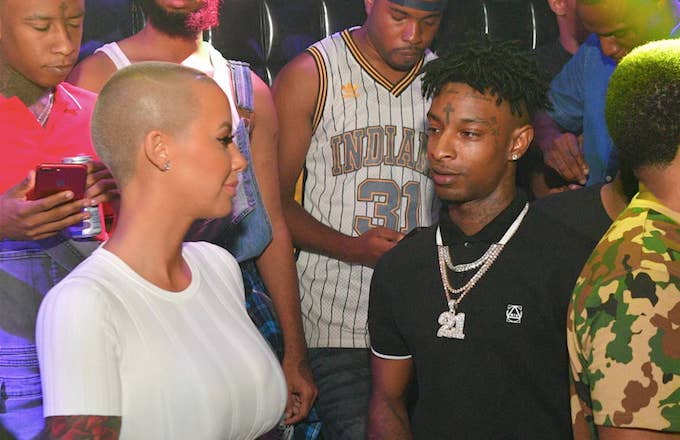 Like we previously mentioned, Amber and 21 waited a while before they confirmed their relationship status; however, the two were regularly spotted out with one another in the summer of 2017.
In late June, TMZ spotted Amber and 21 leaving Hollywood's Catch restaurant side-by-side before driving off together.
There was also this video posted shortly before:
It was pretty obvious things were getting serious, but the couple refused to confirm—or deny—the rumors.
21 Savage Pretty Much Confirms He and Amber are an Item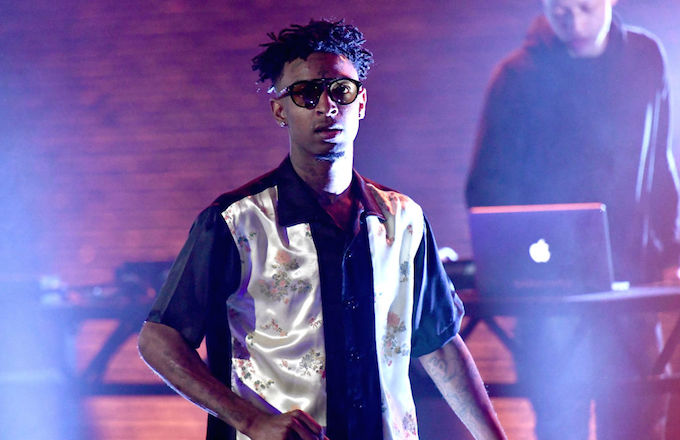 On July 7, 2017, the Issa rapper appeared on Real 92.3 LA's The Real After Party radio show, where he spoke about his connection with Amber and the effect she had on his life. He kept things fairly vague, but it was apparent they were more than just friends.
"We've just been kicking it, man, you know?" 21 revealed at the 9:50 mark. "She's a real cool woman. She treats me like a king, you know. It is what it is."
He went on to say that he wasn't bothered by how open Amber was about her sexuality. In fact, he seemed to encourage it.
"I don't mind none of that shit, man. She's getting money," he said. "[…] I'm not insecure. I know she wants to be with me."
That Time They Purchased Wildly Expensive Watches for One Another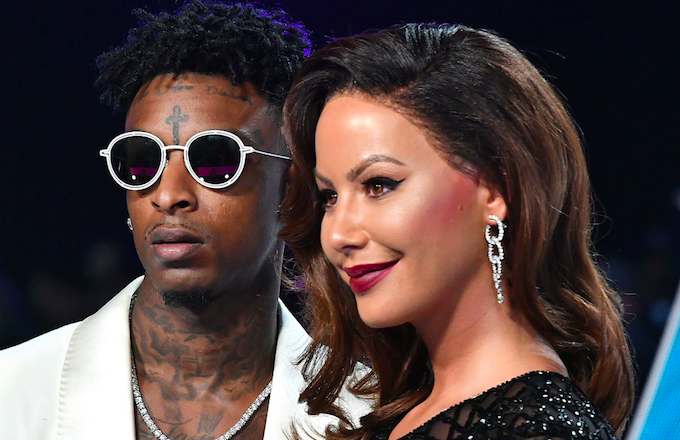 Like a lot of couples, Amber and 21 liked to spoil each other with the occasional gift. But unlike most couples, they had disposable incomes to go all out.
At the end of July 2017, the two hit up social media to show off the iced-out timepieces they had purchased for each other.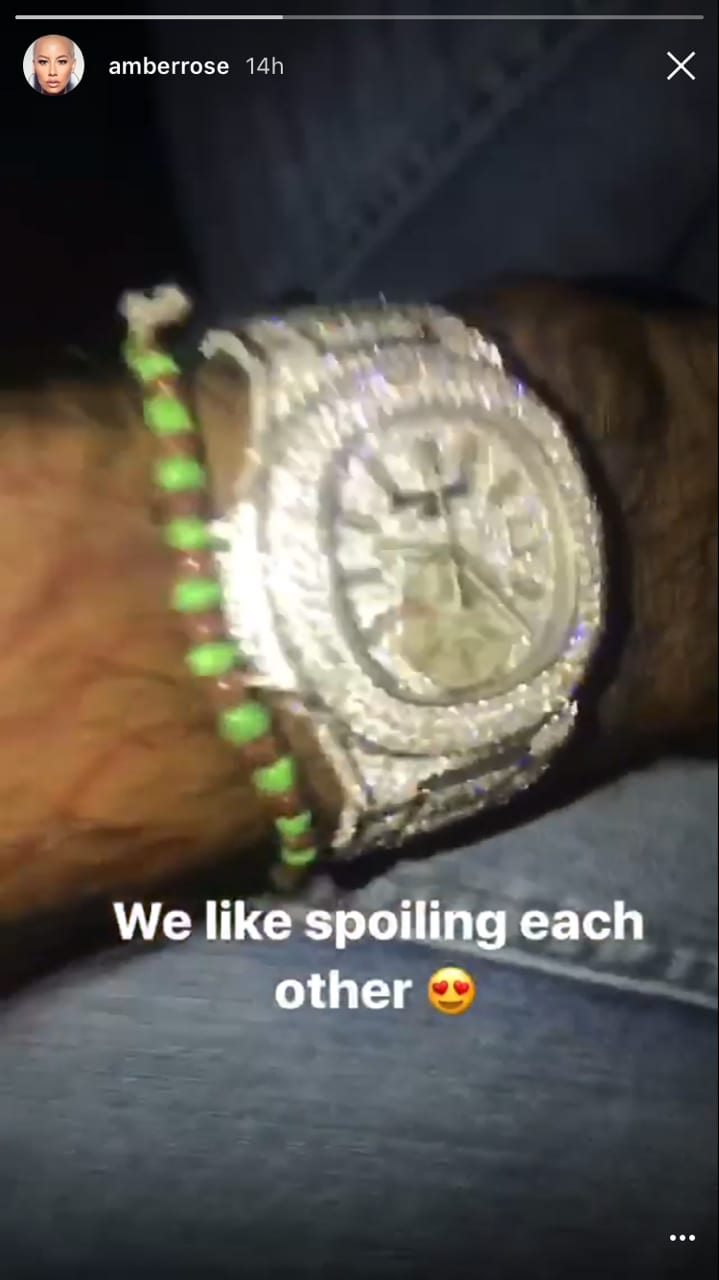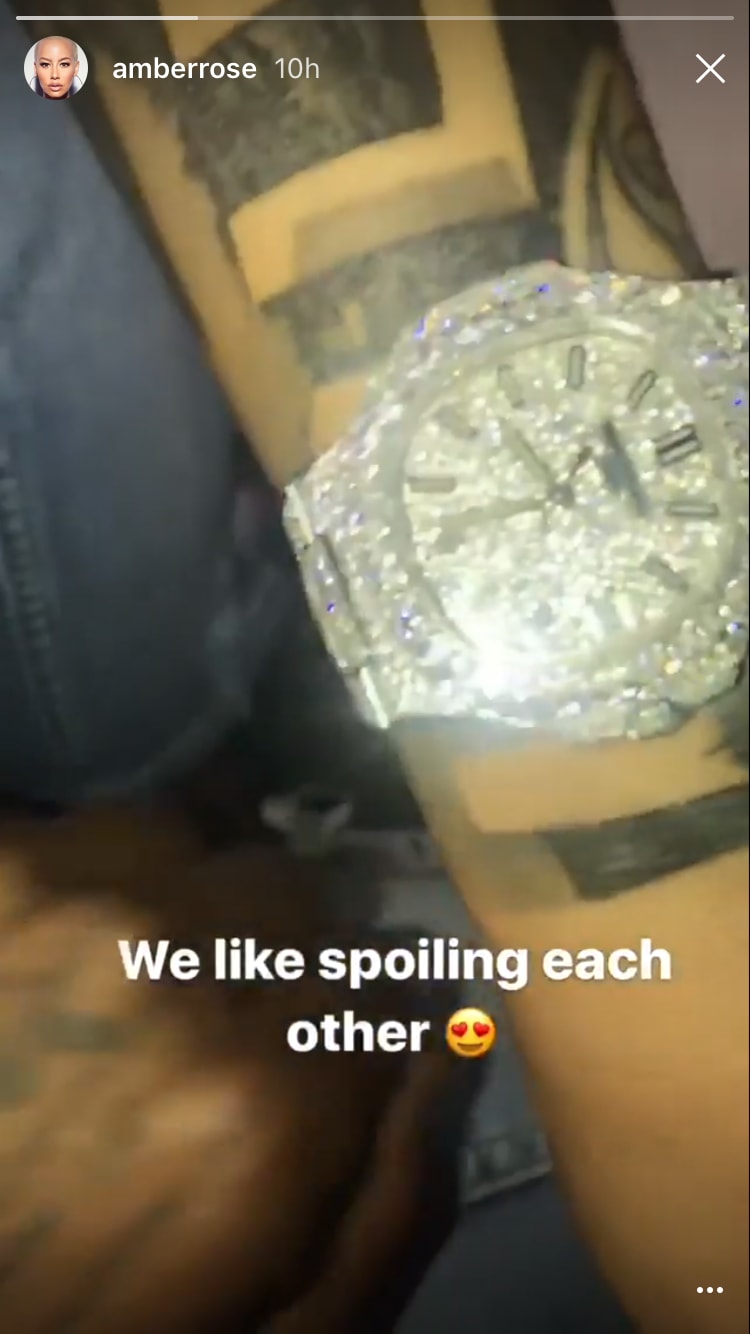 The pieces were apparently made by Swiss watch manufacturer Patek Philippe and were priced at around $55,000. Each.
We know: "Money can't buy you love." But, damn. You know things are serious when the couple is willing to drop six figures on one another after a few months of dating.
Amber Says She Wans to Marry 21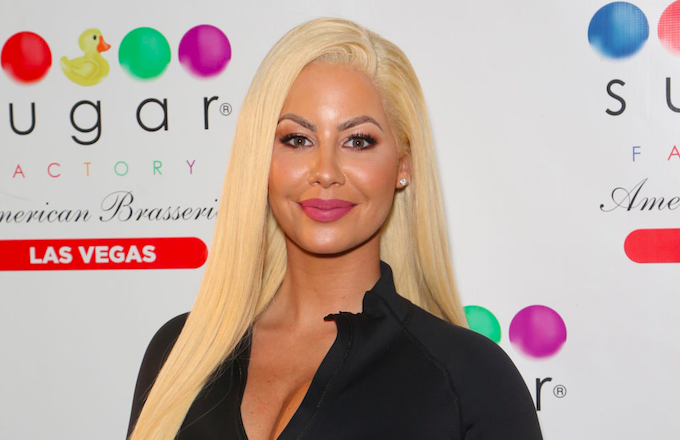 In early August 2017, TMZ approached Amber to ask about a defamation lawsuit filed by Katie Wimbush-Polk, the mother of her ex-beau Wiz Khalifa. Amber wasn't having it. She ended up deflecting the question by talking about her newfound love with 21 and where she hoped the future would lead them. 
"Let's talk about how much in love I am, how happy I am," she told the cameraman. "I just got back from Atlanta. I'm in love, I'm happy […] I wanna marry him, but we'll see."
When asked what made 21 different from her past boyfriends, Amber responded: "We just have so much in common, man."
21 Attends Amber's Third Annual SlutWalk Event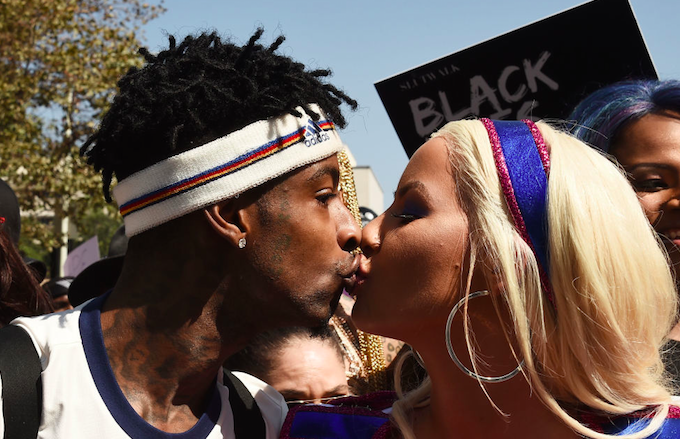 After expressing his support for his girlfriend's sexual freedom, 21 made an appearance at Amber's third annual SlutWalk event in October 2017. He was photographed holding a sign that read, "Captain Save a Hoe," which resulted in some mild roasting on social media.
The couple wasn't going to let it slide.
"How the fuck is my man not a savage anymore?" Amber said on Instagram. "Like, do y'all want him to pistol whip me? Beat me up? Shoot up the SlutWalk? Like, what the fuck do y'all want?"
"Y'all need to get off a nigga dick. Get off my dick," 21 said in a following Instagram story. "[…] Get off my bitch dick, too.. The SlutWalk was fun as a muthafucka."
Amber Shares Valentine's Day Playlist Dedicated to 21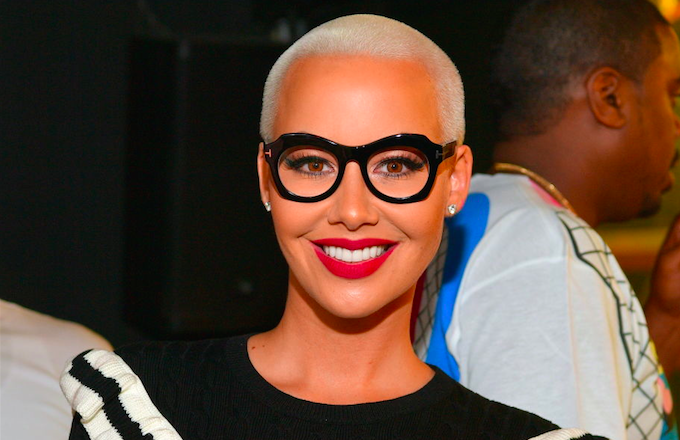 The couple appeared to be going strong the following months. In February of this year, Amber celebrated Valentine's Day by curating a Spotify playlist for her man. It was titled "21 for 21," and included romantic hits like Teddy Pendergrass' "Turn Off the Lights," Stevie B's "Because I Love You," and Frank Ocean's "Thinking About You."
Amber Shoots Down Breakup Rumors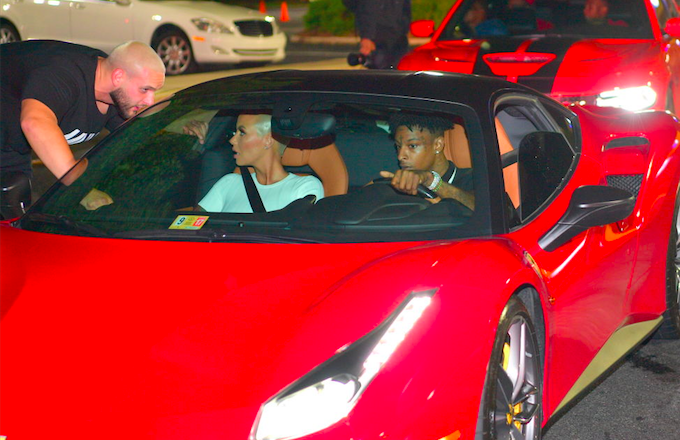 Amber Confirms She and 21 Are No Longer Together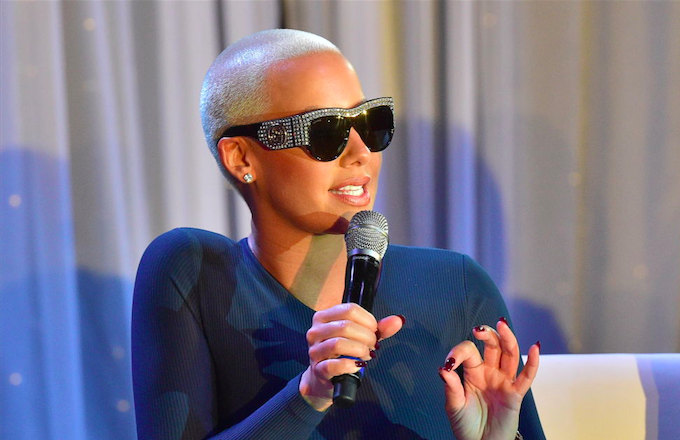 You know what they say: Where there's smoke, there's fire.
About a week after Amber squashed breakup rumors, she appeared on the Big Boy's Neighborhood radio show, where she opened up about her relationship status. And, as many people suspected, the model revealed that she was no longer with 21.
"You know Big Boy, to be in a relationship, in general, is very difficult. To be famous and in a relationship is even more difficult," she said around the 12:12 mark. "I love him. I really love him. I miss him. I think about him every day."
Though Amber said she technically is technically single, she doesn't want to take on the label because she still has strong feelings for 21.
"I can't say that I'm single because in my heart I still love him, so for me to say that I'm single means I want to go out and find something else—like I'm ready to mingle and I'm not," she explained. "My heart is still with him, so you know. Hopefully, we can work it out, but if we can't, the love is still there, so you know, we'll hopefully be able to be friends."